Florida Gators vs. Auburn Tigers: Live Score, Highlights and Analysis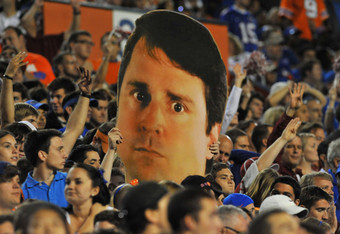 Al Messerschmidt/Getty Images
Florida travels to Auburn to face the Tigers this Saturday at 7 PM.
Florida comes into the game off the back of two consecutive blowout losses to No. 1 and No. 2, LSU and Alabama. For Florida, this game represents a chance at redemption after being manhandled in their past two contests.
Auburn comes into the game after losing in blowout fashion to Arkansas. Auburn will be looking to defend their home field and win their third-straight game against the Gators.
Stay tuned here for breaking news, updates, live scoring and analysis of the game.
In his post game press conference Will Muschamp was asked if Brantley would be back for the Georgia game, his response was " I hope so."
That pretty much sums up the Gators season to date and this live blog.
I will answer any comments that come up, thank you for reading.
Follow me on twitter @NickdelaTorre for general sports commentary, Gator and Dolphin news.
FINAL: AUBURN 17 FLORIDA 6
In what is a good picture of how this game looked and felt for the Gators, Jeff Driskel gets sandwiched for a sack to end the game.
The win moves Auburn to five and two. Auburn will not have a very long time to celebrate this win as they travel to Baton Rouge for their yearly matchup with LSU.
In what may be the most needed bye week in recent memory the Gators will get a week off before they face off against rival Georgia. Something has to be done on offense during the bye week if the Gator want to end this losing skid at three.
With two weeks before the game Gator fans will need to keep an eye on senior John Brantley and his sprained left ankle.
Something this and most Gator fans though would never happen has come true, John Brantley is the only hope for this Gator offense to be anything other than horrific the rest of the season.
Dan Wenger is in a boot using crutches on the sideline. That will be a big hit for the Gators offensive line.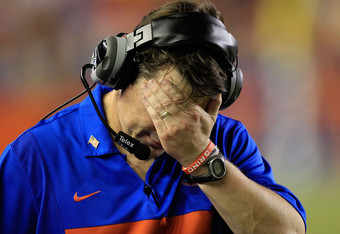 Florida 6 Auburn 17
Parkey hits on his third attempt to ice the game.
Florida's offense should be embarrassed with their performance tonight. The only group that should feel worse than the offense is the special teams unit.
THIS JUST IN: Chris Rainey fielded the kick off cleanly!
After a long stop in play to reset the game clock to :41 seconds, Auburn has a false start that will push this kick back to 42 yards.
Florida 6 Auburn 14 :46 left in the 4th quarter
Auburn calls a time out with 46 seconds left in the game. A field goal will ice this game. Parkey has missed on both of his attempts tonight
Florida 6 Auburn 14 3:03 4th quarter
Robert Clark muffed the punt for the Gators.
Auburn takes over control in Gator territory.
The Gators have quite literally dropped any chances of winning this game.
The Gator defense is overdue for a turnover, They haven't forced a turnover in the past 12 quarters.
Burton catches a short pass and falls short of the first down. Both of these teams have been abysmal on third down. The Gators are four of 12 and Auburn is one of 11.
Florida forces a three and out.
Chris Rainey muffs another punt begging the question, why is he still back returning punts?
Driskel's pass sails high and through the hands of Deonte Thompson.
Auburn will take the ball and begin the drive on their own 16.
Auburn Time out 9:36 4th quarter
With Caleb Sturgis out for the game, Muschamp elects to go for it on fourth down.
Florida 6 Auburn 14 10:15 4th quarter
Gators call a timeout on third and eight. This is a drive where the Gators need to get points. Another field goal would be deflating.
Auburn's defense is moving the ball for the Gators on this drive with a big facemask and a late hit call.
Florida 6 Auburn 14
McCalebb runs for 14 yards and a score.
Trey Burton comes into the game handing off to Mike Gillislee. Gillislee takes his first two carries and picks up a first down.
Hmm maybe he should get more snaps?
Florida 6 Auburn 7 Start of the 4th quarter.
Auburn elects to let the clock run out with a second and eight upcoming for the Tigers when play resumes.
Andre Debose is in street clothes. He looked like he re injured his sprained ankle on the opening kickoff.
On another note Florida's last punt is the 13th of the game, equaling the point total.
After being embarrassed the past two weeks and giving up over 200 yards on the ground in each game, the Gators defense has come to play and they are containing Michael Dyer.
Just announced on ESPN that Caleb Sturgis is out for the game, injury was not specified.
Auburn connects on a 40+ yard pass into Florida territory.
Florida misses on a flea flicker. Jordan Reed was wide open but overthrown by three yards.
Questionable play calling there on the read option on third and inches. The longer this game goes without Gillislee getting carries, especially short yardage carries, the questions will begin to pile up as to why he isn't a bigger part of this gameplan with Demps on the bench.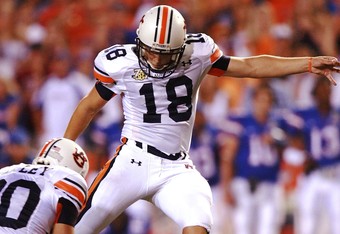 Byrum connects for the game winning field goal in last year's national championship game.
Florida 6 Auburn 7 10:08 3rd quarter
Cody Parkey misses his second field goal of the game, this time from 42 yards out. Oh how Auburn is missing Wes Byrum.
Florida's punter drops the ball before he can kick it, picks it up, and then kicks the ball to the 35 yard line. Than will not make the highlight tape at the end of the season.
Florida counters with a quarterback change of their own. Jeff Driskel checks into the game. First play is a loss of eight yards on a hand off to Rainey.
I'm starting to get concerned and about to file a missing person report, where is Mike Gillislee?
After a good kick return to open the half, Sophomore Clint Moseley is in for the Tigers
HALFTIME FLORIDA 6 AUBURN 7
The Tigers drove the ball down the field, aided by a few Gator penalties, and called a time out with two seconds left.
Cody Parkey missed the attempt form 45, his long on the season is 42 yards.
Will Muschamp declined comment of the non penalty call on the Chris Rainey muffed punt that led to Auburn's only points.
Both defenses have done a very good job of shutting down their opponents running game.
Florida is just edging Auburn in terms of total yards 104 to 102.
This article is
What is the duplicate article?
Why is this article offensive?
Where is this article plagiarized from?
Why is this article poorly edited?

Florida Gators Football: Like this team?