College Football 2011: What To Expect in the Second Half
October 13, 2011
Wesley Hitt/Getty Images
It has been a first half of college football that was to be expected. In the zany world of college football we have already seen upsets (TCU, Florida State), surprises (Illinois, Clemson), disappointments (Florida State, Ohio State), juggernauts (LSU, Oklahoma) and sleepers (Michigan).
It has been an emotional ride unlike any other sport. The tradition and pageantry, the momentum and the heartbreak.
Ready for round two?
Surprises
Sixteenth-ranked Illinois, the Yellow Jackets (No. 12) and the Tigers of Clemson, who sit at No. 8 in the Associate Press Top 25 Poll, all have emerged through the thicket as undefeated teams no one saw coming.
Illinois is having its best season in 60 years. Quarterback Nathan Scheelhasse has been efficient as ever (175.8 passer rating), the defense has proven its worth (17 points allowed vs. Arizona State) and this team has shown it can make up for its mistakes in one area with compensation from another (see Illini offense vs. Northwestern).
Georgia Tech has also raised some eyebrows out of the ACC Coastal Division as it boasts the sixth-best scoring offense in the nation, putting up over 360 yards on the ground per game. Georgia Tech has been a perennial power in the ACC but has died off in recent years with the emergence of the spread and the implementation of a 3-4 system on defense. Tradition and perseverance have stood the test and the Yellow Jackets are No. 12.
Clemson is also in the same situation as Paul Johnson and company. Dabo Swinney brought in a great recruiting class for 2011 and had raised hopes of the future of this program. With his seat heating up, Swinney wasted no time. His Tigers have cracked the Top 10, beaten three ranked opponents and done it in style. New quarterback Tajh Boyd has taken control of this team and Sammy Watkins has been arguably one of the most explosive skill position players in the nation.
Quick Mention: Houston, albeit not against the toughest slate, has found a way to stay 6-0. Case Keenum may become the all-time leading passer in the NCAA, keep an eye on that.
What to Expect
One, if not more, of these teams will lose. This is not only because the stage is set for a clash between the aforementioned ACC competitors, but because those teams each have another ranked team to face afterwards. Illinois faces a road test in Happy Valley before they welcome in two fierce competitors in Michigan and Wisconsin.
Prediction: Georgia Tech's defense will not be able to endure this season, and the Illini's lack of anything that truly stands out will hurt them. The Tigers on the other hand have too much going for them and they will certainly make it to the ACC Championship Game. 
Young Quarterbacks
The quarterback position is arguably the most important piece of a football team, and experience is key. But Virginia Tech's Logan Thomas, Alabama's AJ McCarron and Clemson's Tajh Boyd have been raising eyebrows.
Coming into this year Virginia Tech had aspirations of an ACC Title and competition in the national picture. Though they fell earlier this year to Clemson, if we know anything about the Hokies, it is that you should never count them out after a loss (see 11-game win streak following two losses in 2010). If this team is going to rise up and make something happen, it will start with sophomore Logan Thomas. Thomas's play has been spotty. He combined for 216 yards passing against East Carolina and Clemson. He was also the key to a pivotal win at home against Miami. If his passer rating exceeds 200 again this season, the Hokies will be gobbling their faces off in joy. If not, Frank Beamer may be in for one long season.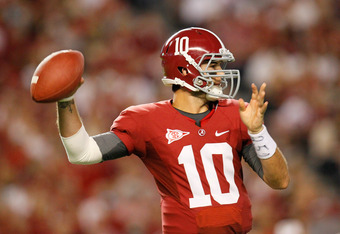 Kevin C. Cox/Getty Images
The Alabama offense has always prided itself on the ground-and-pound game. This year they have the 19th-best rushing game in the nation and haven't been afraid to show it. The Tide's schedule from here on out would certainly not be defined as a gauntlet. But keeping in mind their conference championship fate lies on their home contest against LSU in early November. McCarron has not thrown for more than 240 yards this year or thrown for more than 175 yards against any real defense. If he changes the dynamic of this offense LSU may have a barn-burner on their hands. If he cannot, the Tigers will stack eight in the box and shut down running back Trent Richardson.
The Clemson Tigers, as mentioned, are real contenders thanks to Boyd. This team has been dynamic. Boyd has been reliable. He has been productive. Let's also keep in mind the mental aspect of being a quarterback, shall we. It is hard to imagine such a drop off from Boyd after how he has been playing. Sure, the best defense he faced (Virginia Tech) held him to 204 yards, but he has still been pretty damn good. If he gets in his own head, the Tigers may take a nose dive they won't soon forget. If he stays calm as a first-year starter and plays to the fullest of his potential they will be fine. Sounds easy, right?
Quick Mention: Tanner Price of Wake Forrest has not thrown for less than 230 yards and has been productive for the Demon Deacons who boast a four-game win streak and are 3-0 vs. the ACC 
What to Look For
With a manageable schedule to get himself ready for a big one against the Yellow Jackets, Thomas will be someone to keep an eye on when they face a lackluster defense in Bobby Dodd Stadium in Atlanta. Alabama is quite a team to watch on defense, and that is what got them to a national title in 2009. The Tide have never needed a Landry Jones to help them win games, but more of a Greg McElroy game manager, a title that is usually gained through experience. McCarron better do so tidying-up against Ole Miss and Tennessee. Boyd has been pretty good in his first season at the helm, but how does he perform over the long haul with some good competition down the road? 
Biggest Matchups to Watch All Over the Country
Michigan vs. Michigan State (Week 7, 12:00 P.M. ET, ESPN)
-This one could decide the fate of the Big Ten's Legends Division as an explosive offense with Denard Robinson meets one of the best defenses in the country.
Auburn vs. LSU (Week 8, 3:30 P.M. ET, CBS)
-Auburn has shown it can be scrappy in big games and LSU has been dominant everywhere.
Wisconsin vs. Michigan State (Week 8, 8:00 P.M. ET, ESPN/BTN/ABC)
-A potential primary version of the Big Ten Championship game will pit two power offenses led by Russell Wilson (Wisconsin) and Kirk Cousins (Michigan State).
Clemson vs. Georgia Tech (Week 9, TBD)
-Two great offenses with speed (Andre Ellington, Orwin Smith) meet up for a shootout.
Michigan State vs. Nebraska (Week 9, TBD)
-Another one that could indicate how the Legends Division turns out with a tough defense visiting a fast offense who has shown its mettle. Michigan State has more skill than people give them credit for but can they put that to the test in Lincoln? What kind of help does Nebraska need to take control of their division? The first step is taking on Sparty.
LSU vs. Alabama (Week 10, TBD)
-Need I say much? SEC West, probably the SEC and even the national title race will be affected greatly. Incredible defenses. Skill on offense. If you watch one game of college football this year, watch this one.
Texas A&M vs. Oklahoma (Week 10, TBD)
-The Aggies haven't done too much to help themselves but they are still sitting there in the standings. They may be able to get back into the Big 12 picture with a little help and beating the Sooners would go a long way to rejoining the conferences elite. Oklahoma has looked very, very good. Texas A&M, as a matter of fact, has looked pretty good, too, they just haven't figured out how to put it all together. If Mike Sherman brings this team together, never doubt the outrageousness of November football.
Virginia Tech vs. Georgia Tech (Week 11, 8:00 P.M. ET, ESPN)
-Can Virginia Tech make another comeback for a magical season? Does Georgia Tech have momentum or self-doubt after a bout with Clemson? The ACC Coastal Division hangs in the balance.
Oregon vs. Stanford (Week 11, TBD)
-There is no disputing that this will decide the Pac-12 North and probably produce a Pac-12 Champ. LaMichael James brings Oregon's high-octane studs to the Bay to face Andrew Luck who leads national-contending Stanford Cardinal.
Michigan vs. Illinois (Week 11, TBD)
-Does Nathan Scheelhasse get rattled the previous week at Penn State or does he come in with confidence with a strong crowd behind him? How does Illinois's defense handle a fast, Brady Hoke-lead team?
Wisconsin vs. Illinois (Week 12, TBD)
-At this point it is safe to say these two (undefeated) teams will produce the Big Ten's Leaders Division champ. The Zookers have momentum but can they keep up with Russell Wilson and the Badgers who bring the hardest hitting offense in the Big Ten.
Nebraska vs. Michigan (Week 12, TBD)
-Two offenses with a lot of skill. Nebraska has defensive playmakers but can the Wolverine defense keep up with quarterback Taylor Martinez and the Huskers?
Texas vs. Tex. A&M (Week 13, Thursday November 24, 8:00 P.M. ET, ESPN)
-A classic rivalry that we may not see in the near future with A&M's departure so it's sure to be a good one. The Aggies have consistently found ways to lose games and the Longhorns do not have their usual amount of skill.
Arkansas vs. LSU (Week 13, 3:30 P.M. ET, CBS)
-Quite a bit of athleticism in this one. The LSU defense has been stout but can Zac Lee or Jordan Jefferson of LSU out-duel the Razorbacks' Tyler Wilson?
Clemson vs. So. Carolina (Week 13, TBD)
-The battle for the state includes an ACC hopeful and an SEC East hopeful. No more Garcia for the 'Cocks, is Connor Shaw up to the task. Will the Tigers' defense stay with Heisman-hopeful Marcus Lattimore.
Oklahoma vs. Oklahoma State (Week 14, TBD, ABC)
-The latest installment of Bedlam will most likely be for the Big 12 championship, the first without an actual championship game since 1996. Brandon Weeden and the Pokes welcome Bob Stoops and the Sooners to Boone Pickens Stadium in what will probably have a total score above 60. 
The PostSeason Controversy 
If there is one thing we know about college football, it is that it always ends with a bang. And that bang is one that lasts a while starting from Conference Championship Weekend all the way until we know our national champions. With the first BCS Standings being released October 16th, let the controversy begin.
The final portion of the season will undoubtedly be filled with argument after argument over who is the best team, whose body of work is the most impressive and who deserves "their shot."
The top eight teams in the Associated Press Top 25 Poll are all undefeated. No. 1 and No. 2 respectively, LSU and Alabama will play in a matter of weeks and probably produce the SEC champion. Oklahoma and Oklahoma State, third and sixth respectively, have a Bedlam-Showdown at the end of the year which will probably produce the Big 12 champion. The Badgers of Wisconsin, who currently sit at No. 4, certainly look like the class of the Big Ten and could remain undefeated through the rest of this season. The Stanford Cardinal are Top 10 material and very well could remain undefeated if they get by a huge one against Oregon. Clemson, though their road is not easy, control their own destiny and also are a possible no-loss team. I don't buy into Boise State very much, but sitting at No. 5, it is quite difficult to imagine them with a loss at the end of the season and very well could be, and probably will be, in the mix.
Put it all together and what do you have? The possibility of six undefeated teams looking for their shot at the BCS Title.
We have seen split-national championships (USC/LSU 2003), an undefeated BCS school get left out of the party (Auburn 2004) and a two-loss team make it to the title game (LSU 2007). Why should 2011 be any less of a roller coaster? 
Prediction
Three, if not more, undefeated teams will remain following conference championships, and the first domino that needs to fall for a playoff to be put into place.
I am not predicting Winter Madness in college football. I am talking simply of a four- or eight-team playoff at the end of the year decided by the rankings to crown the best team in the land.
It is hard for traditionalists to hear the word "playoff" when it comes to their beloved game but rest assured, there will still be a bowl system for lower-tier teams to hang their hat on and finish the season strong with, and the critical birds of the current system will finally stop chirping.
With youngsters, dark horses, showdowns and disagreement ahead, the only question is: Are you ready?