10 of Boxing's Most Devastating Left Hooks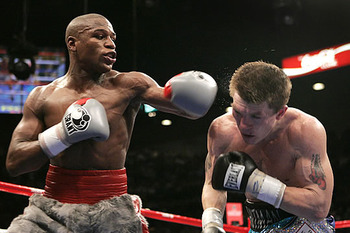 The hook is one of the most powerful punches in boxing. They can be thrown in a myriad of ways, check-hook, upper-hook (a.k.a. "the 45") or the shovel-hook.
The timing, speed and accuracy of a well-thrown left hook, especially, can knock out both opponents and spectators alike.
Some of the most sensational knockouts and knockdowns in boxing history have been attributed to the left hook.
Also, some of the most famous pugilists of our time have either been behind or in front of this most exquisite of punches, with devastating effect.
Let's have a look…
10. Oscar De La Hoya vs. Fernando Vargas
This fight was billed as a grudge match, as there was no love lost between both fighters—each despised the other.
Prior to their fight, Vargas had been yearning to throw leather with "The Golden Boy" for quite a while.
However, De La Hoya refused, citing Vargas's thuggish and disrespectful behavior among other reasons.
Come fight night, both men had periods of dominance—Vargas on the ropes and De La Hoya owned the centre of the ring.
Vargas survived De La Hoya's money punch, his left hook, towards the close of round 10, only to fall victim to another crisp hook in the 11th, hitting the canvas.
Vargas beat the count, but De La Hoya went in for the kill—throwing punches in bunches before the referee stepped in and stopped the fight.
9. David Tua vs. David Izon
The two namesakes slugged it out for 11 rounds and it could've gone to the judges' score cards.
However, in the 12th and final round, Tua literally took matters into his own hands and unleashed a barrage of left-right salvo's which had Izon non-plussed.
The last punch thrown was a cracking left hook to Izon's chin putting him to sleep whilst falling through the ropes.
8. Floyd Mayweather vs. Ricky Hatton
Throughout the fight, Mayweather had shown the skills of a supreme pugilist—weathering the storm of Hatton's incessant pushing, holding and rough-house tactics.
In the 10th round, "Money" delivered a masterful check-hook to the jaw of Hatton, sending the "Hitman" face-first into the ring post then promptly to the deck.
Hatton beat the eight-count, but the fight was stopped soon after.
7. Bob Foster vs. Dick Tiger
Bob Foster contested Dick Tiger's light heavyweight crown at Madison Square Garden in 1968.
At the time, Tiger was a former two-time world middleweight champion and was as tough as nails.
However, in round four, Tiger had no answer to Foster's pulverizing left hook, leaving him in a crumbled heap and unable to beat the count.
Foster was the only fighter to ever knock Tiger out in his 81 fights. That tells you all you need to know about Foster's punching power.
6. Tommy Morrison vs. Donovan Ruddock
Both Morrison and Ruddock had suffered knockdowns in the first two rounds of the fight.
Move ahead to the sixth round and "The Duke" unleashed a neck-twisting left hook that put Ruddock flat on his back, looking into space.
Ruddock beat the count, but referee Ron Lipton decided to end the proceedings as Ruddock was in no fit state to continue.
5. Floyd Patterson vs. Ingemar Johansson II
When these two combatants first met, Floyd Patterson was the world heavyweight champion. However, Ingemar Johansson savagely relieved the Cus D'Amato trained fighter of his title via a vicious TKO in the third round.
Patterson regained his title in the rematch—ending the fight in the fifth with a picture perfect left hook landing flush on Johansson's jaw, rendering him a convulsive wreck on the canvas.
4. Henry Cooper vs. Cassius Clay
The 21-year-old Cassius Clay had come to London to take on their national boxing hero Cooper, en-route to fighting Sonny Liston for the world heavyweight championship.
If the young Clay thought that this was going to be an easy warm-up fight, he was in for a rude awakening.
For four rounds, Clay had played the clown, taunting his older opponent in the process and often keeping his hands to his sides.
It was during one of those cocky moments that Cooper uncorked a precision left hook that left Clay on the seat of his pants for the first time as a pro.
Clay beat the count and later won the fight in the fifth round—the bout was stopped due to the damage sustained to Cooper's left eye from Clay's punches.
Before he died, Sir Henry said he took great pride in Clay's assessment of the punch, "Cooper hit me so hard, it didn't just shake me, it shook my relatives back home in Africa."
3. Mike Tyson vs. Reggie Gross
Tyson was gradually gathering pace towards an eventual heavyweight title clash with Trevor Berbick and a date with boxing history as the youngest undisputed champion ever.
First he had to take care of a number of would-be challengers who were set on derailing his path to glory.
One such fighter was Gross.
In the opening round, Tyson displayed one of the most defensive skill sets ever seen in a boxing ring when he countered Gross's left hook with one of his own.
Gross went down, and even though he beat the count, the referee stopped the fight as Gross was in no fit state to continue.
2. Frazier vs. Muhammad Ali
On March 8, 1971, at Madison Square Garden, Ali and Frazier contested the heavyweight championship of the world in a matchup aptly named "The Fight of the Century".
For 14 rounds both Ali and Frazier slugged it out as if their lives depended on it, and "Smokin' Joe" punished Ali with his trademark left hook, maybe the most devastating hook of all time.
With the fight well in Frazier's control, in the 15th and final round, he unleashed a sledgehammer catching Ali on the chin and floored him.
Even though Ali easily beat the count, the victory was Frazier's retaining his title via unanimous decision, and giving "The Greatest" his first professional loss.
1. Sugar Ray Robinson vs. Gene Fullmer Ll
In May 1957, Robinson aimed to reclaim the world middleweight title he'd lost four months earlier to Fullmer via unanimous decision.
Fullmer was the favourite going into the fight, but he'd not envisioned Robinson's left-hook, that many historians would later refer to as "The Perfect Punch" laying him out cold in the fifth round.
Robinson's left hook knockout was so ruthless, it left Fullmer's legs involuntarily twitching in every direction.
And to add insult to injury, Robinson executed that left hook going backwards, further solidifying Sugar Ray's position as arguably the most skilled fighter ever to lace up a pair of gloves.
Keep Reading