NFL Trade Rumors: 5 Possible Destinations for Carson Palmer
October 13, 2011
Andy Lyons/Getty Images
The NFL Trade Deadline is approaching, and while NFL trades are less common, they do happen. Aaron Curry and Derrick Mason were just traded, so it's clearly possible.
Also, players of Carson Palmer's status aren't usually available at the deadline. Here's a look at five teams the Cincinnati Bengals would be smart to talk to. 
After upsetting the New York Giants, the Seahawks are 2-3 and the probability of getting Andrew Luck is slowly falling. 
Tarvaris Jackson is signed for two years and Charlie Whitehurst is signed for one more year. So essentially, what it comes to is this: does Palmer give you a better shot of winning than Jackson does?
I don't think the answer to that is nearly as clear as most would think. When given time in the pocket, Jackson has actually shown he knows how to manage a game and make smart throws. Palmer, who would be reunited with Pete Carroll, is still probably an upgrade, but I'm not sure he's worth it at this point.
If the Colts truly believe Peyton Manning will make a full recovery, this move doesn't make a whole lot of sense.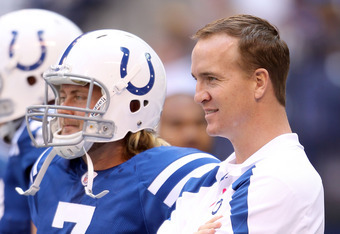 Andy Lyons/Getty Images
If there is any need for a quarterback in the next two or three years, however, Palmer is a much better answer than Curtis Painter.
Painter has looked good in the last couple of games, but I'd like to see him play against some real defenses before I crown him as the next Peyton. 
Palmer, 30, is much more of an ideal fit for the future, but at this current pace it looks like Indy might be able to rely on Andrew Luck in the future. They'll probably stay away from Palmer.
This seems like a pretty good fit for Palmer.
Chad Henne certainly isn't the future behind center for the 'Phins and he's unlikely to start again after he returns from his injury next year. Matt Moore can't be the answer. Sage Rosenfels certainly isn't the answer.
Palmer would be an immediate starter and it would be awful fun to see him playing with his former USC teammate Reggie Bush. 
Tim Tebow is not the savior of that franchise and he is not in either John Fox or John Elway's future plans. He's the starter now, but that's just because there's no one else.
Everything I just said, multiply it by two for Kyle Orton, who becomes a free agent after this year.
The Broncos are clearly in need of a QB and Palmer could certainly thrive throwing to Brandon Lloyd and Eric Decker.
There are worse options out there for Denver.
Two words. Donovon McNabb.
McNabb is no longer worthy of starting in the NFL. He has had a terrific career, don't get me wrong, but his time is done.
They have Christian Ponder, who they clearly like, but it appears they want him to sit back and learn for a season. Carson Palmer would make Minnesota winners while Ponder learns.
The Vikings are the only team on this list that are a quarterback shy from being a contender. They have a terrific defense and stellar running game, but their passing game just isn't up to snuff.
Palmer would immediately bring the tension off Adrian Peterson and the Vikings would improve massively.