LeGarrette Blount Injury: 5 Waiver Wire Adds to Rescue Your Fantasy Season
October 13, 2011
Ezra Shaw/Getty Images
It was right around this time last year that Tampa Bay Buccaneers running back LeGarrette Blount burst onto the scene as a reliable fantasy producer. Many fantasy owners remain grateful to this day.
But those who own Blount this year are going to be sad to hear that he is going to be out of action for a couple weeks. The latest word around the campfire (per Pro Football Talk) is that Blount has a Grade 2 MCL strain, and will have to miss "several weeks."
Given what Blount brings to the table, these several weeks could be tough for his fantasy owners. Especially if they stand pat and do nothing to account for Blount's absence.
For those who would rather try and save their seasons, targeting one of the five guys listed below would be a good idea.
5. Pierre Thomas, New Orleans Saints
There's really only one reliable fantasy producer in the Saints' stable of running backs, and that's Darren Sproles.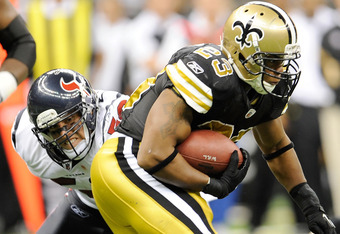 Stacy Revere/Getty Images
The Saints have done their damndest to get rookie Mark Ingram going, but the results have been mixed. As a result, Pierre Thomas is getting plenty of reps.
Thomas is not going to get you that many rushing yards, but his total yardage tends to be pretty good. Drew Brees has gotten him involved in the passing game, and that resulted in Thomas' first touchdown in Week 5.
I'm not so sure you can expect Thomas' production to increase, but it just might if Ingram keeps struggling.
4. Montario Hardesty, Cleveland Browns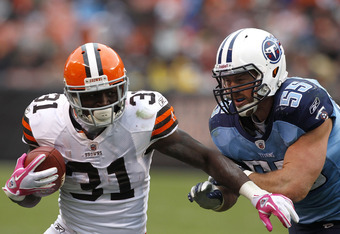 Matt Sullivan/Getty Images
There's talk of Peyton Hillis being traded. There's also talk of him being more involved in the Browns' offense than he has been this season.
Either way, it's clear that Hillis' situation in Cleveland is a bit shaky. If nothing else, that makes Montario Hardesty a good high-ceiling add.
For now, Hardest is going to languish behind Hillis on the depth chart. Even then, he's going to get touches both running the ball and catching it. While nothing to write home about, his total yardage has been solid in each of the last two weeks.
3. Delone Carter, Indianapolis Colts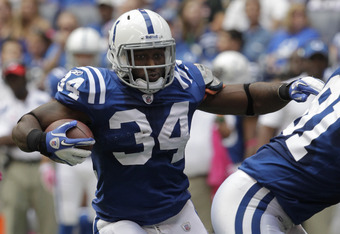 John Sommers II/Getty Images
The word from the Associated Press is that Colts running back Joseph Addai is a "long shot" for this weekend's game against the Cincinnati Bengals. That means the next man will have to step up.
The next man is rookie running back Delone Carter. He's had difficulty finding running lanes so far this season, and that's not likely to change given the Colts' subpar passing attack. But at least he's going to start.
It could pan out. Carter has shown promise here and there, and it's worth noting that he did score his first touchdown last week against the Kansas City Chiefs.
2. Earnest Graham, Tampa Bay Buccaneers
With Blount out, the torch in Tampa will pass to Earnest Graham, he of the 31-year-old legs.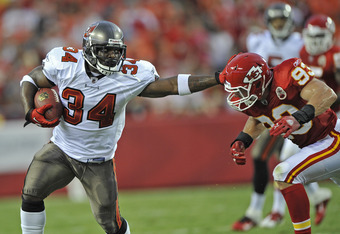 Peter Aiken/Getty Images
Admittedly, there's not much to be excited about Graham. He's old, and he hasn't gotten consistent reps in three years.
However, Graham is not hopeless. He has been productive, catching the ball out of the backfield this season, and he did rush for 898 yards and 10 touchdowns back in 2007. Maybe some of that old magic still works.
1. Jackie Battle, Kansas City Chiefs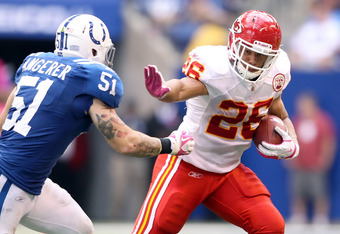 Andy Lyons/Getty Images
If Jackie Battle is still available in your league, you're in luck. He's one of the most sought-after players on the waiver wire, and for good reason.
First and foremost, Battle is coming off a game in which he rushed for 119 yards on 19 carries against the Colts. He came out of nowhere, but he looked pretty good.
Battle could look even better. With Jamaal Charles out and Thomas Jones struggling, the Chiefs need somebody to carry the rock. Todd Haley has every excuse to make Battle that somebody.