BYU vs. Oregon State: Last-Minute Spread Info, Line and Predictions
October 13, 2011
Jonathan Daniel/Getty Images
The Brigham Young Cougars and Oregon State Beavers collide in a matchup of two teams who have underachieved up to this point in the season.
BYU is 4-2 on the season, while the Beavers are just 1-4.
Both teams are coming off victories and will be hoping to continue a turnaround with a victory this week.
Where: Reser Stadium (Corvallis, Oregon)
When: Saturday, October 15th at 4:00 p.m. EDT
Watch: FCSP, DirecTV's ESPN Gameplan
Spread: Oregon State (-3) according to Bodog Sportsbook
BYU has been playing better over the past few weeks, but neither team has proven itself. Oregon State lost its first four games of the season before finally knocking off Arizona last week, which is proving to be just as bad.
Neither team is very trustworthy, thus it makes the most sense to pick the home team in this one.
Don't be surprised if BYU pulls out a victory, as this one is really a betting line to avoid.
BYU's Injuries:
Graham Rowley (DE) has an ankle injury and is currently listed as day-to-day. OL Houston Reynolds is also listed as day-to-day because of his foot injury.

Oregon State Injuries:
RBs Jovan Stevenson and Malcolm Agnew are both expected to return for the Beavers this week, while WRs Jordan Bishop (ankle) and Micah Hatfield (hand) are both questionable. OG Josh Andrews is also questionable with his knee injury.

Keys to Victory for BYU:
Brigham Young has had plenty of problems this year on both sides of the ball. Sophomore QB Jake Heaps was benched after throwing five interceptions and only three touchdowns.
Junior QB Riley Nelson has been more effective getting the ball in the end zone, but already has two interceptions. If the Cougars are going to have any chance of winning this game they need to limit their turnovers.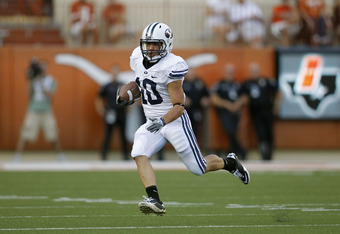 Erich Schlegel/Getty Images
Averaging just 20 points per game this season, this team needs to get some points on the board. Their defense has been good enough, but they need their passing attack and their running attack to click.
Keys to Victory for Oregon State:
Oregon State needs to force some turnovers as they are giving up 30 points per game. They need to tighten up defensive and capitalize on BYU's mistakes.
With Nelson making his first road start of the season, the Beavers should be able to capitalize on his inexperience.
On the offensive side of things, they also need freshman QB Sean Mannion to limit his mistakes. He has improved throughout the course of the season, and he is in prime position for a big day against BYU.
Prediction
BYU 20
Oregon State 24