Clemson vs. Maryland: Spread Info, BCS Impact, Line and Predictions
October 13, 2011
Joe Robbins/Getty Images
The Clemson Tigers will look to keep their BCS championship hopes alive in Week 7 of the college football season when they travel to College Park to take on ACC rival Maryland on Saturday evening.
Head coach Dabo Swinney has Clemson believing that it belongs in the conversation with teams like Oklahoma, LSU, Alabama and Wisconsin. Judging by the results on the field, it is hard to argue with him. They have been fantastic this season, winning three games against ranked opponents, at least ranked at the time of the game, and taking control of the ACC.
Maryland's only real newsworthy moment this season came in its first game against Miami thanks to those hideous uniforms the team was wearing. This team did give Georgia Tech a fight last week, but ultimately came up short. This team likely built a lot of confidence by holding such a good offense to 21 points, so don't expect them to be intimidated against Clemson.
Where: Byrd Stadium in College Park, Maryland
When: Saturday, Oct. 15 at 7:00 p.m. EDT
Watch: ESPNU
Listen: WCCP-FM 104.9 The Drive (Clemson); WJZ-FM 105.7, WJZ-AM 1300 (Maryland)
Betting Line: Clemson (-9)
Tigers Injury Report
QB Tajh Boyd – Day-to-Day (Hip)
K Spencer Benton – Out (Shoulder)
Terrapins Injury Report
LB Kenny Tate – Day-to-Date (Undisclosed)
LB Darin Drakeford – Day-to-Day (Leg)
DL Andre Monrote – Day-to-Day (Leg)
OL Justin Gilbert – Out (Knee)
DB Matt Robinson – Out (Shoulder)
DL Isaiah Ross – Out (Leg)
OL Pete DeSouza – Out (Leg)
Key Storyline To Watch: Is Clemson a Legitimate National Title Contender?
When the season started, Clemson was unranked and had earned the label of underachievers in the last few seasons.
Through six games, everything has gone right for the Tigers. This will be just their second road game of the season—the first was against Virginia Tech two weeks ago. If they want to be thought of as a legitimate BCS title contender, they have to win games on the road.
Maryland has not been winning games, but they are playing hard and have given good teams fits this season. They have what it takes to pull off an upset.
BCS/Top-25 Poll Implications
Clemson has been climbing the ranks through the first seven weeks of the season. The Tigers had a three week stretch in which it defeated teams ranked in the top 25—Auburn, Florida State, Virginia Tech.
The BCS rankings come out on Sunday evening, so this will be the Tigers last chance to make a good impression on the computers. They look like the most complete team in the ACC right now, but there are a lot of games left.
The real test for this team will come in two weeks, when they take on undefeated ACC rival Georgia Tech.
What They Are Saying
With star quarterback Tajh Boyd battling a hip injury, Clemson fans are no doubt holding their collective breath and hoping that he will be back at full strength in time for this game. But he says that no matter how much pain he is in, there is no way he is missing this game.
"It was a little scary. If you look at it, it definitely could have gone a lot of different ways. But fortunately, it turned out in my favor… Honestly, I just felt like I couldn't walk. It felt that bad."
Clemson Player To Watch: Tajh Boyd, QB
Going right back to the quarterback because Tajh Boyd has been so instrumental in the success of this team through the first six games. He has thrown for 1,742 yards, 17 touchdowns and just two interceptions.
If the Tigers had to play without him for an extended period of time, they would have a hard time maintaining their perfect record. They need him to play at a high level all season long if they want to win the ACC and make a run at the BCS title.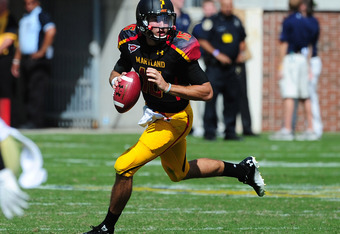 Scott Cunningham/Getty Images
Maryland Player To Watch: C.J. Brown, QB
C.J. Brown is not the primary quarterback for the Terps, not yet anyway, but he has become a change of pace for the offense. He is still not a great pocket passer—just 10-for-24 with 92 yards—but he is electric as a runner.
He played a lot more against Georgia Tech last week and had his best game of the season. He ran for 124 yards on nine carries and kept the team in the game until the end.
Expect him to get more snaps this week and be more of a focal point in the offense.
Key Matchup: QB Tajh Boyd vs. Maryland's Defensive Line
As we already mentioned, Tajh Boyd is still recovering from a hip injury he suffered last weekend. He is going to have to prove that he can move around in the pocket in order to be effective in this game.
Maryland would be wise to devise a game plan to put pressure on Boyd in order to test that hip early in this game. If they can rattle his cage in the first quarter, he will get nervous and force him into making mistakes.
Prediction
By all accounts, Boyd's hip injury will not be a problem in this game. That will give Clemson the edge in this game, though I do think Maryland will keep it close until the fourth quarter.
Clemson 30, Maryland 20