Georgia Tech vs. Virginia: Spread Info, BCS Impact, Line and Predictions
October 13, 2011
Kevin C. Cox/Getty Images
Georgia Tech will take its high-powered offense into Scott Stadium to play Virginia this Saturday looking to make a lasting impression on the BCS before the initial rankings are released on Sunday night.
The Yellow Jackets have come out of nowhere this season. They were not ranked in the preseason polls, but after a 6-0 start they are ranked No. 12 in both polls. They have quickly emerged as one of the favorites to win the ACC. They are led by a dynamic rushing attack that averages 360 yards per game.
Virginia has really struggled so far this season. There has been no consistency on offense or defense with this team. They needed overtime to defeat Idaho last week. Second-year head coach Mike London is still trying to build this roster to match his vision, but it is going to be a struggle the rest of this year.
Where: Scott Stadium in Charlottesville, Virginia
When: Saturday, Oct. 15 at 3:30 p.m. EDT
Watch: ESPNU
Listen: Sports Talk 790 AM The Zone, 106.7 WYAY-FM (Georgia Tech); 3WV 97.5 FM, WINA 1070 AM (Virginia)
Betting Line: Georgia Tech (-7.5)
Yellow Jackets' Injury Report
LB Brandon Watts – Day-to-Day (Undisclosed Injury)
LB Jeremiah Attaochu – Day-to Day (Leg)
LB Daniel Drummond – Day-to-Day (Leg)
OL Morgan Bailey – Day-to-Day (Undisclosed)
Cavaliers' Injury Report
RB Kevin Parks – Questionable (Ankle)
WR Bobby Smith – Questionable (Lower body)
LB Henry Cole – Questionable (Lower Body)
Key Storyline To Watch: Is Georgia Tech The Best Team In The ACC?
Before the season started, all the talk in the ACC was about Florida State and how that program was on the upswing.
Now, seven weeks into the year, it appears that the two best teams in the conference are Clemson and Georgia Tech.  Those two teams won't play each other for another two weeks, but the Yellow Jackets are certainly making an impression on everyone around the country.
There are not many offenses that have produced the kind of numbers they have. They rank fourth in the country in rushing and sixth in points scored.
If the Yellow Jackets keep dominating the way they have, they will be kings of the ACC.
BCS/Top 25 Poll Implications
Virginia is 3-2 with losses to North Carolina and Southern Mississippi. They beat Indiana by three and needed overtime to beat Idaho. It is safe to say that a lot of things will have to go wrong with the rest of the ACC for this team to have a shot at a BCS game.
Georgia Tech, on the other hand, has very real BCS aspirations right now. With the easier portion of the schedule done, this team can focus on using the momentum built out of conference to stay atop the ACC heading into their Oct. 29 showdown with Clemson.
What They Are Saying
With Virginia still trying to find an identity, offensive coordinator Bill Lazor says that freshman quarterback David Watford is likely to see an expanded role in the offense in this game and the rest of the season.
"We're not at a point where we're trying to protect him. He's going to play football. He has skills and he can play, so we'll decide before the next game how he's going to play. It may be the same pattern or it may be a different one. We may decide differently. There's a lot of different ways to do it."
Georgia Tech Player To Watch: Orwin Smith, RB
The Yellow Jackets live and die with the run, and Orwin Smith has been one of the most electric running backs in the country this season. He has 464 yards and eight touchdowns on just 32 carries. That equates to an astounding 14.5 yards per rush.
Smith has had two games this season in which he has averaged at least 20 yards per rush and four games with at least 10 yards per carry. He is having a historic season that no one is talking about.
Virginia Player To Watch: Michael Rocco, QB
Virginia's sophomore quarterback Michael Rocco struggled in September with seven interceptions and just one touchdown. He bounced back with a solid performance against Idaho two weeks ago, but he has to play the game of his life to keep up with Georgia Tech's offense.
If Rocco struggles early, don't be shocked if the team makes the move to freshman quarterback David Watford. He has played sparingly this season, but is going to get more snaps as the year progresses.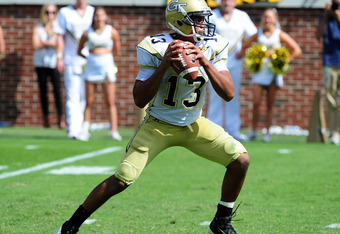 Scott Cunningham/Getty Images
Key Matchup: Georgia Tech's Running Backs vs. Virginia's Defensive Line
You know what you are going to get when you play Georgia Tech: A lot of runs with some play-action passes mixed in.
Virginia does not have a high-powered offense, so it is incumbent upon the defense to break through the Yellow Jackets' blockers if they want to stay in this game for 60 minutes.
Considering the way that teams like Indiana, North Carolina and Southern Mississippi have been able to score on Virginia's defense, it is hard to believe that will happen.
Prediction
The Yellow Jackets are the superior team. They are going to run on Virginia's defense all game long.
Georgia Tech 51, Virginia 20