Arizona State vs. Oregon: Spread Info, Line, BCS Impact and Predictions
October 13, 2011
Norm Hall/Getty Images
The Arizona State Sun Devils don't need to beat the Oregon Ducks to win the Pac-12 South. However, a win over the ninth-ranked team in the country would certainly go a long way towards legitimizing their season.
Oregon knows it is unlikely to earn a second straight BCS National Championship bid after falling to LSU in the season-opener, but they still have their sights set on winning the Pac-12.
These two teams represent 66 percent of the ranked schools in the Pac-12 this year. 
Unlike the Ducks, the Sun Devils don't have a date with Stanford Cardinal. This is the toughest game left on their schedule, and they already hold a one-game lead in the Pac-12 South division.
While the Sun Devils still have margin for error, the Ducks have absolutely none.
Where: Autzen Stadium in Eugene, Oregon
When: Saturday, October 15, 10:15 p.m. EDT
Watch: ESPN or ESPN3.com
Spread: Oregon -14
The spread would be much higher if Heisman Trophy candidate LaMichael James were healthy. Even so, two touchdowns is a fair number for an offensive juggernaut like Oregon.
The Sun Devils have a solid defense though, and feature one of the top prospects in the entire nation in Vontaze Burfict.
Trends don't really help much in matchup. ASU is 8-2 against the spread in their last 10 games against teams with a winning record, but Oregon is 8-1 against the spread in October games.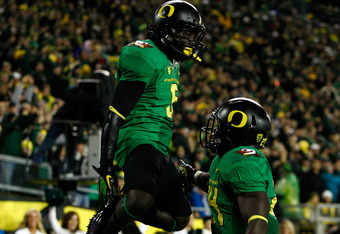 Jonathan Ferrey/Getty Images
Despite only losing one game on the season, the Sun Devils are 2-4 against the spread.
Even without James, the Ducks at -14 are the pick.
Over/Under: 67
This is a large number even for Oregon. However, they do average 50 points per game and ASU averages 35 themselves.
That number 85 between the two of them is deceiving. The Ducks failed to cover the over last week at home against California, and without LaMichael James it will be even more difficult.
A 35-30 or 41-24 game still won't cover the spread.
The under looks to be a safer play.
Arizona State Key Injuries
Cameron Marshall, RB - Probable (ankle)
Oregon Key Injures
LaMichael James, RB - Doubtful (elbow)
BCS/Top 25 Poll Implications
A loss for the Ducks would be catastrophic. They've already lost the only game they can this year, and they need to run the table if they want to go back to a BCS bowl.
The Sun Devils can actually afford a loss this week. They already beat USC (although they're serving a postseason ban anyway) and have the inside track to the Pac-12 South title.
A win would be huge, but a loss wouldn't be terrible.
Earning the Pac-12 South title would at least give them a shot at BCS bowl if they can get past either Stanford or Oregon from the North division.
Key for Arizona State Win
Ball control. The Oregon Ducks can score at any time from anywhere on the field. The best defense against them is a good offense. That means the Sun Devils will have to eat up as much clock as possible and keep Oregon's offense off the field.
Running back Cameron Marshall will be featured heavily and quarterback Brock Osweiler has to take care of the football.
He's completing nearly 67 percent of his passes and has thrown 13 touchdowns to six interceptions so far this year.
If Arizona State is going to have a chance to win, they cannot let Oregon dictate how the game will be played.
Key for Oregon Win
Be yourself. Even if LaMichael James is unable to take the field, the Ducks have suitable replacements in Kenjon Barner and De'Anthony Smith.
Neither is the caliber of James (who is?), but both players are averaging over six yards per carry and together they can handle the load that is typically given to James.
They shouldn't get out of sync or do anything different from the norm. Expect both players to have a lot of touches. 
Prediction: Oregon 41 , Arizona State 24