Boston Red Sox Offseason: Who's the Next Victim of the Post-Collapse Firestorm?
October 13, 2011
Jim Rogash/Getty Images
The Boston Red Sox seem poised to make major changes to a team that just went through the biggest collapse in baseball history.
Terry Francona and Theo Epstein are just the first casualties in what is assured to be an offseason filled with firings and players leaving.
Francona was accused of not having control of his clubhouse; letting pitchers drink, play video games and stuff their faces with fast food during games in the clubhouse. More recent reports from the Boston Globe cite Francona for having marital problems and having an addiction to painkillers, which led to him not being focused and losing discipline with his players.
Epstein accepted a five-year deal with the Chicago Cubs where he will attempt to bring a championship to a city starving for a title. His legacy will always be cemented in Boston by winning the 2004 World Series, the organization's first since 1918, and then again by winning the 2007 World Series.
However, many bad free-agent signings have called into question his ability to analyze talent and get good value. He struck out on Edgar Renteria, Julio Lugo, J.D. Drew and John Lackey among others.
Now the reigns will presumably be passed on to Ben Cherington, longtime assistant to Epstein. If Cherington is the next general manager, he has major issues to deal with as soon as he takes the job.
Firstly, he will have to hire a manager who can earn the respect of the high-priced players and instill discipline in the clubhouse. Next, he has to weed out the bad seeds of the team that grossly fell short of lofty expectations.
The question is, who should he get rid of first?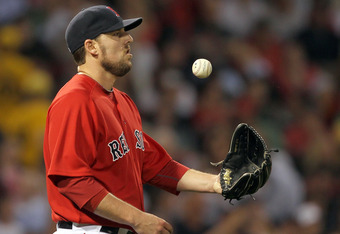 Jim Rogash/Getty Images
John Lackey
Lackey had statistically the worst season ever by a Red Sox pitcher dating all the way back to the early 1900s. His on-the-field antics coupled with his arrogant nature off the field have made for a pitcher whom fans despise. He was one of the pitchers named in the report of drinking in the clubhouse—not a surprise to many people.
The only problem with getting rid of Lackey is that the Red Sox would have to eat most of the money remaining on Lackey's mega contract, whether it be through a trade or release. However, the dollars spent would be well worth it.
Josh Beckett
Beckett was another player named in the report about drinking in the clubhouse and, according to his ex-Coach Jack McKeon, Beckett has been doing it since 2003.
Beckett is supposed to be the leader of the pitching staff. Instead, he is leading his fellow starters into the clubhouse to drink a few brews with him and order some fried chicken. Some leader.
He signed an extension before last season, so the Red Sox have millions invested in him for years to come. They could potentially get a decent return for Beckett on the trade market, making for an interesting story line this offseason.
Kevin Youkilis
Although many people aren't talking about Kevin Youkilis, he is another player who is on the hot seat.
He is another player who has many antics on the field which are detrimental to the ball club. Youkilis is constantly showing up the umpires by arguing balls and strikes. Not to mention his hissy fits in the dugouts when he slams helmets, bats or whatever he can get his hands on. 
While he still plays the game as hard as anyone, he attitude is something the Red Sox do not need.  
He has been plagued by injury the last couple of seasons and the Red Sox are starting to see diminishing returns. Many think that Youkilis should be moved to the DH spot if David Ortiz leaves, but the real value would be getting rid of him altogether. His value is still high enough that the Sox could get a very good return for Youk.