Terry Francona, Josh Beckett, Jon Lester, John Lackey Trashed by Sox "Sources"
October 13, 2011
Rob Carr/Getty Images
We've become used to the unnamed source in the American media.
It was unnamed sources who helped expose the Watergate cover-up to Washington Post reporters Bob Woodward and Carl Bernstein.
New York Gov. David Paterson was taken down in large part because of unnamed sources.
Dan Rather's career at CBS News came to an ignominious end because of unnamed sources.
The Monica Lewinsky scandal that almost derailed the presidency of Bill Clinton was sparked by—you guessed it—unnamed sources.
But it's one thing to use unnamed sources to help break a story that might reveal wrongdoing, either ethical or criminal, at the highest levels of public office. It's quite another to use them to pull a hatchet job on sports figures the way Boston Globe reporter Bob Hohler did on Wednesday.
Hohler used unnamed sources to smear former Boston Red Sox manager Terry Francona and several players on the team as a means of attempting to explain away the horrific September collapse that ultimately kept the team with baseball's second-highest payroll out of the postseason.
Hohler's story, "Inside the collapse,"  raked Francona over the coals and took swipes at just about every key member of the team not named Dustin Pedroia.
The bash-fest stemmed from what Hohler called "a series of interviews The Globe conducted with individuals familiar with the Sox operation at all levels, and most requested anonymity out of concern for their jobs or potential damage to their relationships in the organization."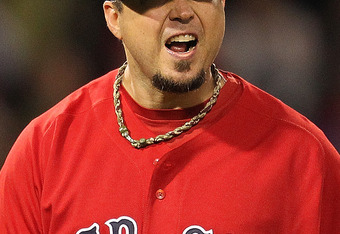 Jim Rogash/Getty Images
So let me get this straight—It was OK to attempt to blackball Francona in the eyes of any potential future employer within Major League Baseball, so long as they were able to cover their own asses? And Hohler and the editors at The Globe somehow bought into this?
Chief among the allegations hurled at Francona in the story was that he was distracted because of marital problems and the painkillers he was taking after having surgery on his knee last fall.
It's pretty amazing that Francona staying at a hotel instead of at home with his wife was the reason Boston's starting pitchers posted a September ERA of more than 7. It's even more amazing that the Red Sox played almost .667 baseball (81-42) in May through August while their manager was apparently stoned out of his mind on pain meds.
The story also states that the Red Sox's failure stemmed directly from dissension in the ranks caused by pitchers Josh Beckett, Jon Lester, John Lackey and Clay Buchholz retreating to the clubhouse to drink beer, eat chicken and play video games on days when they weren't pitching.
This became a problem, the story alleges, because no team leaders stepped forward to put an end to that activity that Francona couldn't stop either because he was so distracted by his disintegrating marriage and, well, because he was whacked out on painkillers.
And since Hohler's story is entirely substantiated (and I use the term as loosely as possible) by anonymous sources, I am having trouble believing the story wasn't in a supermarket tabloid rather than in one of the nation's leading daily papers.
I don't question the accuracy of Hohler's piece. But I damned sure question the intent behind the newspaper turning itself into the public-relations arm of Red Sox ownership.
In the wake of the story, designated hitter David Ortiz—a free agent to be—told ESPN on Wednesday he might not want to get involved with what he called "that drama" in Boston next season.
And, oh, by the way—general manager Theo Epstein, architect of Boston's World Series winners in 2004 and 2007, is headed to the Chicago Cubs to take over their baseball operations.
So it appears the Red Sox have gotten a head start on what will certainly be a winter of discontent.