Manchester United: Does the Rise of Phil Jones Mean the Fall of Rio Ferdinand?
October 13, 2011
The summer of 2002. England have been knocked out of the world cup by Brazil, Manchester United had to settle for runners up in the Premier League and found themselves on the wrong end of an agonising away-goals defeat in the semi finals of the champions league.
It was the year of "almost".
Still hurting from the season before, Alex Ferguson would go on to complete a transfer that would define Manchester United's defence for the next decade. That was to sign the shining light in England's world cup campaign, Rio Ferdinand, for a then British record £30million, from hated rivals Leeds United.
Rio Ferdinand had shown he was on the verge of turning the potential, identified by everyone in the game whilst still a teenager, into the makings of a world class central defender. He had kept the onslaught of Argentina at bay in the world cup, and had started to show a new maturity in his play.
Man United's defence had been significantly weakened by the departure of Jaap Stam the summer before, and many felt that the absence of Stam had cost United the title that previous season.
Ferdinand went on to sure up United's defence the next season, and they reclaimed the title. During the season of 2002/2003, the team had a lot to thank Ruud Van Nistelrooy and Paul Scholes for, but it should be noted that United also boasted the best defensive record in the premier league. It seemed money well spent, especially for a player who had a whole decade at the top ahead of him.
Many more titles and cups followed, and Rio Ferdinand did mature into the world class central defender Alex Ferguson hoped he would.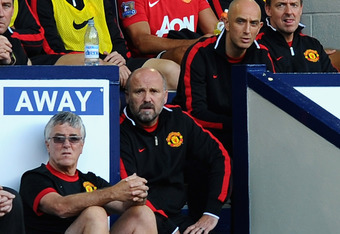 Mike Hewitt/Getty Images
However, fast forward almost 10 years from the day Rio Ferdinand signed for Manchester United, are we now seeing the end of Rio Ferdinand as a first choice top class defender?
There have definitely been signs for the last 2 seasons of a slight decline in performance levels. Thinking back to 2008 and the Champions league semi final against Barcelona, there haven't been many, if any, better defensive performances by an individual. Rio Ferdinand stood strong to an onslaught of attacking talent which included Henry, Eto'o and Messi. All this achieved without his partner in crime, Nemanja Vidic. Rio Ferdinand supported and marshaled the less experienced defenders supporting him in the team. He was the leader amongst the team that night, and Man United did not concede a goal against Barcelona over both matches that season. They would go on to lift the champion's league trophy in Moscow in an enthralling match with Chelsea.
Rio Ferdinand had matured into the best defender on the planet, and had the biggest trophy in club football as a reward. Now, think of his performances over the last year or so. The sluggishness against Basle and the missed header that presented Crouch with a chance to score against Stoke are just two incidents that come to mind. The pace, timing and movement seems to be worryingly on the wane.
Of course there have been injuries.
There has been the chronic back problem which has troubled Ferdinand for the last three years. This had led to niggling calf, hamstring and groin injuries on top of back problems. They have taken their toll, and it's no surprise that Rio's body is not the finely tuned machine it once was. Missing so many matches also leads to rustiness and a lack of sharpness. However, it also leads to other players filling in, and the problem Rio now has is these players are performing exceptionally well.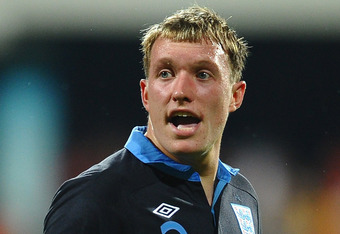 Laurence Griffiths/Getty Images
The emergence of Phil Jones, Chris Smalling and the re-emergence of Jonny Evans puts into doubt if Rio Ferdinand is even considered first choice anymore. He recently lost his place in the England squad where, again, Jones and Smalling have recently impressed in their performances. With Nemanja Vidic looking to come back shortly into the team, Rio Ferdinand, for the first time in his Manchester United career, cannot be sure if he will be the preferred partner.
Chris Smalling proved his worth last season in some excellent displays at centre back. Phil Jones has been compared to the late and great Duncan Edwards, which, according to Bobby Charlton, is the biggest compliment one can bestow on a player! Of course, there is also Jonny Evans, who has seemed to put last season's disappointing performances behind him, and has played every match this season when he has been fit.
Rio Ferdinand understands that his time is not going to last forever, especially at a club as large and successful as Man United. He has seen the likes of Keane, Neville, Scholes and Ronaldo retire or move on. He has seen new players take their place and the club is still winning trophies. Great players come and go, the wheel keeps turning. Reputations don't earn you a place in the team, performances do. That's how a team stays successful, that's how a team stays hungry.
Five league titles, one champion's league, one FA cup, one world club cup and three league cups is an impressive haul for any player to have in their career.
No matter what happens in the future, Rio Ferdinand can be proud of his achievements and will go down as one of the great defenders of his generation. I am also sure Rio will not be ready to put his feet up happy with his contribution to Man United and satisfied with his medal collection. That's not him, that's not his attitude.
He will want more medals, more trophies and he won't give up his spot in the team without a fight. However, this is the biggest challenge he has had to face in his career. The influx of quality young players at club and international level has put doubts into his future, but on his day, Rio Ferdinand is still the best centre back in the country. If he finds this form again, then Manchester United and England will both benefit. If he does not, then this could be the end of Rio Ferdinand as we know him.
We will thank him, we will miss him, but great players come and go, the wheel keeps turning.