NFC West Power Rankings for Week 6 : San Francisco Is for Real
October 13, 2011
Ezra Shaw/Getty Images
It looks like we may have a good team in the NFC West after all.
The San Francisco 49ers have quietly compiled a 4-1 record, and dare I say, have the game of the week this Sunday against the undefeated Detroit Lions. 
But how are they doing it. Here is an interesting stat: Since Week 6 of 2010, Alex Smith has thrown for 15 touchdowns and just two interceptions.  
San Francisco's record since then? 7-3.
Coincidence? I think not!
Onto the rankings...
1. San Francisco:  This division may already be won. San Francisco has a two game lead on the Seahawks and a three game lead on the Cardinals.  Sure they have five divisional games left, but right now, the 49ers don't seem scared to play anyone. In most of the NFL Power Rankings you see in the media right now, the 49ers are in the Top 10.  Am I a believer? As of now, yes but if you really want to make me a believer, beat Detroit on the road. I can't wait till Sunday.
Beware 49ers fans though.  You still have a tough road ahead. Games against Detroit, Washington, Baltimore and Pittsburgh do make your schedule tougher down the line.  A win this week can go along way to making a statement that these 49ers are for real. Yeah, I said it.
2. Seattle: Just hear me out. The Seahawks are not sitting that bad at this point in the season. They go into their bye week only two games back of the 49ers and seem to be finding their rhythm. Sidney Rice really does make a difference to an offense so it seems. And even though Tavaris Jackson is hurt, Charlie Whitehurst didn't look too bad.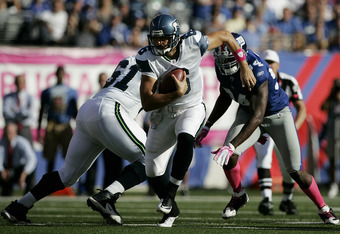 Rich Schultz/Getty Images
But their next three games aren't that difficult: Cleveland, Cincinnati and Dallas.  The real test may be Week 10 when Baltimore comes to town.  
3. Arizona:  This can't be what Arizona bargained for when they made the trade to get Kevin Kolb. A record of 1-4. More interceptions than touchdowns. Third down conversions that are about as rare as finding gold under your pillow.  Finally, we are starting to see head coach Ken Whisenhunt breaking his normal calm stature, and you are getting interesting comments from the starting quarterback about guys not paying attention to details.
Fortunately for Arizona, they can't lose this week; although, Vegas may have the bye winning by three points. This bye week can make or break the Cardinals, and if they want to be serious about getting back in the division race, they'll have to play some amazing football in their next two games against Pittsburgh and Baltimore. Yeah, I don't think so either. 
4. St. Louis: Oh, what a cruel world we live in. You get off your bye week with an 0-4 record. You take some time to get healed and focused again only to get ready for making a run for the division. And you get the hottest team on the planet as a welcome back present.  Oh, and did I mention it's a road game? That's right, the winless Rams travel to Green Bay this Sunday...That's not going to be easy and neither are road games against Dallas and a visit from the Saints in the following two games.
They have scored 46 points in their first four games and rank near the bottom of the league in offense. This must be shocking for the entire city that a Josh McDaniels offense is—well, down right offensive. Fear not Rams fans. At least you have the St. Louis Cardinals making a run at another World Series title.