MLB Trade Scenarios: Predicting Where Top 15 Targets Will Land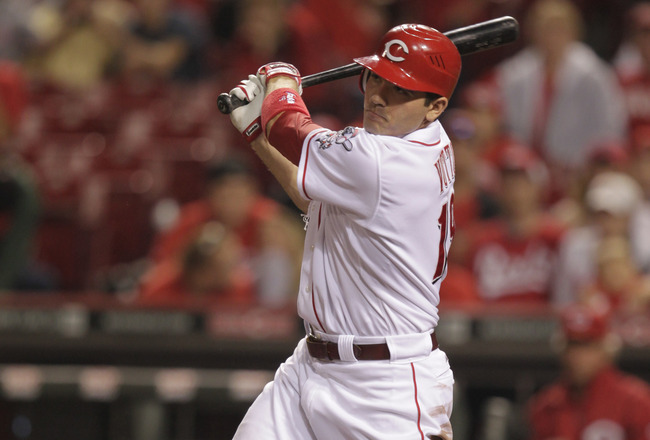 John Sommers II/Getty Images
With the offseason inching ever closer, free agency and trades will help create massive changes in continuity between this season and next season.
In fact, player movement via trade is much more common in baseball because of the nature of the game.
Sure, players have to learn signs, but it's something that can get picked up.
That's why so many deals happen at the trade deadline and over the winter.
Some trades will be blockbusters, and others will be minor.
Here is a list of the top 15 trade targets and where they may end up landing (or staying).
Felix Hernandez: Sleepless in Seattle or Heading to the City That Never Sleeps?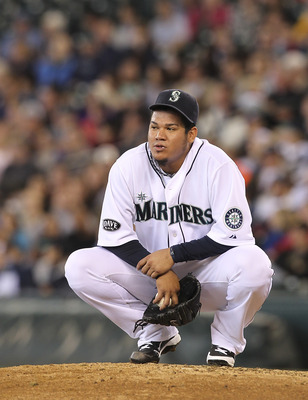 Otto Greule Jr/Getty Images
Felix will forever be on these trade lists until he retires or actually gets traded.
He's one of the best pitchers in baseball and can anchor a staff for a decade.
However, the Mariners are unlikely to trade him because they think they can win within the next couple of years.
Still, crazier things have happened, and if he does get traded, look for him to go to a team like the Yankees, Red Sox or Cubs along with...
Ichiro Suzuki: The Other Guy in the Deal...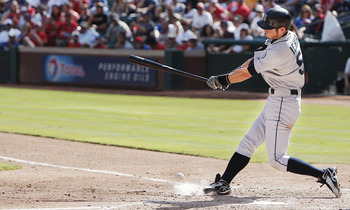 Brandon Wade/Getty Images
In the sole scenario where King Felix gets traded, Ichiro is also included in the deal as a salary dump.
This would give the Mariners a chance to dump a ton of salary and start fresh.
The most likely scenario I see happening would be a deal sending King Felix and Ichiro to the Yankees in exchange for Phil Hughes, Jesus Montero, Joba Chamberlain and Brett Gardner, who really turned heads in the ALDS.
David Wright: Cubs/A's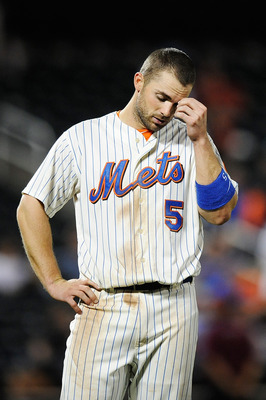 Patrick McDermott/Getty Images
Many experts are predicting the Mets re-sign Jose Reyes while trading David Wright.
While I think both should be let go, we're simply talking about Wright.
Wright definitely needs a change of scenery, because he can't play at CitiField.
A move to Oakland or Chicago's North side could bring him back to effectiveness, while furthering the Mets' plan to restock the Omar Minaya ravaged farm system.
Francisco Liriano: Red Sox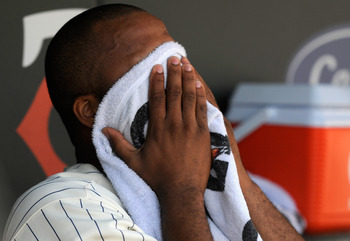 Hannah Foslien/Getty Images
Liriano is almost certainly headed to New York or Boston this offseason.
The Twins have had enough of Liriano's shenanigans, and both the Yanks and Sawx are desperate for some pitching, especially with CC Sabathia's inevitable opt-out.
The Twins won't get a ton for Liriano, but they'll still get more than he's worth.
This seems like a deal the Red Sox are destined to make.
He's a lefty and a veteran.
Liriano can also provide the middle or back of the rotation depth the Red Sox need.
Aramis Ramirez: Mets or A's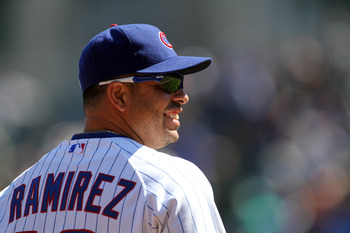 Tasos Katopodis/Getty Images
If new Cub GM Theo Epstein shakes things up and trades for Wright, which would be a match made in heaven, A-Ram becomes expendable.
Trading Ramirez would give Epstein back prospects almost as good as he'd have to give up to get Wright, or he could swap them heads up.
While the Wright and Ramirez deals are pure speculation, you have to admit they make a lot of sense.
Billy Beane could also be interested in A-Ram's services if the Cubs are willing to kick him some money.
Wandy Rodriguez: D-Backs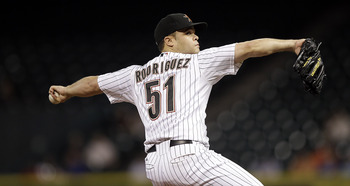 Bob Levey/Getty Images
The Wandy Line is another pitcher like King Felix that's perpetually the focus of trade rumors.
Unlike Felix, this is the winter he probably gets dealt.
Too many teams need pitching, and the Astros could use elite prospects to rebuild their disastrous team.
Arizona would be a great fit because they are a young team in need of a veteran presence.
He could also be the presence that consistently puts them over the top in a weak division.
Joe Blanton: Red sox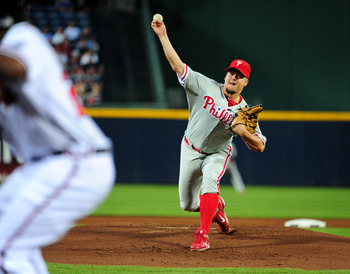 Scott Cunningham/Getty Images
Blanton is that other guy who's not in the Phillies' fearsome foursome.
He's a quality pitcher and should be dealt if the Phillies don't ask for too much.
That being said, the Red Sox could lose a pitcher, and he would be a cheap add who could help soften the blow of losing Terry Francona and Epstein.
Their biggest weakness is in the middle of their rotation, and Blanton is just that.
James Shields: Nationals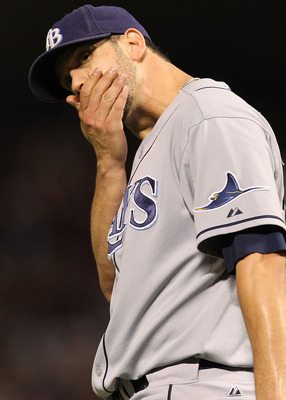 Ronald Martinez/Getty Images
The Rays have too many pitchers, and James Shields has both the highest value and salary.
Logic dictates the frugal Rays will therefore trade him for some prospects that will either bust or be traded when the prospect lands in Shields' situation.
Shields probably won't go inside the AL East, so a team in the NL may benefit.
The Cubs did business with the Rays last winter for one of their pitchers, and it could happen again.
Maybe the Brewers make a play for him to create their own fearsome foursome.
But the most logical place for him to land is the Nationals, and here is why….
BJ Upton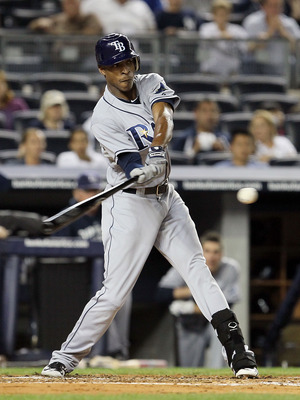 Jim McIsaac/Getty Images
The Nationals have long coveted BJ Upton.
They've considered trading for him the past couple of seasons, but the Rays didn't want to deal him unless he was at maximum value.
While his value isn't great, trading Bossman Junior to the Rays along with Big Game James would allow the Rays to loot the Nats' farm system.
However, I think the Rays will try to protect that Harper guy….
Michael Young: Rockies
Kevork Djansezian/Getty Images
We had this dance last year.
While Michael Young was a champ about his playing situation, who knows how long it will last before either Young or the Rangers blink and trade him.
Michael Young to the Rockies has been a popular rumor for a year, and I won't go against it, especially since the Ubaldo Jimenez trade.
It should give the Rockies more bullets to deal for a quality first baseman.
Billy Butler: Mariners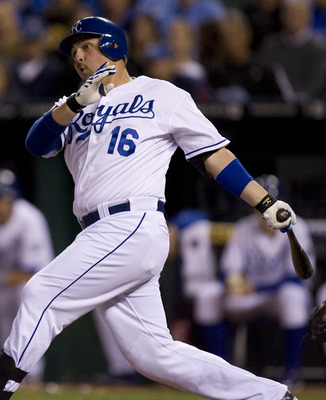 Ed Zurga/Getty Images
While Billy Butler is one of the better hitters in baseball, he lacks the power to become an elite hitter.
The Mariners desperately need a DH, and Butler's gap power would be perfect for the cavernous Safeco Field.
If the Royals can get some decent pitching back, the move actually makes sense.
Joey Votto: Seattle Bound?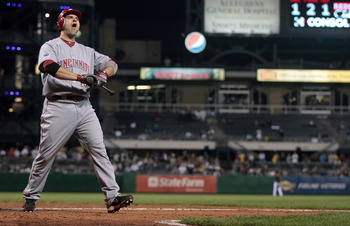 Jared Wickerham/Getty Images
For some strange reason, there are rumors that the Reds and Mariners may have a deal going.
Now why the Reds would want to trade their best player and arguably the best hitter in baseball is beyond me.
If Felix Hernandez or Michael Pineda appears on the table, a deal could get done; if not, it won't happen.
The Reds are probably better for it.
Grady Sizemore: Yankees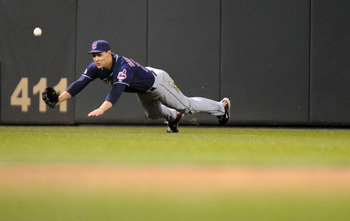 Hannah Foslien/Getty Images
There is a chance the Yankees don't exercise Nick Swisher's option or trade Brett Gardner for a pitcher.
If either happens, the Yankees might be wise to trade for Grady Sizemore and hope they can keep him healthy.
When healthy, he's one of the game's best center fielders, but he ever stays healthy anymore.
Still, it could be worth the risk given Yankee GM Brian Cashman's hot streak of getting the most of players on the scrap heap.
Jesus Montero: Somewhere for an Elite Pitcher or Corner Outfielder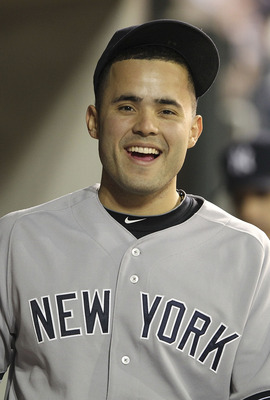 Leon Halip/Getty Images
Montero is the only prospect on this list, yet he seems like the prospect most likely to be traded because of his massive potential.
He can be used as the centerpiece of a trade for just about any player in baseball, including Felix Hernandez, Matt Cain or Cole Hamels.
With other good young catchers like Francisco Cervelli and Austin Romine in the system, along with Russell Martin manning the current catching fort, it makes perfect sense to trade him.
Carlos Zambrano: Florida Marlins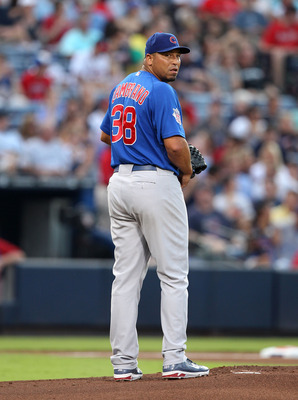 Mike Zarrilli/Getty Images
Big Z's trade has been a long time coming, but this offseason it finally gets done.
The Cubs' incoming GM Theo Epstein knows the value of team chemistry, which is not Zambrano's strongest point.
However, he's still a talent, and a team like the Marlins might be able to use him.
Incoming Marlins' manager Ozzie Guillen is friends with Zambrano, and a mutual understanding between the two could lead to Zambrano to becoming an elite pitcher again.
Keep Reading