USC vs. California: Last-Minute Spread Info, Line and Predictions
October 13, 2011
Stephen Dunn/Getty Images
Any time the USC Trojans and California Golden Bears meet up, it's bound to be a good football game.
This is the Pac-12 in its purest form, with two of the more prolific and historic programs meeting up.
While USC has been under NCAA sanctions for an improper benefits scandal, they are still one of the most well-known and respected football programs in the NCAA.
They come into this game a respectful 4-1, with their only blemish coming against a good ASU team.
Cal is 3-2 with two straight losses, the latter coming at the hands of Oregon, 43-15.
Any game within the conference is going to be a big deal, so I expect this to be a very serious endeavor between to good teams.
Where: AT&T Park, San Francisco, CA
When: Thursday Oct. 13. 9 P.M. EST
Watch: ESPN, ESPN3
Spread: USC by 3.5
USC should not have much problem handling this spread.
Over/Under: 58
This is a pretty high number—one that I wouldn't bet the over on, to be honest.
All Betting Information Courtesy of Bodog.com
What's At Stake:
Pride is always on the line whenever two Pac-12 schools meet up. California just got beat up by Oregon, and USC's only has one loss. Both teams have a lot to play for.
Key Injuries:
USC: Wide receiver Kyle Prater questionable (foot), tackle Martin Coleman questionable (shoulder), cornerback Torin Harris questionable (shoulder), linebacker Lamar Dawson questionable (ankle), quarterback Jesse Scroggins out indefinitely (thumb).
California: Quarterback Zach Maynard probable (thigh), tight end Spencer Ladner probable (knee), defensive back Marc Anthony doubtful (shoulder).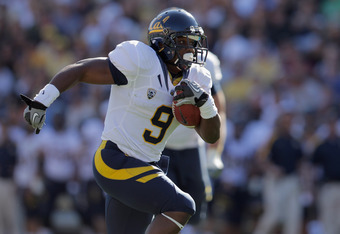 Doug Pensinger/Getty Images
BCS/Top 25 Implications:
Not many implications to the big boys here, but that doesn't mean this game isn't important to the teams involved.
Keys to USC Win:
Quarterback Matt Barkley needs to control the ball, put up some points and lead his team. USC is clearly the better team in this matchup, so they need to control the tempo.
Keys to California Win:
Controlling the tempo is the key to this game on both sides. If Cal running back Isi Sofele can run the ball effectively, he can give the Golden Bears a chance.
Prediction:
This game shouldn't be a problem for the Trojans.
USC 34, California 17