Baylor vs. Texas A&M: Will Bears Open a Can of Bye-Bye Brazos Battle Whipping?
October 13, 2011
Joe Robbins/Getty Images
Will the Texas A&M Aggies be able to trap Robert Griffin III and the Baylor Bears' quick-striking offense this Saturday in the Battle of the Brazos River? This year's installment of the annual rivalry game could be the most thrilling in the long history of the match.
The Aggies (21 AP, 23 USA Today) have a 67-31 edge since it started in 1899. There have been nine ties. Brawls, stolen babes, pranks and subsequent student expulsions are parts of the lore at the top of this rivalry's plot lines.
Ranked one behind the other at Nos. 20 and 21 in the AP Poll and Nos. 23 and 24 in the USA Today Coaches' Poll, this year's festivities promise to be more electrifying than usual.
Having won this game only twice in this millennium (2004 and 2008), Baylor is smelling A&M's blood because of the slow and disappointing start so far by the underwhelming Aggies. However, wounded warriors can be the most dangerous.
Both teams have electrifying warriors that pose dangerous threats to defenses.
Griffin has been mentioned in the Heisman Trophy race since he went off for five touchdown strikes against TCU. He's been going off by throwing more touchdowns than incomplete passes, or very close to that, through the first five games.
Reported to be engaged and to have composed the song he performed to propose to his fiancé, RG3 will try to engage the Aggies defense, remain composed in the pocket and connect with wide receiver Kendall Wright on go routes against A&M's questionable secondary play so far.
Without question, (20 AP, 24 USA Today) Baylor has one of the best offenses in the FBS. Besides passing up a storm, they rank No. 10 in rushing by averaging almost 240 yards per game behind thunderous senior running back standout Terrance Ganaway.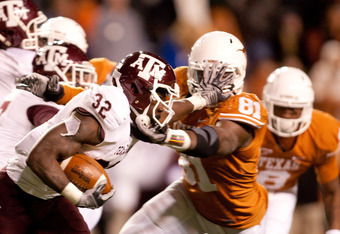 Darren Carroll/Getty Images
Senior tailback Cyrus Gray from Desoto has scored seven touchdowns for the Aggies. Their passing offense has been a tale of two Ryans—Tannehill to Swope.
The starting quarterback, Tannehill, is a senior from Big Spring. Swope is a junior from Austin and A&M's leading receiver in terms of yards and catches (29) so far this season. Senior receiver Jeff Fuller from McKinney near Dallas is tied for the team lead with Swope, each having two touchdown catches. Fuller has 27 receptions.
He is an NFL hopeful, but the Aggies have lacked big plays from their passing game. Swope averages a moderate 14 yards per catch to lead the team.
A&M's highest FBS category ranking is No. 17 in rushing. They average 220 yards per game on the ground.
Baylor (4-1, 1-1 Big Ten) began the year by grounding TCU—the 2011 Rose Bowl champions and their future Big 12 and North Texas foes. The Bears still have the Oklahomas, Missouri, Texas and Texas Tech to play.
A&M (3-2, 1-1) has Iowa State, Missouri, Oklahoma, Kansas State, Kansas and Texas remaining. The Aggies-Bears game, if it remains on the schools' schedules, needs to add a trophy.
The Red River Rivalry has the gilded Golden Stetson (Hat). SMU-TCU has the Iron Skillet, Rice-SMU has the Mayor's Cup and the list goes on.
This rivalry could cease from going on after A&M goes to the SEC and Baylor wants to send them out with a proper goodbye and a thanks for bolting whipping.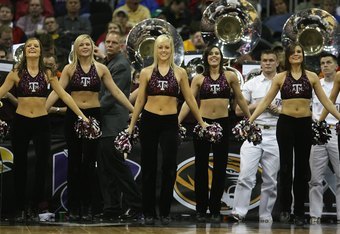 Jamie Squire/Getty Images
Time to whip up one of my dead eye prognostications for this game that needs a prize for the winning team—a replica rifle could be fitting.
Prediction:
This will likely be an old fashioned football gunfight—a shootout at the Brazos River. Averaging 323 yards, Baylor is ranked No. 14 in FBS passing and No. 4 in scoring offense with 47.6 points per game.
The Aggies' offense will be able to avoid a blowout early by pulling off their fair share of big plays. Texas A&M will blow yet another halftime lead, though, and RG3 will rally the Bears much like he did against TCU, with more big plays.
Giving up 26 points per game, A&M could witness the Bears posting at least that many in the first half. Baylor also gives up 28 points per game—No. 77 in the FBS.
Don't miss the shootout starting at 12:00 p.m. ET on Kyle Field. Cable network FX will televise it. Like Racer X, it will be fast and furious.
Like Malcolm X, one of these teams could be bamboozled by a quirky score. That will be the X factor in the outcome in favor of the team from Waco.
Baylor will win the Battle of the Brazos: 36-34