NFL Picks: Week 6 Games
October 13, 2011
Larry French/Getty Images
Every week, countless people predict the winner of each NFL game. The good ones hold themselves accountable by recording their win-loss record and displaying it for all to see. Starting next week, I will compare my picks record with eight ESPN experts. Let me know what you think in the comments section, and please submit your vote as well.

Atlanta Falcons over Carolina Panthers
Atlanta played Green Bay pretty tough last week, while Carolina is just 1-4 this season. I expect the Falcons to take care of business at home.
Philadelphia Eagles over Washington Redskins
If you read my article on the Eagles, you will see why I think they are about to turn their season around.
Detroit Lions over San Francisco 49'ers
Until the Lions lose, I will continue to pick them. I think the 49'ers defense will prove to be a tough test for Detroit, but I expect "Megatron" and company to pull out the victory.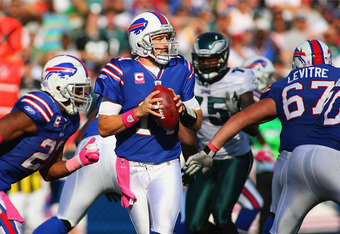 Rick Stewart/Getty Images
Cincinnati Bengals over Indianapolis Colts
The Colts are winless; the Bengals are at home and have a better defense than you think. This was a pretty easy decision.
Buffalo Bills over New York Giants
Last week, the Giants lost at home to the Seahawks. The Seahawks. I'm not picking them to beat a quality team at home the very next week.
Green Bay Packers over St. Louis Rams
This is my easiest pick of the week. Like the Lions, I will continue to pick the Packers until someone beats them.
Pittsburgh Steelers over Jacksonville Jaguars
The Steelers looked pretty good last week, and the Jaguars continue to be, you know, the Jaguars. This one could be over quickly.
Oakland Raiders over Cleveland Browns
The Raiders should get Darren McFadden back on track this Sunday as their offense goes up against a nothing-special Cleveland defense. Additionally, Oakland is at home.
Baltimore Ravens over Houston Texans
I see three things in Baltimore's favor. First, they are at home. Second, they have the best defense in the league. Third, Andre Johnson is unlikely to play. That adds up to a Ravens win for me.
New Orleans Saints over Tampa Bay Bucs

After Tampa got smacked by San Francisco last weekend, I have absolutely no confidence in them. New Orleans is a dangerous offensive team. I would not be surprised if the Saints hung 50 on the Bucs this week.
New England Patriots over Dallas Cowboys
The Patriots looked phenomenal last week. Their defense and running game were much better, in addition to their always prolific passing game. Plus, they have won roughly 30 regular season home games in a row.
Minnesota Vikings over Chicago Bears

Upset Alert! After what Jahvid Best did to the Bears on Monday night, I fully expect Adrian Peterson to carve up Chicago's run defense.
New York Jets over Miami Dolphins
The Jets desperately need a win to stay in the playoff hunt. Miami has a new quarterback and zero wins this year. This Monday night game was an easy call.
 I post all my articles on twitter, so if you liked this one follow me @frongi92 and feel free to retweet.