NFL Predictions Week 6: Shonn Greene and Two Other Players Sure to Disappoint
October 12, 2011
Jim McIsaac/Getty Images
Each week in the NFL, there are several players who don't live up to expectations.
Philip Rivers has been bad at times, as has Percy Harvin.
Everyone is entitled to a bad week every now and again, but knowing how that will affect their games (and your fantasy teams) is important.
If a coach knows one of his players doesn't match up well with a certain team, he needs to game plan around that. The same thing goes for fantasy owners.
So, let's take a look at three players who are going to have disappointing weeks in Week 6.
Shonn Greene, RB, New York Jets
Every week has been a disappointing week for Shonn Greene so far this season.
He's got only two touchdowns and 240 rushing yards through five games this season.
That's not feature back material.
And, looking at the schedule, the Dolphins appear to be just the team to get him back on track, right?
Wrong. The Dolphins are actually in the top half of the league in terms of run defense.
Greene's season and career-long struggles will continue on Monday Night Football this week.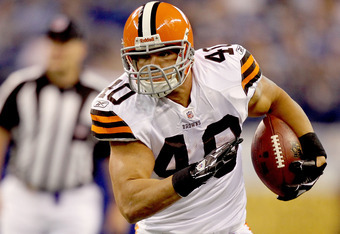 Matthew Stockman/Getty Images
Peyton Hillis, RB, Cleveland Browns
Hillis hasn't had a 100-yard rushing game all year, despite the Browns' very weak schedule.
Don't expect that to change this week, since his motivation is lacking due to Cleveland's reluctance to sign him to a contract extension.
Against the Raiders, the Browns will also likely be playing catch up for most of the game, leading to more pass attempts and less carries for Hillis.
He's got a lot working against him this weekend, so don't expect a great game from him.
Eli Manning, QB, New York Giants
Before the season, a game against the Buffalo Bills probably looked like an easy win.
But now, the Bills are 4-1 and hot, while the Giants are coming off an ugly loss to Seattle.
The Bills defense has gained some serious respect too, leading the NFL with 12 interceptions right now.
We all know how interception-prone Manning can be at times, so this game plays right into the hands of the Bills.
Expect "Bad Eli" to show up on Sunday.