Oklahoma vs. Kansas: TV Schedule, Live Streaming, Game Time and More
October 13, 2011
Wesley Hitt/Getty Images
The Oklahoma Sooners are looking like they can run the table this season in the Big 12 en route to a national championship. The Kansas Jayhawks are coming into their matchup with Oklahoma with the goal of surviving.
After a brutal 70-28 loss to Oklahoma State, Kansas is looking to show they aren't going to be a doormat for the rest of the conference. Given that Oklahoma State could have easily scored over 100 points on the Jayhawks last week, it's going to be interesting to see if they can even remotely hold on this time around.
When: Saturday, Oct. 15 at 9:15 p.m. EDT
Where: Memorial Stadium, Lawrence, Kansas
Watch: ESPN2
Live Stream: ESPN3
Betting Line: Oklahoma -36
Note: Line according to Bodog
Don't be afraid of the big spread. Oklahoma has to really put it on every opponent they face if they want to bring Landry Jones a Heisman and Oklahoma a national championship. Last week, Kansas laid down and gave up early on. Expect more of the same this week in a game that is sure to be a rout.
Oklahoma Injury Report:
Brennan Clay, RB, (Shoulder) Questionable
Jimmy Stevens, K, (Quadricep) Questionable
Ben Habern, OL, (Arm) Out

Drew Terrell, WR (undisclosed): Questionable
Wayne Lyons, DB (foot): Questionable
Shayne Skov, LB (knee): Out for Season
Kansas Injury Report:
Norman Wolfe, DB, (Foot) Out
Ishmaaily Kitchen, DT, (Elbow) Out
Dri Archer, RB, (Academics) Out for Season

BCS/Top 25 Implications:

A loss to Kansas would send Oklahoma shooting down the rankings. Even a narrow win could be the difference between going to the national championship and finishing the season ranked outside the Top Five.
It's looking more and more like there is going to be multiple undefeated juggernauts when we finish the season. Routing Kansas isn't going to convince voters that Oklahoma is better than Boise State, Alabama, LSU and Wisconsin, but even slightly struggling can have a huge impact.
What They're Saying:
"But right now, my mind's definitely not on that. I'm trying to win games around this place. If the opportunity comes, great."
Landry Jones is clearly one of the quarterbacks who could come out in this draft and has scouts absolutely gaga. It would be easy for Jones to get caught up in his own NFL hype, so it's refreshing to see that his mind is focused on the task at hand.
The sky is truly the limit for Jones and Oklahoma. The second this season is over, focusing on transitioning to the next level is of the utmost importance, but right now, his No. 1 priority has to be on putting himself and Oklahoma in the best position to succeed.
"We still believe in each other and things not yet seen," Johnson says. "Even though it looks real bleak right now, I still believe in all my teammates and I still believe in all my coaches."
Oklahoma Player to Watch: Ryan Broyles

Ryan Broyles is the most important player on Oklahoma's offense not named Landry Jones. He's racked up over 100 yards receiving in all but one game he's played in this season. Oklahoma has blown away every opponent they've played this season, with the exception of Florida State, who they beat by 10.
Not so coincidentally, that was the only game the Sooners failed to win by over 10 points. Broyles isn't Justin Blackmon by any means, but if Oklahoma is going to win it all, they need Broyles upkeep his production.
Kansas Player to Watch: James Sims
James Sims is slowly but surely fading into being a non-factor. At his best, he's a 150-yard back. If Kansas is going to upset Oklahoma, they've got to find unprecedented production within their lineup.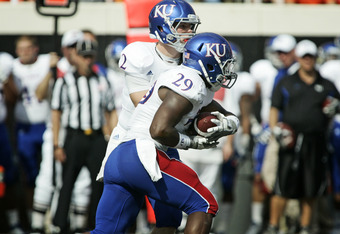 Brett Deering/Getty Images
The Jayhawks have to get their run game going if they even want to have a chance. Sims shows flashes of brilliance and showed he can be the guy in games versus McNesse State and Northern Illinois, but he's going to have to bring his A-game if he wants to get the best of the Sooners.
Key Matchup: Landry Jones vs. Jordan Webb
This one is sort of unfair. From a statistical standpoint, we aren't really looking at too big of a gap. Jordan Webb already has 1,130 yards and 11 touchdowns this season. Even so, he's not Landry Jones.
Kansas needs Jones to be off his game and Webb to have the performance of his life to have a shot. Jones is prone to mistakes, as his two multiple-interception games show. If Webb is able to out-perform Jones, Kansas may have a small shot at stealing a victory.
Key Storyline: Is Oklahoma the best team in the nation?

Oklahoma has lived up to the hype. They've steamrolled opponents and jumped out to an undefeated record. At this point, it doesn't look like they are going to lose a single game this season. Even so, they have to prove they are better than SEC giants Alabama and LSU, as well as promising sleeper teams like Wisconsin and Boise State. They are under a microscope every week, and even a minor setback can validate critics' concerns.
Prediction: Oklahoma 63, Kansas 14
This one has blowout written all over it. It's nice to see that Kansas hasn't given up, but Oklahoma just might be the best team in the nation. They have one of the best quarterbacks in the nation and a shut-down defense. Kansas has a very tall task ahead of them, and victory doesn't look like it's an option.