WWE: Why Sheamus Should Be Undertaker's Final Opponent at WrestleMania 28
October 13, 2011
Since WrestleMania 7 some odd years ago, The Undertaker has focused his career on remaining undefeated at the Greatest Spectacle of Them All year in and year out. Despite being challenged by the likes of Triple H, Shawn Michaels, Kane, and many more main event talents at respective events, no one has yet to live up to their supposed confident word and defeat The Undertaker.
In recent years, The Undertaker's appearance became more and more of a rare occurrence. With his last in-ring showing at WrestleMania 27, there is no official report as of now regarding his eventual return to WWE television, with many speculating it may not be until WrestleMania season once again.
Seconds after the Phenom forced Triple H to submit in their epic confrontation this April, the IWC practically imploded as to who could possibly be The Undertaker's monumental 20th and predicted final victim. Such articles are still controversial to this day, and many wonder who else on the dying WWE roster could possibly outlast the previous performances of Triple H and Shawn Michaels.
Personally, I've always dreamed of seeing the poster boy John Cena be The Undertaker's final opponent given how they haven't crossed paths while Cena has been a mega star. Sadly, Cena's match at the upcoming WrestleMania 28 has been already made official with the Rock, a dream match in of itself.
Although the aforementioned contest will more than likely never be able to come to fruition, there's quite a few other top names being mentioned in the same breath as the streak in recent months. These would include the likes of the legendary Mick Foley, the rumored returning Chris Jericho, and even Mark Henry.
As much as I'm enjoying Henry's monster push, there is no way he should be given another chance at facing Taker at Mania, especially since the rematch aspect of it has been largely played out by this point. Mick Foley isn't in the best condition either, which leaves Chris Jericho as the top candidate to challenge the historical winning streak next April.
However, the way I see it, The Undertaker's streak should be used to elevate a star, and a rising, youthful one at that. Sure, Taker and Y2J could produce one hell of a match, but in the end, it subsequently benefits no one.
The Deadman has stated multiple times in the past that he would not like to see his streak become bigger than his overall career, even suggesting to lose to past opponents. A victory over Taker at WrestleMania could basically jumpstart a career, and whomever the victor may be would become a bona fide Hall of Famer.
Of all the potential talents on the current WWE roster, I'd pick Sheamus to fill this void as the final opponent for The Undertaker at WrestleMania 28.
Sheamus has proven in the latter half of 2011 that he is certainly worthy of taking on the challenge and seizing the opportunity. His shocking face turn in August has been the greatest development in his career, stacking more victories each week on SmackDown against credible opponents, including Great Khali, Randy Orton and World Heavyweight Champion Mark Henry.
With two past WWE Championship reigns under his belt, Sheamus has increasingly proven  he has what it takes to become one of the top faces in the entire company. Recent reports have signaled the Celtic Warrior's big push to continue well into next year, eventually capturing the prestigious World Heavyweight Championship.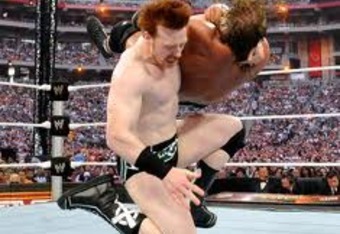 Obviously, Sheamus and The Undertaker have never crossed paths. I believe their similar styles could produce an extremely hard-hitting brawl that could set the stage for other matches on the card. If Taker is going out at WrestleMania 28, I'd expect no one else to end the long-lasting streak then the Celtic Warrior himself, Sheamus.
Of course, it's only October, so we have some time on our hands before the highly anticipated WrestleMania 28 event in Miami next spring. Anything is bound to happen between now and then, but I will definitely be looking out for this highly anticipated bout as plans begin to unravel for the annual Show of Shows.
Thanks for reading, Bleachers, and make sure to drop a comment regarding your thoughts on who should in fact be the one to challenge The Undertaker at WrestleMania 28, and whether Sheamus has proven that he indeed has the ability to emerge victorious.
GSM out.
Visit my website at Next Era Wrestling and my WrestleRant video blog for more of GSM's thoughts and writings, along with WWE/TNA news, recaps and more. Follow me on Twitter @SAVE_US_GSM.