TUF 14: Team Bisping vs. Team Miller Live Results and Analysis, Episode 4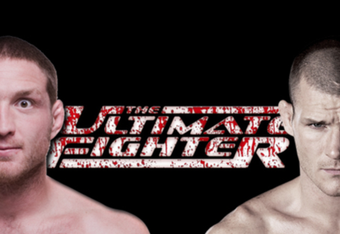 The Ultimate Fighter: Team Bisping vs. Team Miller continues its triumphant final run on Spike TV with Episode 4 tonight and things are getting interesting.
The 14th installment of TUF has already been more exciting than any season in recent memory, perhaps ever, but we're getting into the thick of the competition. That means the relatively good-natured fun and games should give way to sincere hostility sooner rather than later.
Not only has Michael Bisping's squad lost two of its members to Jason Miller's charges, but the house also seems to be wearing on the castmates.
Sticking 16 fighters into a confined environment with few-to-no distractions is a volatile proposition under the best of circumstances, but toss in a healthy dose of small-man syndrome and the result should be even more explosive.
If last week's teaser can be trusted, the fireworks that began to erupt in Episode 3—between Dustin Neace and Akira Corassani—get some company this week.
And don't forget about the coaches.
"Mayhem" Miller and the Count will only stay warm and fuzzy for so long. Those two are about as comfortable bedfellows as Rick Perry and public speaking, so expect some extracurriculars there as well.
In other words, there's plenty to see and you won't want to miss any of it. So tune in tonight at 10 pm ET/7 pm PT and join us as Bleacher Report brings you live commentary to all the antics.
Well, there weren't any reality-show shenanigans this week, but the teaser implies that oversight will be remedied in spades during Episode 5. Be sure to check back in with us next week as we get treated to at least two meltdowns from the looks of things.
Team Bisping has known the matchups for the last three bouts and has lost them all.

I guess Mayhem Miller knew what he was doing when he picked his squad.
Yep, that's all she wrote—Pague eventually gets the rear-naked choke locked on and Gaudinot's tap is inevitable.

Crazy good showing from Dustin Pague; showed superlative striking and quality takedown defense.

Maybe he's onto something with this whole Jesus Christ thing. If only there were somewhere I could go to learn more...

Great fight.
Uh oh, statistics are failing me in the second round as Pague crumbles Gaudinot with a heavy shot and begins another oppressive round in style.

Yikes, another flush knee puts Gaudinot back on the ground and starts the blood gushing. Louis isn't giving up, but he's in bad shape, leaking oil and with Pague on his back.
In more bad news for Team Bisping's dude, Pague shows off a front kick and stuffs a takedown attempt from Gaudinot.

Neither is a development that bodes well for the second round.

Call that entertaining affair a 10-9 for Dustin Pague (or for Jesus Christ, I guess).
The bigger Team Miller competitor is slowly opening up a lead on my scorecard with superior striking, but he could make the matter a lot less interesting by employing a jab to keep Gaudinot at bay.

Granted, who am I to argue when all those elbows and knees are landing?
Dustin Pague either doesn't realize he has such a huge reach advantage or he doesn't know how to exploit it because Gaudinot is having no trouble getting inside his striking range.

Instead, Dustin is looking for the clinch and actually having quite a bit of success with his knees...so forget I said anything.

Regardless, both warriors are landing their share of carnage in a back-and-forth first round.
Whoa, Pague has an 11-inch reach advantage over Gaudinot, that's gonna be tough to attack.
Man, Louis is killing me.

First, the bubbled i's and now he changes "drink some beer" to "chew some bubblegum?"

Poor form from my pick.
Wow, Pague's got that good love and he doesn't care who knows it.

I'm not gonna lie, that made me a little uncomfortable.
Really Louis? REALLY? Little bubbles above your i's? That's not gangsta; that's middle-school, giggling girl.

I immediately want to change my pick, but I'm sticking with the green-haired Gaudinot.
Tough call here.

Gaudinot seems like a well rounded fighter who is tough as nails and seems to be fighting at a more natural weight than some of his castrates. On the other hand, Dustin's striking looks impressive and doesn't appear to have many vulnerabilities.

That means I'm falling back on the law of averages and going with Team Bisping to get its first victory.
Hmmm, Bisping calls out Stephan Bass with some f-bombs and finger-pointing in front of the entire team. Then, he asks his team to essentially side with the coach/industry celebrity or the teammate/random stranger until a few weeks ago.
Uh, lemme think...
In other news, I'm no longer leaning in his direction so much.
And I don't think for a second that towel slip on the religious guy was a coincidence.

At least not its inclusion on the show.
Oh good, Dustin's a dyed-in-the-wool Bible thumper, complete with the biblical nickname (The Disciple). Does that mean he's jabbing for Jesus? Crushing for Christ?

Just messin' around—if you don't care that I'm a non-believer, I'm cool with you being a true-believer.
I love it. Bisping says the tables are really gonna turn now that Dustin Pague is slated to engage in pleasantries with Louis Gaudinot.

A. He's been saying something to that affect for a while now so it's lost any real-world meaning.

B. Your team is 0-3 i.e. the tables BETTER turn.
Just watch Mayhem Miller during these staredowns; that man is a serious goofball.

What a psycho, but in a good way.
Huh, it would appear we're getting a surprise, two-fight treat.

No complaints here.
Holy crap, I think I'm beginning to see the silver lining to Bisping's arrogant gray cloud. That little post-fight display made him look incredibly sincere and empathetic to a fellow fighter.

And all while he was criticizing them.

That's not easy and certainly not a skill I'd've pegged the Count as possessing.

Knew there was a reason Rampage likes him so much.
Time to praise Bisping—he's obviously frustrated by the losses and at his fighters for not following directions, and the frustration is justifiable.

But he's not letting the negativity get the best of him (yet) and is leveling measured criticism at his team instead of ripping them to shreds. Bass might not be in the mood to hear it, but the others in the room sure should be.
Stephan Bass, meanwhile, looks exactly as you'd expect someone to look after absorbing punches for almost 10 minutes.

That is, not good.
Dear lord, Dennis Bermudez is ALL OVER Stephan Bass—he's spent the last two or three minutes clubbing Bass in the side of the head and just generally brutalizing his opponent.

Give Bass credit, he might've quit, but he never gave up.

Regardless, Team Miller gets the TKO and another win.
Bermudez was in the process of dominating Bass for a second round until Stephan locked on a heel hook/knee bar and mounted a bit of a rally. In the end, he used the maneuver to put Dennis on the defensive and stand up as per Bisping's instructions.

And then got dumped right back to the canvas.

Oops.
Ordinarily, I'd have something witty to say about how Miller and I are in agreement again (re Bass giving up), but Brittney Palmer distracted me.

Damn you, Brittney…just kidding, marry me.
This article is
What is the duplicate article?
Why is this article offensive?
Where is this article plagiarized from?
Why is this article poorly edited?