Week 6 Waiver Wire: Curtis Painter, Andy Dalton, James Jones and Other Hot Grabs
October 12, 2011
Kevin C. Cox/Getty Images
If you're starting to slack in your NFL fantasy football league, you have come to the right place.
All hope is not lost for your season, there is still a way for you to get back in the action.
First off, don't worry it happens to the best of us. One or two losses in a row can really throw you off your game, and all of a sudden your ready to give up.
Don't give up my friends, the waiver wire is the key to fixing your season.
There are quite a few quality players still available right now for you to pick up, so pick yourself up off the ground and get to work:
QB Curtis Painter, Indianapolis Colts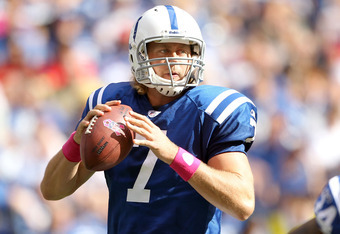 Andy Lyons/Getty Images
Painter proved that he has a heartbeat against the Chiefs even though they ended up losing the game. If your in a pinch, Painter should be able to put up some numbers at the very least.
QB Andy Dalton, Cincinnati Bengals

The way Dalton looked in the preseason, I was ready to write him off as a bust, but he has come back and proven me wrong so far. He's not a world-beater, but at the very least  we know he has a decent arm and has a good receiver in A.J. Green to throw to.
WR James Jones, Green Bay Packers
Jones has been almost MIA this season considering the passing numbers that Aaron Rodgers has been putting up. He came up big this past Sunday though, and I think he will continue to find his groove within the offense.
If teams want to focus on Greg Jennings, Jermichael Finley and Jordy Nelson; Jones has the capability to burn them.
WR Steve Breaston, Kansas City Chiefs
Look out for Breaston on the waiver wires. His team has a bye, which means that some owner somewhere is going to get desperate and end up dumping him. Perfect opportunity to jump in on a very talented receiver.