New York Jets: Which Way Forward? Start by Beating the Miami Dophins
October 12, 2011
Jim Rogash/Getty Images
It's never easy with these Jets, is it? Somehow these last five games have been more of a roller coaster than Mark Sanchez's rookie year. Back then, you were just along for the ride. Holding on for dear life.
Now? I feel like it's like trying to herd cats to get everybody on the same page. Front office, offense and defense, individual players. Coaches. (Special Teams? No complaints.)
The past couple of years when I would try to explain this new Jets team to people, I described them thusly: lockdown defense, cautious, run-oriented offense with a few passing plays mixed in to keep opponents honest. And that worked until opponents found out that the way to beat the Jets was to have the Jets beat themselves.
Basically, put up a lot of points and dare the Jets to play catch-up. And because their offense was so maddeningly inconsistent, it frequently worked.
Out of that, some good has come. Sanchez developed the ability to bring the team back in the clutch. He never had that before. Truth be told he never needed it. At USC, they were usually up so big you didn't need to be a comeback kid. 
The Jets are at a crossroads. There is the very real possibility they will miss the playoffs. The Bills are not going away and the Patriots will just continue to be the Patriots until otherwise notified.
The Jets blew a golden opportunity in Foxboro. That game was winnable. Now Miami comes to town and must-win is the only adjective that can be applied. If they lose to Miami, there will be rending of garments and gnashing of teeth. 
The Jets have lost their identity. And it's something they need to figure out in a hurry. I know Rex said it's back to ground-and-pound and I agree with that to an extent. If no one fears your run game, there is no reason to defend it. Just load up on the pass. But this team is still not ready for a shootout.
If the Jets are serious about another playoff run, now is the time to address that. Take a look around at potential playoff matchups. They all can sling the ball. So, I think Rex and Brian need to come to a meeting of the minds on what the offense will be. Get on Skype with Tom Moore and figure it out.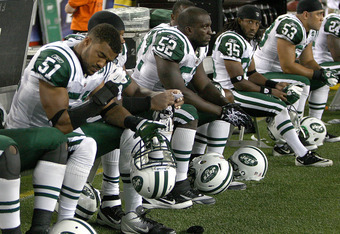 Jim Rogash/Getty Images
Once they know that, Brian Schottenheimer needs to outline the offensive philosophy going forward to his players, stick to it and quit trying to please so many masters. The receivers can shut up and catch the ball. If the backs can't get yardage, give Joe McKnight more of a shot. 
Most of all, though, Schotty has got to stop calling plays like he thinks Sanchez is going to turn into young Tom Brady. He won't. He's not that kind of QB. The Jets over and over fail to maximize his skills. 
I've always thought Sanchez's football DNA most closely resembled Steve Young. Mark can move and most importantly he can throw the ball on the move. There are not nearly enough screens, play-action and bootlegs called for him.
You have a young athletic, mobile QB who is very instinctive. What you do not have is a traditional pocket passer. The play-calling is not creative enough and it's not using his skill set very well. Add that to a sketchy O-line and you have problems.
The other thing about Mark is that he is a textbook case of less thinking, more doing. They need to go no-huddle a lot more. It energizes Sanchez, gets him out of his head and maximizes his quick reaction to what develops on the field. In other words, turn him loose and have a little fun. This is a game after all. 
Sometimes I feel like the Jets' conservative play-calling is just playing not to lose. Guess what? That's a perfect way to lose. You have to take some risks.
Although it was heartbreaking to watch, I was so proud of Sanchez at the postgame press conference after the loss to the Patriots. All year I have been criticizing the Jets for what I perceive to be their attitude that the regular season was just a formality to get through en route to the playoffs.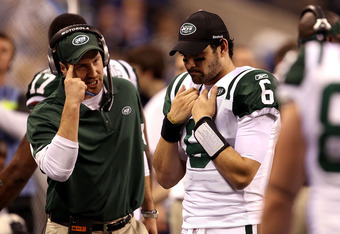 Jonathan Daniel/Getty Images
That kind of thinking is how they whiffed in Oakland. It's why they were completely unprepared for the ferocity in Baltimore and why they barely survived in the opener against Dallas.
Asked about the playoffs, Mark forcefully brushed the question aside and distilled everything down to its essence. Mark's stance was: Who cares about the playoffs right now? The Jets should have one goal this week and one goal only: beat Miami.
I loved hearing that. He is locked in. Sanchez is at his best when the threat of not being able to keep on playing and winning is lurking. I believe that is the secret to his strong playoff showings. 
So now we have the news that Derrick Mason has been shipped off to Houston. Good riddance. Reading between the lines I think this sends an unmistakable message to the team. That message is: Everybody better be on board, do their job and lay off the public criticism, especially of Sanchez.
If any player was so stupid as to come to this team and think that there was anything other than full organizational support behind No. 6, then you have exposed yourself as an idiot. It's an even bigger message because Mason is one of Rex Ryan's guys from back in Baltimore. 
Sanchez is a natural peacemaker. He wants everybody to get along. That served him well for his first two seasons.
Sometimes, however, part of being a leader is demanding accountability. Even if that means people don't like you. I liked that he called out the offense last week for the public airing of their dirty laundry. It's also time to stop being deferential to Rex and Schotty and start speaking up for what he wants. 
The coaches can get pulled in a lot of directions. If Sanchez doesn't like the plays that are being worked into the game plan, say something. I'm not talking about insubordination.
But other than game tape, Mark is the best source of feedback for what is working and what is not offensively. He is the one actually out there on the field pulling the trigger. That's a lot different than the view from the sideline. He should lean heavily on Mark Brunell for how to diplomatically go about this.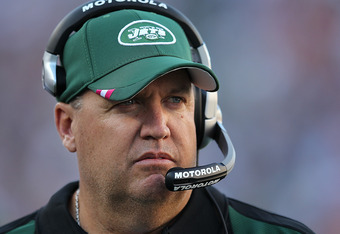 Jim Rogash/Getty Images
I've seen the Fire Schotty sentiments that are all over the various Jets blogs and fansites. Just one thing Jets fans—be careful what you wish for. I've been plenty critical of the Schottenheimer in the past, but if he gets the axe, who is going to take over the play-calling? Moore is already on record that he doesn't want to be on the sidelines; he'd rather act as consultant. What other in-season option is there?
A huge part of the Jets the last two seasons has been their swagger. Now that they've lost three in a row they look bereft. Rex doesn't have a fallback position from bluster and bravado. He needs one. 
Here is what I think it should be: "I, Rex Ryan, have been around for a while. Sometimes you go through a rough patch. So what do you do? Pick yourself up, re-dedicate yourself to fundamentals and get back at it. That is what this Jets team is going to do now. We are better than this and we will show you starting Monday night against the Dolphins."  
 And then they need to go out and win. It's pretty simple actually.