BCS Rankings 2011: Texas and 3 Teams That Will Be Left out of First Rankings
October 12, 2011
Harry How/Getty Images
The first BCS rankings for the 2011 college football season will be released on Sunday, October 16.
A lot of the familiar powerhouses like Oklahoma, LSU, Alabama and Boise State will be up near the top of course.
But, there are some teams currently in the AP Top 25 poll that probably won't crack the Top 25 in the BCS rankings.
Weak schedules, too many losses and weak conferences are the main culprits of this projected drop.
With that being said, let's take a look at three current Top 25 teams that might not crack the BCS rankings.
Texas (4-1)
The Longhorns are currently the No. 22 team in the AP Top 25. But, they've already lost their toughest test of the season.
The Oklahoma Sooners absolutely embarrassed Texas on Saturday, winning 55-17.
This weekend, the Longhorns have to take on the No. 6 Oklahoma State Cowboys.
After Brandon Weeden and Justin Blackmon get done with Texas, the Longhorns will be 4-2.
That's probably not good enough to crack the BCS Top 25.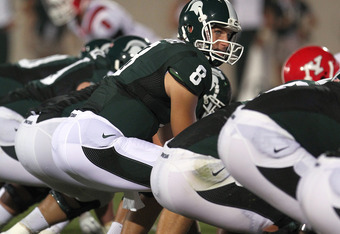 Dave Reginek/Getty Images
Michigan State (4-1)
The Spartans only loss came to a so-so Notre Dame team.
Other than that, they haven't faced any real competition en route to a 4-1 start.
This weekend, they take on their cross-state rivals in the No. 11 Michigan Wolverines.
Denard Robinson is so much better than any offensive player Michigan State has played all year, and should power the Wolverines to victory.
That would drop the Spartans to 4-2 and probably out of the BCS Top 25.
Houston (6-0)
The only decent win the Cougars have this year was against UCLA in Week 1. And that doesn't look so great now with the Bruins at 3-3.
This offense is definitely potent, with soon to be NCAA passing yards record-holder Case Keenum leading the way.
But, their schedule simply doesn't have enough meat on it to warrant being in the BCS Top 25 on Sunday.
They have games against UAB and SMU left on the schedule though, so wins in those games could propel them into the Top 25.