Does Adding Derrick Mason Really Help the Houston Texans?
October 12, 2011
Patrick McDermott/Getty Images
When the news broke last night that the Texans had traded a conditional draft pick for the rights to wide receiver Derrick Mason, my first thought wasn't whether he had anything left in the tank or not. My first thought was relief that the coaching staff finally realized Jacoby Jones is not the answer.
Mason, who was disgruntled with the offense in New York and was very vocal about it, isn't the player he once was. He is 37 years old and has lost plenty of the athleticism he has shown over his 15-year NFL career. But, before last season, he had three consecutive years of 1,000 yards receiving with at least 70 receptions and 5 touchdowns.
The interesting thing about those numbers is the fact that he was pulling them down with Joe Flacco throwing him the ball. I've been very vocal in my opinions of Joe Flacco and the stagnant Baltimore offense. Which is why I think, in this scheme, with Andre Johnson, Mason could be a terrific option as a slot receiver. 
As I mentioned earlier, it also likely pushes Jacoby Jones back to just a fourth wide receiver and punt returner. Any progress that Jacoby showed over his first three seasons were wiped out in the past two where he seemingly lost the ability to run a basic route or catch anything thrown to him.
A lot has been brought up by the national media about how Mason had only accrued 13 catches for 118 yards in New York as their slot receiver. Well, Jacoby has put up a staggering 8 catches for 100 yards as a No. 2 for most of this season. He just doesn't have what it takes, and this move signifies that the coaching staff realizes they made a mistake by giving him a new contract this offseason.
Enough about Jacoby though. Can Derrick Mason be of any help to the Texans this season? He is pretty old for that position, but the team also lacks a solid veteran besides Andre Johnson out there. If he understands that he is being brought here as help and not as the top receiving target, I think he will do well. I wouldn't expect any 120-yard, two touchdown days out of him, but he can succeed in this scheme.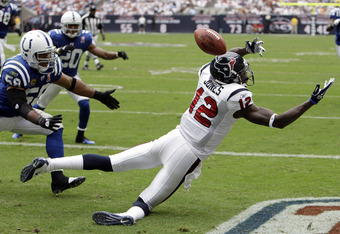 Bob Levey/Getty Images
I know everyone is down on Matt Schaub after his flub to end the game last Sunday, but him throwing the ball to Mason instead of Flacco or Mark Sanchez gives Derrick a greater chance of success, if he has anything left in the tank.
The next question is, how soon before he suits up for the Texans? This is a big playbook and I don't see him learning it in four days, so this Sunday is a stretch. With Houston playing against his teammates from last year in Baltimore, I think he will be little more than a consultant this weekend.
A lot of Texans' fans are excited about the move and it's hard not to when you have the Kevin Walter & Jacoby Jones duo rolling out there in Andre Johnson's absence. But just be mindful of the fact that Mason is a possession receiver and not a guy who is going to stretch the field. He doesn't have top end speed anymore and he's not going to be demanding double coverage. But he is instantly an upgrade over Jacoby Jones, and that has this Texans' fan smiling.
Mike Kerns is a featured columnist for the Houston Texans at Bleacher Report. Feel free to follow him on Twitter at @Zepp1978 and catch his latest Texans podcast at State of The Texans.