Theo Epstein: 10 Cubs That Could Be On Their Way Out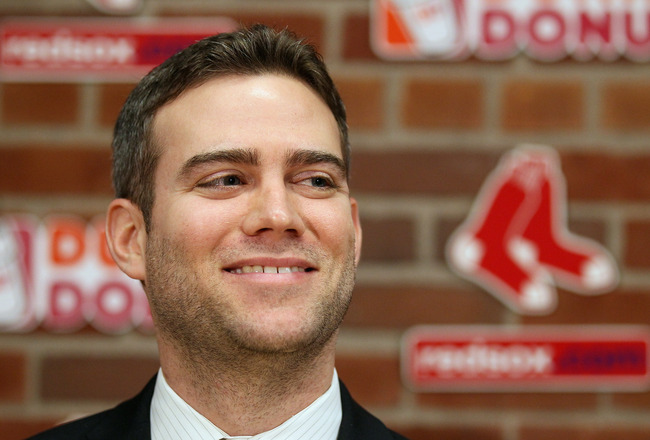 Epstein will be smiling on the South Side.
Elsa/Getty Images
The honeymoon won't last long for Theo Epstein in Chicago. He takes over a fifth place franchise that has a lot of bloated contracts and a farm system that hasn't produced many good players.
Theo once had a staff of the brightest minds in Boston. Now, he finally gets a chance to prove his acumen in Chicago. Cubs fans hope he can work the same magic he worked in Boston.
There will be a lot of turnover to transform the Cubs into a winner, and here are 10 players who may soon be packing their bags in Chicago.
Carlos Marmol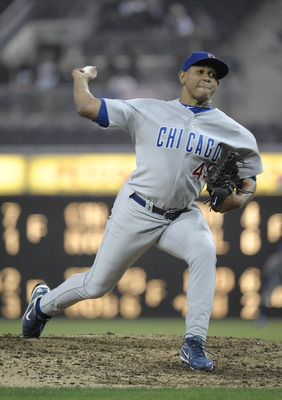 The once dominant closer caused a lot of sleepless nights in Chicago.
Denis Poroy/Getty Images
Marmol was once the most dominant closer in the National League. Those days may be over as he went through one of the worst seasons for any closer in the league. Jonathan Papelbon may be available in free agency and it would be just like Epstein to stick it to his former employers.
Kerry Wood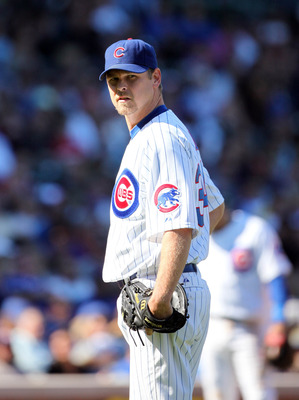 The once dominant right hander is a free agent.
Tasos Katopodis/Getty Images
Kerry Wood will likely go down as a cautionary tale of overtaxing young pitchers. He was effective when healthy this year, but like his former comrade Mark Prior, the "when healthy" tag will follow him forever. Cubs fans are tired of unfulfilled promise and Epstein likely won't stand for it either.
Carlos Zambrano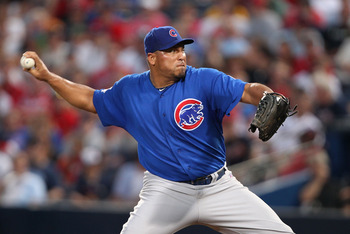 Zambrano will be the key to the offseason.
Mike Zarrilli/Getty Images
Baseball fans should find out what headache medication Epstein prefers and purchase stock in it. Zambrano will cause more headaches for Epstein than any player. He isn't wanted back in Chicago and teams around the league are extremely wary. He can try to get pennies on the dollar on the trade, he can cut him and eat the salary or he can roll the dice and bring back. Epstein is about to earn his money.
Ryan Dempster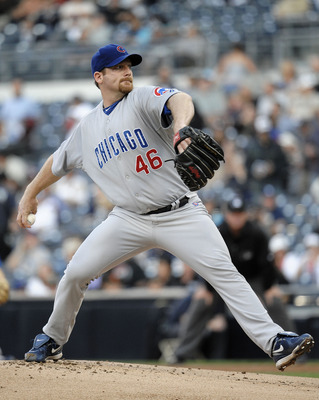 Dempster is solid, but he isn't worth the contract.
Denis Poroy/Getty Images
Ryan Dempster symbolizes where the Cubs are right now as a franchise. He isn't a bad pitcher by any stretch, but he has a bad contract. He should be able to find a new address, but what can Epstein get back if anything?
Aramis Ramirez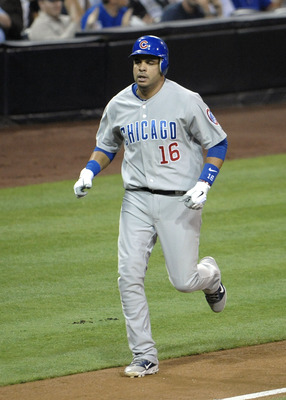 Epstein sent a thank you card to Ramirez for not exercising his option.
Denis Poroy/Getty Images
Ramirez is a free agent, so he is as good as gone. He was another Cub not earning his pay. He hit well in 2011, but he has been a butcher at third for years. He is definitely not an Epstein player and he will gladly take the 14 million plus and reinvest it elsewhere.
Carlos Pena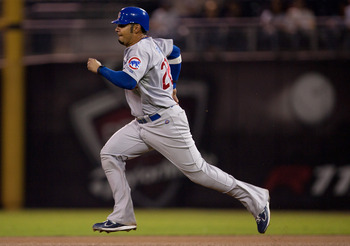 Pena could be the wild card of the postseason.
Kent Horner/Getty Images
Carlos Pena is also a free agent, but he's a decent bargain. Epstein must decide whether to chase the Pujols/Fielder rainbow or go with good value here and spend elsewhere. This one will show where his mind is at.
Alfonso Soriano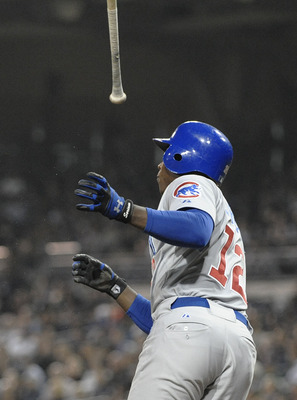 Soriano can still mash when healthy.
Denis Poroy/Getty Images
Anyone else detecting a theme here? The Cubs are full of bad contracts and this is just one of them. Soriano has three more years left on his deal. It will be tough to move him, but unlike Zambrano, Epstein doesn't have to move him. Soriano is still capable of hitting 30 bombs a season, but he offers little else.
Geovany Soto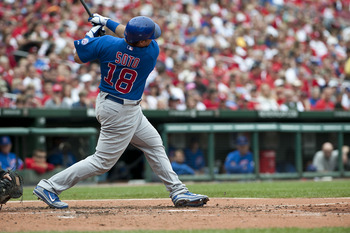 Soto has been a tease.
Ed Szczepanski/Getty Images
Geovany Soto has a world of talent, but he has disappointed more than living up to that potential. Soto might fetch something in a trade for a team that wants to try their hand at getting the most out of him. Soto may stay, but Epstein could see him as a big symptom of the disease.
Starlin Castro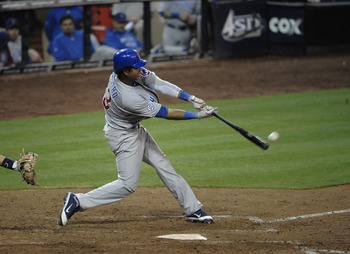 Castro can hit, but he has a very shaky.
Denis Poroy/Getty Images
Whether you believe in advanced fielding metrics or not is immaterial. Epstein does and he won't like what he sees when he looks at Castro's numbers. Right now his value is about as high as it's ever going to be. It's time to sell high and buy low.
Mike Quade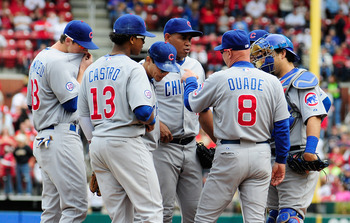 Mike Quade can't be blamed for last season, but he may get the axe.
Jeff Curry/Getty Images
Bill Parcell's once said that he wanted an opportunity to shop for the groceries. That analogy fits here too. Quade can hardly be blamed for the 2011 meltdown, but isn't going to help him either. Epstein will want his own guy in there and it could be Terry Francona.
Keep Reading

Chicago Cubs: Like this team?