Theo Epstein to Cubs: 5 Players Who Will Be Replaced as Soon as Possible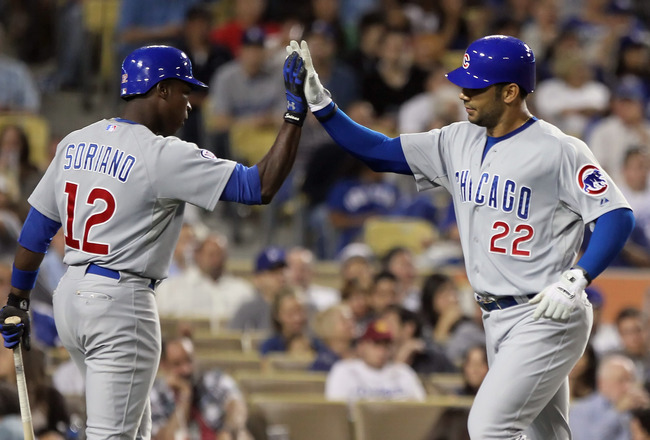 Jeff Gross/Getty Images
Theo Epstein will change the way the Chicago Cubs look on the field.
The Cubs bringing Epstein into the organization is going to bring the expectation that the team makes some immediate roster moves. If you don't make transactions to improve the roster it will leave the fan base puzzled about why you brought him in.
He will need to add talent and trim some bad contracts and personalities off the team. He is going to have to build a model that can win a World Series in the next five years.
The Cubs have national name recognition but are still chasing the success that has eluded this cursed franchise.
The Cubs haven't finished above .500 since the 2009 season. This year they finished with a dismal 71-91 record.
Epstein will have his work cut out for him in Chicago for sure.
Here is a look at five players he will look to replace as soon as possible from the Cubs roster.
Kerry Wood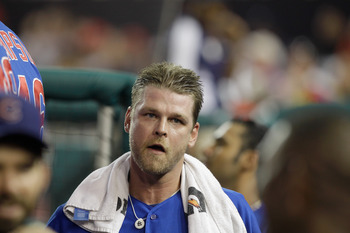 Rob Carr/Getty Images
Theo Epstein can bring in a better relief pitcher for the Chicago Cubs than Kerry Wood.
The 34-year-old pitcher needs to either retire or find another team that has a roster spot to waste. He was signed to a one-year deal in 2011 and appeared in 55 games for the Cubs. His season came to an end after he was put on the shelf with a torn meniscus in his left knee.
The Cubs need more quality relievers. Their bullpen gave up the fifth most runs out of any other National League team. The Kansas City Royals were the only bullpen in baseball that gave up more walks than the Cubs pen.
Carlos Pena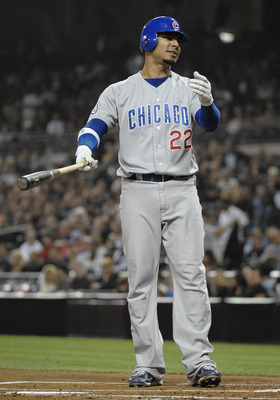 Denis Poroy/Getty Images
The Chicago Cubs need a new first baseman. Carlos Pena was a good temporary fill in 2011 for the Cubs but don't expect him to return in 2012.
With Prince Fielder and Albert Pujols both available as free agents, Theo Epstein will have to find a way to get one of the two of them in a Cubs uniform. This team needs a new superstar to be the face of the rebuilding efforts in Chicago.
Pena had a one-year $10 million deal to play in Chicago and I don't see a scenario where he returns in 2012.
Alfonso Soriano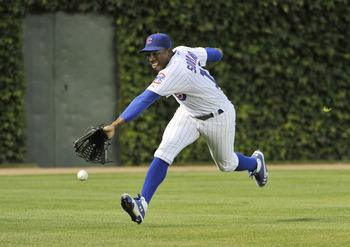 Brian Kersey/Getty Images
The Chicago Cubs have three years remaining on Alfonso Soriano's eight-year, $136 million contract. That is a lot of money to have dedicated to a 35-year-old outfielder that is batting .244 with a 2.89 on-base percentage.
Theo Epstein is going to need to find a way to trim his salary off of the books. The Cubs could find a younger and cheaper option that could provide them with a similar amount of production.
The additional $18 million a year that could potentially become available would give the team no excuse not to be able to be aggressive in the free agent and trade market to bring in the necessary talent to turn this franchise around into a winner.
Aramis Ramirez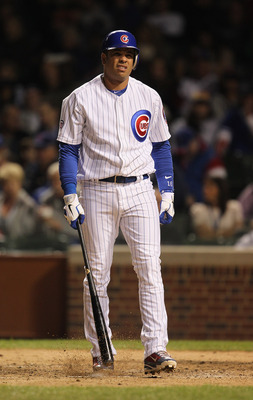 Jonathan Daniel/Getty Images
Theo Epstein will have to decide rather quickly what to do with third baseman Aramis Ramirez.
Ramirez's contract has a $16 million club option for 2012 that they will have to decide whether or not they want to exercise. With his performance in 2011 that amount of money wouldn't be an issue but his agent wants to test the free agent market for a four year deal. A free agent deal would likely raise the cost to an amount that would be a lot of money to dedicate to a 33-year-old infielder on a team that finished below .500 two consecutive seasons.
The issue for Epstein will be whether or not the team can replace Ramirez's 26 home runs, 93 RBI, .306 batting average and .361 on-base percentage.
All signs point to Ramirez's departure so that they can have a large pot of available money to sign and build the team Epstein wants in Chicago.
Carlos Zambrano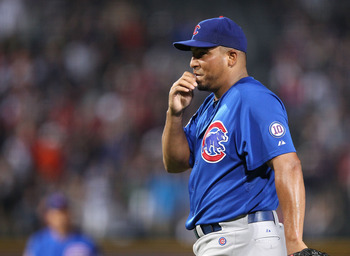 Mike Zarrilli/Getty Images
Carlos Zambrano must go.
If nothing else, Theo Epstein must remove this expensive cancerous personality from the clubhouse.
Zambrano went 9-7 with a 4.82 ERA this season. Over the past four seasons he was a mediocre 43-26 with a 3.96 ERA. These are not the numbers you want from a 30-year-old starting pitcher signed to a $91.5 million contract.
After a meltdown in August the team put Zambrano on the disqualified list and suspended him without pay for 30 days. After his suspension they paid him but kept him off the field for the remainder of the season.
He has had a long list of incidents, including fighting teammates, arguing with teammates, throwing a ball into left field and destroying a Gatorade cooler.
Trading Zambrano would be the ultimate addition by subtraction. From the looks of things there may actually be a team interested in trading for him.
Keep Reading

Chicago Cubs: Like this team?