College Football: The Top 50 Coaches Of All Time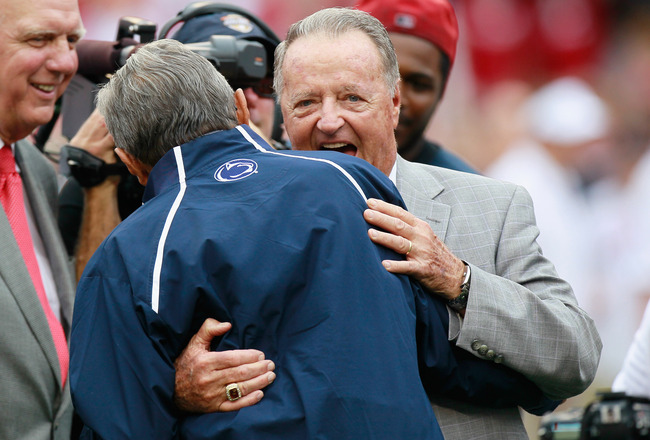 Kevin C. Cox/Getty Images
Coaches in collegiate sports are often looked at as legends for the longevity they have with their respected programs.
Pacing the sidelines on an autumn Saturday afternoon in front of 80,000 plus screaming fans is not something any coach in any sport can talk about other than college football.
Some coaches may only have the privilege of gracing those sidelines for a few seasons whereas some legends have had the honor of running out of that tunnel for a number of decades.
So what makes up the greatest coaches of all time? Is it how many wins, conference and national championships you earn or perhaps for the amount of time you spent at your school and the memories you gave back to the landscape of the sport?
I take a deep dive of a discussion of the 50 greatest coaches of all-time in the history of college football.
No. 50 Barry Alvarez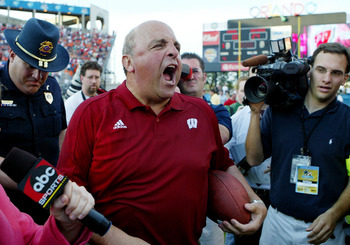 Doug Benc/Getty Images
Career Record: 118-73-4 (60%)
Barry Alvarez had a ton of longevity with the Wisconsin Badgers. He spent 16 seasons in Madison and made the most of it despite never playing for a national championship.
He went on to win three Big Ten and Rose Bowl championships ('93, '98, '99), and he finished strong, going 19-6 to close out his career in his final two seasons.
In those seasons the Badgers finished 17th and 15th in the nation with an upset victory over Auburn in the Capital One Bowl as the final game in Alvarez's career.
He is currently the Wisconsin athletic director and was just elected into the College Football Hall of Fame back in 2010.
No. 49 Phillip Fulmer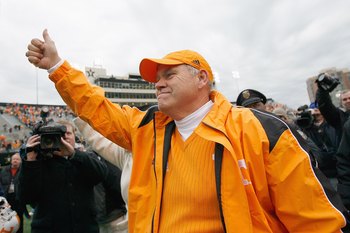 Kevin C. Cox/Getty Images
Career Record: 152-52 (74%)
Hopefully it won't take much of a wait once Phillip Fulmer is eligible for the College Football Hall of Fame because he was one fine coach in the Southeastern Conference.
Being a head coach for his entire career at Tennessee, Fulmer made a mark in Volunteers history by claiming the very first BCS National Championship in the 1998-1999 season.
In the SEC Championship, his Vols were down to Mississippi State trailing 14-10 late in the fourth quarter until the signal caller Tee Martin threw two late touchdown passes.
Then Tennessee knocked off Florida State in the Fiesta Bowl as star receiver Peerless Price caught a 79-yard touchdown pass to go up 20-9 before the Volunteers took the crown, 23-16.
Fulmer won two SEC championships, but won or shared six SEC East crowns. In Fulmer's 17 seasons he posted a top 25 postseason finish in 13 of those seasons and he also had six top 10 finishes.
No. 48 Ralph Jordan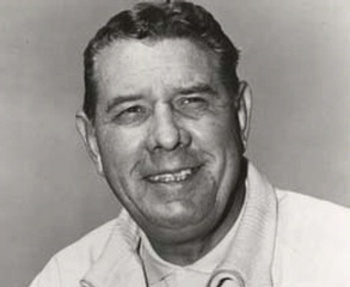 Career Record: 176-83-7 (66%)
Jordan Hare Stadium is named after Ralph Jordan and Cliff Hare (player on first team ever, 1890). That is what a program will do for you when you are the all-time winningest coach in Auburn school history.
Jordan won the SEC and national championship in 1957 with a 10-0 record. Though he never ended up winning another conference championship, totaling over 150 wins in 25 seasons was no easy task.
He also coached basketball at Auburn ('33-'42, '45-'46) and at Georgia ('46-'50). However, the year was 1982 when Ralph "Shug" Jordan was finally named to the College Football Hall of Fame.
No. 47 Frank Thomas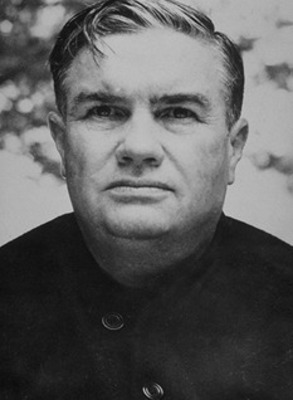 Career Record: 141-33-9 (77%)
Starting his coaching career with Chattanooga (1925-1928), going 26-9-2 was an exceptional start to what would become one of the more successful careers in Alabama and SEC history.
Frank Thomas then coached 16 seasons at Alabama (1931-1946) where he would end up with the second best winning percentage behind only the legend of all legends, Paul "Bear" Bryant.
He won four conference championships and a national title in 1934 when his team went 10-0. In his time at Alabama and in the SEC his squad allowed an average of just 6.3 points per game, which goes to show you how dominant his teams were.
Thomas had two perfect seasons and never had a losing season during his 16-year tenure at Alabama.
After retiring in 1946, he was enshrined into the College Football Hall of Fame in his first year of eligibility (1951).
No. 46 Frank Howard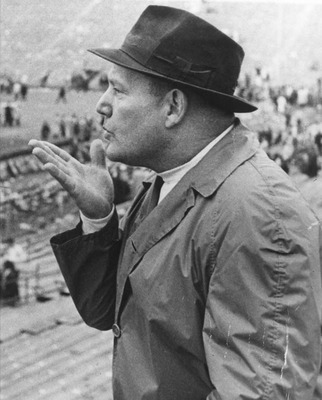 Career Record: 165-118-12 (56%)
Howard's Rock at Clemson University is one of the finest traditions in all of collegiate sports and it is all thanks to Frank Howard.
One of the true legends of the sport in the late 40s and throughout the 50s and 60s, Howard won eight conference championships at Clemson.
In six seasons his Tigers finished in the top 20 postseason rankings. None was better than his 1948-1949 squad that went a perfect 11-0.
He went on to become the 15th winningest coach of all time and he was enshrined into the College Football Hall of Fame in 1989.
No. 45 John Robinson
Jonathan Ferrey/Getty Images
Career Record: 132-77-4 (62%)
John Robinson was one of the few coaches to have two non-consecutive tenures in college football, finding success in both eras.
In the first tenure with Southern California (1976-1982) he ended up winning three Rose Bowls ('76, '78, '79) and one national championship ('78).
In the second tenure ('93-'97) he won two more conference championships ('93 '95) and a Rose Bowl ('95).
He eventually took his final stint of collegiate coaching with UNLV ('99-'04) and though he had only one winning season, his legacy did not take a hit by any means.
In 2009, Robinson was enshrined into the College Football Hall of Fame and to this day he remains as one of the all-time greats at USC.
No. 44 Wally Butts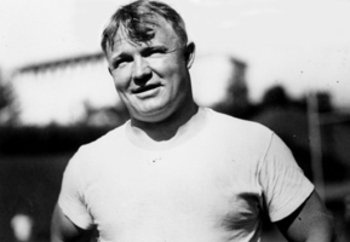 Career Record: 140-86-9 (59%)
Thought the legend was at Georgia for his entire career (1939-1960), he ended up winning two national championships and four Southeastern Conference championships ('42, '46, '48, '59) in the process.
His Bulldogs won the Oil Bowl ('45), Orange Bowl ('41, '59), Sugar Bowl ('46) and the Rose Bowl ('42).
Though Butts passed away in 1973, he was later enshrined into the College Football Hall of Fame in 1997.
No. 43 Frank Broyles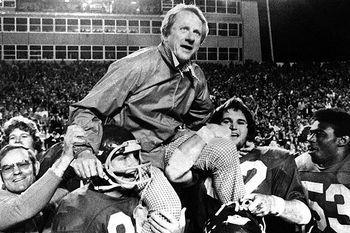 Career Record: 149-62-6 (68%)
Before retiring as the Arkansas Razorbacks athletic director in 2007, Frank Broyles had accomplished a ton as a coach many decades prior.
He had a one-year stay with Missouri (1957) where he went 5-4-1, but it was the time he spent at Arkansas (1958-1976) that made him one of the all-time greats in SEC history.
Posting just two losing seasons, Broyles would go on to win seven SEC championships ('59, '60, '61, '64, '65, '68, '75) and one national championship (1964).
Nine finishes in the final postseason top 10 rankings only added to Broyles' legacy. The assistant coach of the year during the college football season is named after Broyles for all the dedication and success he had in the 50s, 60s and 70s.
It was in 1983 when Broyles was enshrined into the College Football Hall of Fame.
No. 42 Don James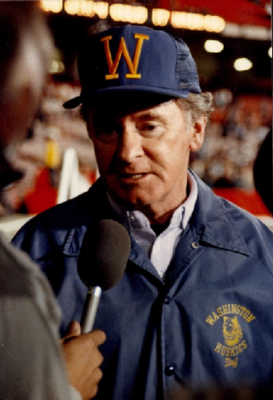 Career Record: 178-76-3 (69%)
A three-time coach of the year winner (1977, 1984, 1991), Don James set a then Pac-10 record in 1992 with 98 conference victories.
He actually started his career coaching Gary Pinkel and Nick Saban at Kent State (1971-1974).
He went just 25-19-1, but he did win a MAC championship in 1972. He was then the head coach at Washington (1975-1992) where he appeared in six Rose Bowls ('77, '80, '81, '90, '91, '92).
James finished in the final postseason top 10 seven times with the Huskies, posting just one losing season.
Not only is he still the winningest coach in school history, James achieved the greatest feat of them all winning the 1991 national championship.
The Huskie legend once won 22 consecutive games from 1990-1992 and it was in 1997 when he was then enshrined into the College Football Hall of Fame.
No. 41 Dana X. Bible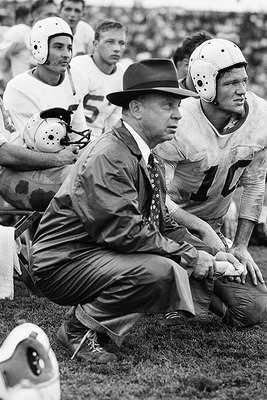 Career Record: 198-72-23 (67%)
Dana X. Bible won nearly 200 games in his career. In 1919, his Texas A&M Aggies went undefeated by outscoring the opposition 275-0 throughout the season.
He actually started with Mississippi State (1913-1915) before moving to LSU for one season (1-0-2). Then, in just his first season with Texas A&M he went on to win the Southwest Conference going a perfect 8-0.
The following year he won his lone national championship. Bible left College Station with a ridiculous 72-19-9 record (72%).
In eight seasons at Nebraska (1929-1936), he won six conference championships before he coached Texas (1937-1946), where he won another three conference championships.
Bible was a winner wherever he ended up and was enshrined into the College Football Hall of Fame in 1951.
No. 40 Terry Donahue
Jed Jacobsohn/Getty Images
Career Record: 151-74-8 (64%)
Getting inducted into the College Football Hall of Fame in 2000 automatically puts Terry Donahue on this list. Without winning a national championships does he belong higher on this list?
During his 20-year tenure at UCLA, his Bruins shared or won five conference championships with four Rose Bowl appearances.
He won in three of those four Rose Bowls which looks great on the resume. But never finishing inside the top four in the final postseason rankings makes you scratch your head a bit.
His team had the talent to get up there and eventually play for a national championship, but they always stumbled and lost at least one game.
UCLA's best season with Donahue was in 1982 where he beat Bo's Michigan Wolverines in the Rose Bowl. If it were not for a tie against Arizona and a three point loss to 10th ranked Washington, perhaps the Bruins would have played for all the marbles.
Still, Donahue was enshrined into the 2000 College Football Hall of Fame.
No. 39 Dan Devine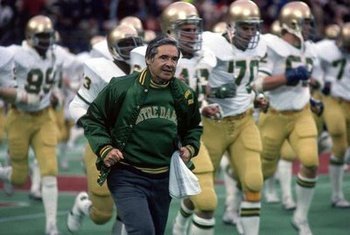 Career Record: 173-57-9 (72%)
Dan Devine accomplished quite a bit with the Notre Dame Fighting Irish. He won a national championship in 1977 by defeating Texas in the Cotton Bowl.
He coached just six seasons in South Bend, posting a respectable 53-16-1 (75%) record. He was a fine coach before he took over the Domers however.
His career started in Tempe with Arizona State (1955-1957) where he went 27-3-1 with a conference championship. He had 12th ranked finish in his final season before he took the job at Missouri (1958-1970).
With the Tigers, he had four top 10 finishes while winning the Big Eight conference two times ('60, '69).
In 12 of the 22 seasons he coached, his team finished in the final postseason Coaches Top 25. After he left Notre Dame for the Green Bay Packers, he was eventually enshrined into the College Football Hall of Fame in 1985.
No. 38 Wallace Wade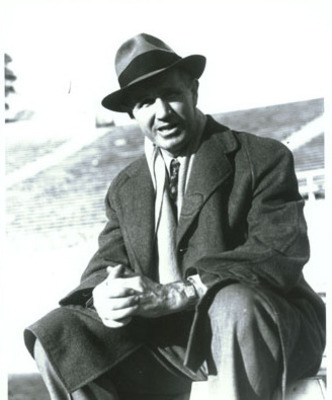 Career Record: 171-49-10 (74%)
Wallace Wade was a legend for both the Alabama Crimson Tide (1923-1930) and the Duke Blue Devils (1931-1941, 1946-1950). He ended up winning 10 Southern Conference championships, six with Duke and four with Alabama.
He ended up going to a total of five Rose Bowls while winning three national championships with the Tide ('25, '26, '30). His 61-13-3 record (79%) with Alabama was the start of a College Football Hall of Fame career (Inducted 1955).
Though his tenure was interrupted due to World War II, he still had a respectable 110-36-7 record (71%) through 16 seasons. Besides Duke renaming its stadium in 1967 to Wallace Wade Stadium, this legend ranks among the greatest in his era and beyond.
No. 37 Chris Ault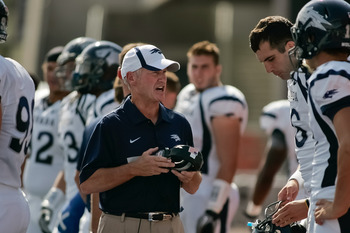 Otto Kitsinger III/Getty Images
Career Record: 221-100-1 (68%)
With all of his career victories it might be a safe assumption that he will continue to climb in the rankings. Perhaps I gave him a raw deal in my own rankings.
The wins speak volumes (221). He is just one of three current active college football coaches to already be named into the College Football Hall of Fame (Paterno & Galiardi).
Ault had three different stints as the head coach with Nevada since he was the school's athletic director once upon a time.
Ault's first stint as head coach took place from 1979-1992 where he then took a one year absence before regaining the job in 1994. He then called it quits temporarily after the 1995 season where he eventually he started his third stint ('04-present).
Totaling 221 wins is a tremendous feat for one of the most underrated coaches in all of America, especially since he is just coming off the greatest Nevada season ever, finishing 11th in the AP Poll.
No. 36 Frank Beamer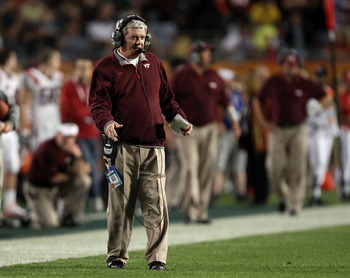 Streeter Lecka/Getty Images
Career Record: 245-119-4 (66%)
Currently in his 31st season as a collegiate coach (25th at VT) Frank Beamer is putting on a display of perfection. He is known as the new "model of consistency" since he has won 10 or more games for seven straight seasons.
Although he has gone just 1-3 in BCS Bowls in the past seven seasons, it is better than not getting to a BCS Bowl at all.
Beamer has won seven conference championships at Virginia Tech (eight, counting Murray State) along with five BCS Bowls. He has carried the ACC during its recent struggles as a BCS conference.
The hope is that Florida State, Miami, Clemson or Georgia Tech can step it up instead of Beamer reaching a BCS Bowl every season.
No. 35 Lloyd Carr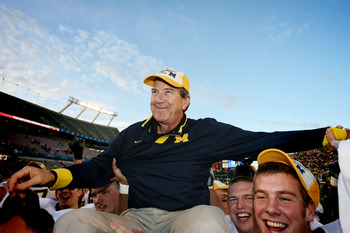 Doug Benc/Getty Images
Career Record: 122-40 (75%)
Though he was unable to win a BCS National Championship, Carr still found a way to win that coveted national championship. In 1997-1998, he won the Associated Press' vote in 1997-1998 when his Michigan Wolverines went 12-0 and won the Rose Bowl. Charles Woodson won the Heisman Trophy the same season.
He had Michigan ranked in the final postseason rankings in 12 of his 13 seasons at Ann Arbor. Though he went just 6-7 in bowl games and struggled mightily against Ohio State's Jim Tressel (1-6), Carr still claimed five Big Ten championships.
Considered by many to be one of the least appreciated coaches in recent memory, Carr was just enshrined into the College Football Hall of Fame.
No. 34 Urban Meyer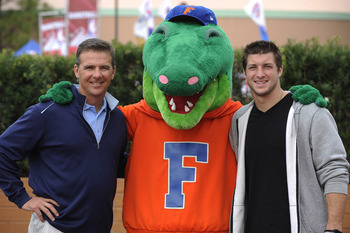 Handout/Getty Images
Career Record: 104-23 (81%)
With the great Tim Tebow leading your team to victory every Saturday during the fall who wouldn't be smiling?
Urban Meyer arguably had the best dynasty during the BCS era going 65-15 (81%) with the Gators in the gauntlet known as the SEC.
Meyer spent just 10 seasons coaching due to wanting to spend more time with his family and because of health concerns. However, he is currently spending time with ESPN as a color commentator.
It might be important to remember that he accomplished more in six seasons than most accomplished in their entire careers, winning two conference championships and two BCS National Championships ('06, '09).
Before he took over at Florida he spent two seasons at Utah ('03-'04) where he went bonkers, going 22-2 including a 12-0 run to a Fiesta Bowl win. That season they were ranked fourth in the nation to close the season out.
He also spent two seasons at Bowling Green ('01-'02) going 17-6, which was just the beginning of his successful reign in collegiate sports.
Some are expecting Meyer to possibly return to the sidelines if the Ohio State Buckeyes come calling. Some think he might be done for good. Most tend to lean towards the former since he is still an icon.
No. 33 Bob Stoops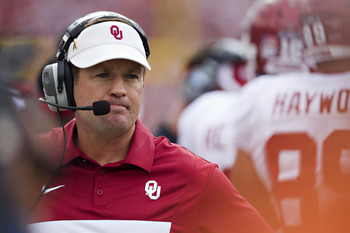 Wesley Hitt/Getty Images
Career Record: 134-31 (81%)
Bob Stoops is in his 13th season at Oklahoma and he is only about a season and half away from the 150 win plateau.
He won his first and only BCS National Championship back in 2000 when they upset and ended the reign of Florida State, 13-2.
Stoops has since gone to seven other BCS Bowls (2-5) though it wasn't until last year when he ended a BCS Bowl streak of five straight losses. On a positive note, he did win a share of an outright Big 12 championship eight times in his career. That number should improve with his program atop the conference.
Not known for winning the big game has cost him a few national championships, but Stoops is still young enough to get a crack at a few more to make his legacy grow even further.
No. 32 Nick Saban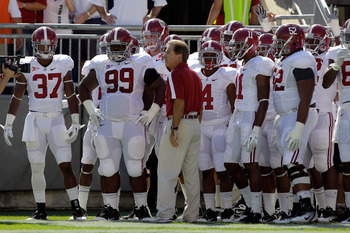 Rob Carr/Getty Images
Career Record: 140-53-1 (72%)
It is not like he has ever won a BCS National Championship before or anything. Try one with two different teams and it looks as if his current Alabama Crimson Tide will rank atop the BCS rankings this Sunday.
Before he became rich and famous as they say, he did win a MAC championship at Toledo ('90) and played in four bowl games at Michigan State ('95-'99, he resigned to coach LSU in fourth bowl game).
In his fourth season, ('00-'04) Saban's Bayou Bengals won the BCS National Championship by defeating the Oklahoma Sooners in the Louisiana Superdome, 21-14.
He then went on to coach in the NFL with the Miami Dolphins before he moved back home to the SEC to coach the Alabama Crimson Tide ('07-present).
In his third season with Alabama he won another BCS National Championship, this time over the Texas Longhorns, 37-21.
With the future looking bright for Alabama and Saban, he could very well be on his way up in these rankings after every season he remains in Tuscaloosa.
No. 31 Lavell Edwards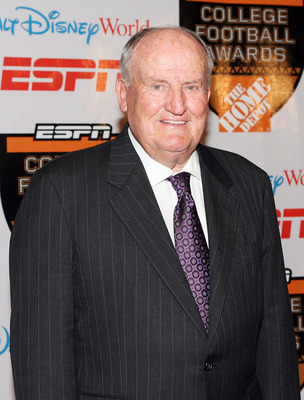 Doug Benc/Getty Images
Career Record: 257-101-3 (71%)
Lavell Edwards was a BYU legend for 29 years and he still is. Edwards won a national championship in 1984. I might have him too low on this list, but he doesn't get nearly enough credit for all he accomplished at his days as the Brigham Young football coach.
He is remembered for coaching the 1990 Heisman Trophy winner Ty Detmer, but the achievements do not stop there.
Edwards won at least a share of 20 conference championships in his 29 years, leading them to 11 Holiday Bowls.
Totaling over 200 victories is quite the resume, but being enshrined into the College Football Hall of Fame (2004) is as good as it gets.
No. 30 Jim Tressel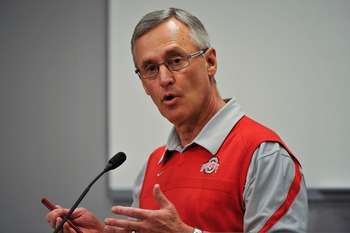 Jamie Sabau/Getty Images
Career Record: 229-79-2 (73%)
Is this number too high, too low or perfect? Does he even belong in this list after resigning from Ohio State this past season in midst of all the NCAA violations?
His on the field performance speaks for itself as he won five national championships counting his tenure at Youngstown State ('91-'00).
Tressel went 6-4 in bowl games, 4-3 in BCS Bowls and his near perfect 8-1 record against Michigan will forever have a place in Buckeye fans' hearts.
He finished at Ohio State with a record of 94-22 (81%) while he went 59-14 (80%) in the Big Ten. Going into this season, Tressel had won a share of the Big Ten for six straight seasons. With Terrelle Pryor expected to come back, many were banking on a seventh.
Tressel had not lost four games since 2004 and many were ready to crown him into the College Football Hall of Fame. However, who knows if he will ever coach again. Most expect him to have no shot at giving a speech at the Hall of Fame as most think it is a ridiculous comment to even bring up.
Tressel allowed improper benefits to be given to some of his players at Ohio State, but he still accomplished a lot on the field for everything that went wrong off of it.
No. 29 Mack Brown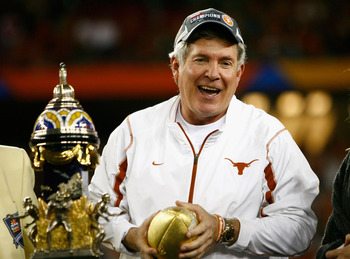 Jeff Gross/Getty Images
Career Record: 223-109-1 (66%)
Mack Brown has accomplished a lot during his 28-year coaching career. He started with Appalachian State ('83) before he coached at Tulane for three seasons ('85-'87).
Before he got the gig at Texas he coached at North Carolina ('88-'97) where he led the Tar Heels to five top-25 finishes. He ended his reign in Chapel Hill with two top 10 finishes before he left for Austin.
He got his big break with the Longhorns and he made the most of it winning all of or a share of six Big 12 South divisional crowns in addition to that coveted BCS National Championship back in 2005.
It was in the 2005 BCS Rose Bowl where Vince Young put on one of the greatest performances in BCS history to cap off Texas' victory over USC, 41-38. To this day it is remembered as the most exciting BCS Bowl of all time and it finally got the monkey off Mack Brown's back.
Four seasons later, Brown's Longhorns lost to Alabama in the 2009 BCS National Championship, but his program still has the talent to possibly give Brown one final run at another national championship.
It should also be noted that this legend has had more longevity and success than arguably any other current coach in the sport.
No. 28 Steve Spurrier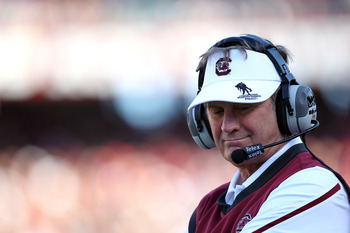 Streeter Lecka/Getty Images
Career Record: 191-74-2 (71%)
Steve Spurrier has coached for 22 seasons for three different programs, including Duke ('87-'89), Florida ('90-'01) and currently South Carolina ('05-present).
He has been known for developing quarterbacks better than arguably any recent coach in the past few decades.
Going to 17 bowl games and two BCS Bowls is an impressive resume. But an illustrious 11 straight top-12 finishes and nine win seasons is a record that may not be touched for quite some time at Florida.
He won that coveted national championship in 1996 by demolishing Florida State in a rematch from their regular season finale loss.
During his time at Florida he also never finished worse than second place in the East. He brought South Carolina back to national relevance, looking for consecutive top 25 finishes.
No. 27 Vince Dooley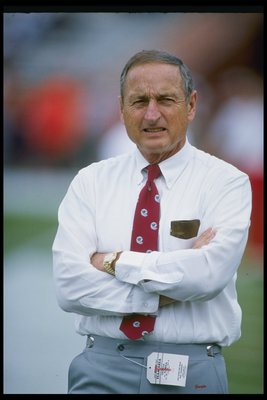 Allen Steele/Getty Images
Career Record: 201-77-10 (70%)
Vince Dooley was a legend during his 25-year stay in Athens. The Georgia Bulldogs won six Southeastern Conference titles under Dooley and in 1980 he won them their fifth ever national championship.
Dooley would go on to post seven top 10 finishes as well as 14 top 25 rankings. His best and most notable player was the 1980 Heisman Trophy winner Hershel Walker, which many to this day still consider the greatest college football player of all time.
We should also not forget that Dooley was very successful in the toughest conference in America with a record of 104-42-4 (69%) in the SEC.
No. 26 Pete Carroll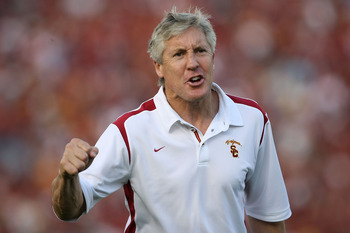 Stephen Dunn/Getty Images
Career Record: 83-19 (81%)
Maybe this ranking is too high or perhaps too low even? Pete Carroll led one of the greatest dynasties in the BCS era.
He won consecutive national championships per the Associated Poll though their attempt for a third was dashed by the heroics of Vince Young in the 2005-2006 Rose Bowl.
USC had its 2005 Reggie Bush-won Heisman Trophy taken away by the NCAA, along with many victories, including '04 BCS Title.
So how far should we drop Carroll or do we just judge him solely on what he did on the field?
I am simply ranking the greatest coaches of all-time and I truly believe I have to rank them on what they accomplished. But with violations and so on I am not exactly digging a coach who sort of unknowingly cheated.
Carroll's six Pac-12 championships and remarkable 53-14 (79%) record will never be forgotten. His BCS National Championships certainly have a cloud over them and that may never change.
No. 25 Lou Holtz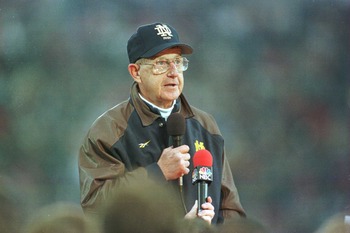 Matthew Stockman/Getty Images
Career Record: 249-132-7 (64%)
Had Holtz stayed in South Bend into the early 2000s perhaps he would have won another National Championship, ranking him even higher on this list.
During his first four tenures as a coach, Holtz spent time with William & Mary ('69-'71), NC State ('72-'75), Arkansas ('77-'83) and Minnesota ('84-'85). He had three conference championships on his belt with one a piece per school save Minnesota, with whom he had spent just two seasons.
He then went to Notre Dame ('86-'96) where he went 100-32-2 (75%) and won the national championship (12-0) in just his third season there.
Although he never won another national championship or had another undefeated season, he did go on towards greatness by posting top 20 finishes in all but two of his years in South Bend.
He retired in 1996 before coming back to coach South Carolina ('99-'04), where he had two bowl seasons posting just a 33-37 record.
The bottom line is that Holtz was a winner, playing in a numerous bowl games (23) for several teams (6).
Holtz also achieved near immortality from Irish fans after he won them their first national championship in 11 years. That title remains the last time Notre Dame has been able to taste supremacy in college football.
No. 24 Bernie Bierman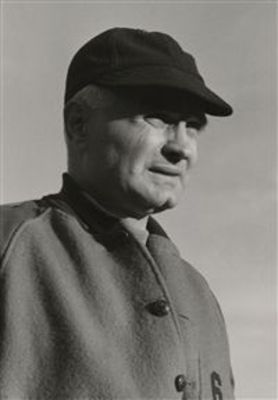 Career Record: 153-65-12 (66%)
Bernie Bierman may be the least known all-time great I have ever (or never) heard about. While his first coaching job was in 1919 with Montana, he eventually rose to the top and got his opportunity with Minnesota.
It was his first tenure with the Minnesota Golden Gophers (1932-1941) where Bierman ended up winning eight conference championships and five national championships.
Before he coached at Minnesota he also was at Tulane for a few seasons (1927-1931) where he won three conference championships.
He retired from coaching back in 1950 and was later inducted into the College Football Hall of Fame in 1955. Bierman remains one of the least talked about coaches of all time, yet he easily ranks among the best.
No. 23 Darrell K. Royal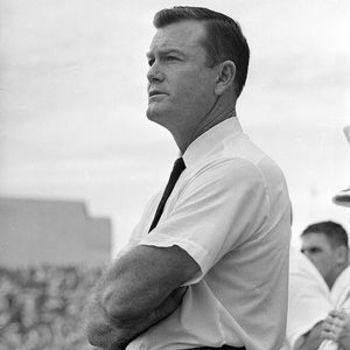 Career Record: 184-60-5 (73%)
Having your name forever remembered in Texas Longhorn history is a nice touch with the stadium re-naming it after him, but this legend accomplished far more.
He once played for the Oklahoma Sooners under Bud Wilkinson, but got his third coaching opportunity with the Texas Longhorns back in 1957.
The previous season the Longhorns went just 1-9-1, so Royal stepped into a bad situation. However, it did not take him any time to turn around Texas football. His first season he went 6-4-1 and in just his third season he would go on to win the Southwest championship, posting a 9-2 record.
He eventually won a total of 11 conference championships, but it was his three national championships ('63, '69, '70) that will forever keep him as a college football great and a Longhorn legend.
No. 22 Bo Schembechler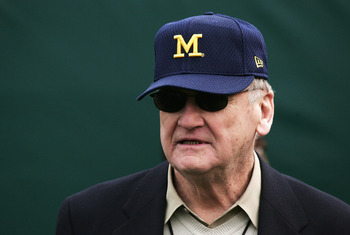 Jed Jacobsohn/Getty Images
Career Record: 194-65-8 (72%)
Glenn Edward "Bo" Schembechler is one of the most iconic coaches in the history of college football. The Maize and Blue had the honor of him strapping on a head set for 21 seasons.
Ann Arbor was accustomed to winning Big Ten championships as Bo brought them 13. His teams finished the season ranked in the top 10, 16 times.
Although he was unable to win a national championship, he was still inducted into the College Football Hall of Fame back in 1993.
Bo's glorious records may forever stand and perhaps they will never be broken by another Michigan coach. He holds the record for the most wins without a national championship (234), but it doesn't take anything away from the College Football Hall of Fame legend.
In his first 14 seasons in Ann Arbor, he either won a Big Ten championship every single year or won a championship by the following year.
Despite passing away from heart issues in 2006, the legend of Bo still lives on to this day. Go Blue!
No. 21 John Heisman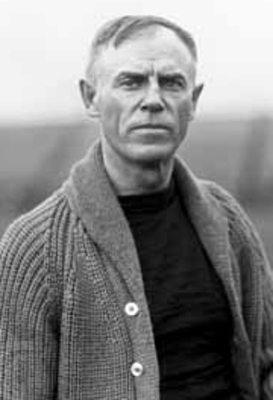 Career Record: 186-70-18 (67%)
To have the Heisman Trophy named after you might just be all you need to know about this innovator. John Heisman became one of the most popular and accomplished coaches in the late 1800s.
Whether it was Oberlin (1892-1894), Auburn (1895-1899), Clemson (1900-1903), Georgia Tech (1904-1919), Penn (1920-1922), Washington & Jefferson (1923) or Rice (1924-1927), Heisman played and coached for a very long time.
Besides football, he even took part in basketball, baseball and track & field during his long tenure of coaching. He is well-known for legalizing the the forward pass in 1906 and even started the pulling of guards on the offensive line.
Heisman would go on to win three conference championships (two others with Clemson, five total) and three national championships with Georgia Tech.
No. 20 Earl Blaik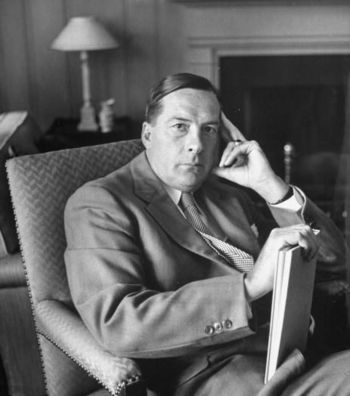 Career Record: 166-48-14 (72%)
One of the greatest college football teams of all-time (No. 7 SN) was led by Earl Blaik thanks to his dynamic duo known as Mr. Inside and Mr. Outside (Doc Blanchard and Glenn Davis).
It was his 1945 Army team that went 9-0, dominating every team in sight by outscoring the competition with an average score of 45.8 to 5.1. The defense pitched five shutouts and Mr. Inside (Blanchard) won the Heisman while Mr. Outside (Davis) finishing second in the voting.
The previous season, Army went undefeated as well and Blaik won his first national championship.
Despite having four more undefeated seasons he would fail to have another national championship appearance.
He did however coach three Heisman winners (Dawinks '58, Davis '46, Blanchard '45) and was the dominant coach in college football during the 1940s.
No. 19 John McKay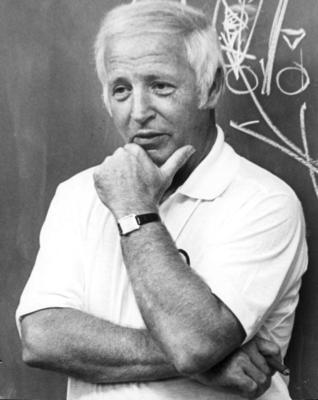 Career Record: 127-40-8 (72%)
During his 16-year tenure with the USC Trojans, McKay won nine conference championships in the Pac-8 including eight Rose Bowl appearances.
He won four national championships ('62, '67, '72, '74) on top of his five Rose Bowl victories. There should be no doubt that he ranks among the best ever.
McKay was a legend in his own right and after his final season in 1975, he left to coach in the NFL with the Tampa Bay Bucs. The stamp he left on college football will forever be remembered after he was enshrined into the College Football Hall of Fame in 1988.
No. 18 Walter Camp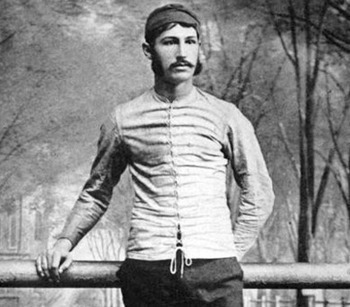 Career Record: 79-5-3 (90%)
Among with a few other legends, Camp ranks among the greatest early staged coaches of all time. He is known as the "Father of American Football" due to the numerous rules he adapted in the late 1800s.
Besides having an award given to the best player in honor of his name due to his inventions and on-field accomplishments, Camp did a ton as a coach as well.
While coaching at Yale for five seasons, Camp won three national championships while eventually finishing the final three years of his career at Stanford.
He finished with a 79-5-3 career record while posting a 4-0-1 record at Stanford. Later in life he started a career in writing, got married and started a family.
No. 17 Glenn Pop Warner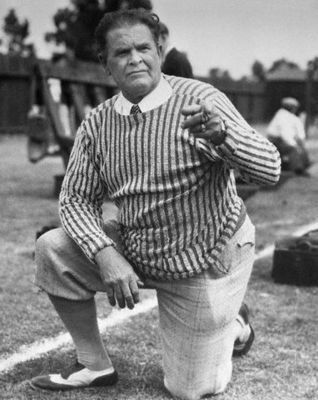 Career Record: 319-106-32 (69%)
Having helped start the American football organization, Pop Warner Little Scholars might be one of his better accomplishments. But his 44 seasons ranks among the best of all time.
319 victories with six different schools (Georgia, Cornell, Carlisle, Pittsburgh, Stanford and Temple) is quite the accomplishment, but he also won four national championships.
He kicked some tail at Carlisle (114-42-8) and posted a record of 60-12-4 at Pittsburgh where won three national championships (1915, 1916, 1918).
Warner then went on to win three conference championships and one national championship (1926) with Stanford (1924-1932). He was then enshrined into the College Football Hall of Fame in 1951.
No. 16 John Gagliardi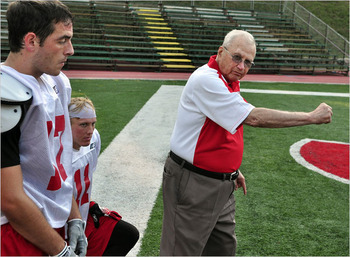 Career Record: 480-133-11 (77%)
I might as well move this legend into the top 10 in a few years since his 63 years of coaching is absurd to think about. Having coached St. John's (Minnesota) since 1953, he has posted a conference record of 357-93-9 (77%).
More importantly he still holds the record over Joe Paterno for most collegiate victories in all levels with 480.
He started out coaching at Carroll College (Montana), though he is known for his long, current stay at St. John's.
He has led the St. John's Johnnies to 27 conference championships and four Division III National Championships ('63,'65, '76, '03). Regardless of how many more years he can grace the sidelines, the numbers he posted may never be touched again.
Lastly, he was enshrined into the College Football Hall of Fame in 2006 and remains as just one of three active coaches to still be coaching (Ault, Paterno).
No. 15 Bob Devaney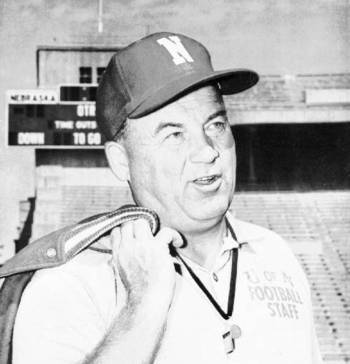 Career Record: 136-30-7 (78%)
Winning consecutive national championships ('70-'71) by going a combined 24-0-1 is not exactly easy. Bob Devaney went on to win 12 conference championships, eight of which were with Nebraska.
He also went 7-3 all-time in bowls with three straight Orange Bowl victories ('70'-72) to close out his tenure in Lincoln.
Sporting News recently came out with an article stating that it was Devaney's '71 squad that is the greatest college football team of all-time. In 1981 he was later enshrined into the College Football Hall of Fame.
No. 14 Eddie Robinson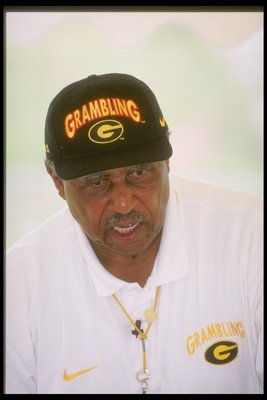 Stephen Dunn/Getty Images
Career Record: 408-165-15 (71%)
Eddie Robinson was one hell of a coach at Grambling for 54 seasons. He went on to have 45 winning seasons, including at least a share of 17 Southwest Athletic Conference championships.
He wore many more coaching hats besides football. He coached the girls' basketball team during World War II as well as the band, basketball and baseball teams. To be one of only three coaches (Paterno and Gagliardi) to ever accomplish 400 wins in all divisions of football is more than just impressive.
No. 13 Ara Parseghian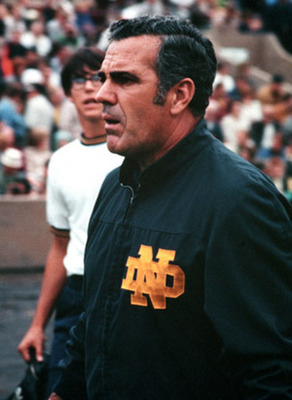 Career Record: 170-58-6 (72%)
After dominating the MAC with Miami (Ohio), Parseghian struggled with Northwestern. He then took the job with Notre Dame in 1964 and won the national championship in his third season (9-0-1).
"The Era of Ara" was when Notre Dame football was back in business as far as kicking teeth in. Parseghian went on to go 95-17-4 (.83%) with two national championships ('66, '73).
He never had a season with more than two losses, or worse than a final top 15 ranking. He also went on to win the 1970 Cotton Bowl, the 1973 Sugar Bowl (NC) and the 1974 Orange Bowl.
To even be mentioned in the same breath as Knute Rockne is a dream fulfilled and "the Era of Ara" makes Parseghian one of the all-time greats.
No. 12 Robert Neyland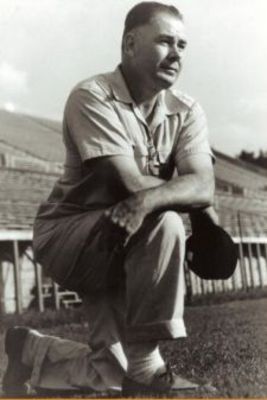 Career Record: 173-31-12 (80%)
Tennessee Volunteers stadium is named after Robert Neyland.
Neyland is one of the more accomplished coaches in the history of college football and is the greatest Vols coach to ever live.
His 173 wins out of 216 games ranks first, but the numbers do not stop there. He had six undefeated seasons, nine undefeated regular seasons, seven conference championships and four national championships.
Neyland even reeled off wining streaks of 33, 28, 23, 19 and 14 games during his stay at Knoxville. This legend was enshrined into the College Football Hall of Fame in 1956.
No. 11 Barry Swizter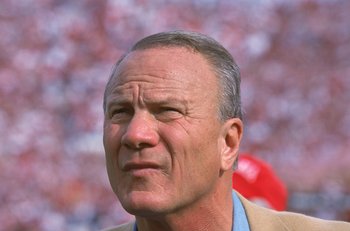 Brian Bahr/Getty Images
Career Record: 157-29-4 (82%)
In the 16 seasons that Barry Switzer was at Oklahoma he did more than just take care of business. He remains the only coach to ever win both a Super Bowl and a national championship besides Jimmy Johnson.
Switzer won 12 conference championships and three national championships ('74, '75, '85) and had a sensational bowl record of 8-5.
He owned Nebraska legend Tom Osborne with a dominating record of 12-5, leading to his 100-11-1 Big Eight conference record.
Including Switzer, the Sooners are the only program that has four coaches over 100 wins within the program.
The former Oklahoma Sooner legend will also forever remain among the greatest coaches of all time.
No. 10 Woody Hayes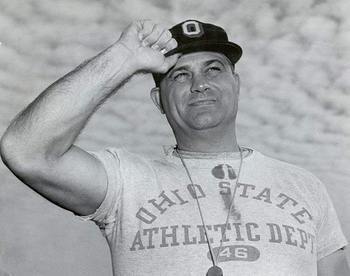 Career Record: 238-61-10 (58%)
Winning 13 Big Ten championships and five national championships ('54, '57, '61, '68, '70) ranks Woody Hayes as arguably the best Buckeye and Big Ten coach of all time.
Going 152-37-7 is simply crazy in the Big Ten. Though he knocked himself out of a job after the 1978 Gator Bowl where he punched Charlie Bauman, Hayes remain among the elites.
Hayes was known for his on the field rivalry with Michigan legend Bo Schembechler. But Hayes did more than just post a 4-5-1 record against Bo. He revolutionized the Big Ten and made his mark throughout his 33 years of coaching.
No. 9 Amos Alonzo Stagg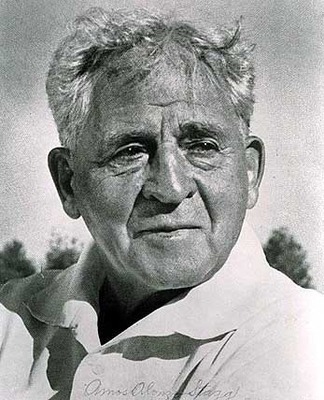 Career Record: 314-199-35 (67%)
How a football coach ever made it to 103 years old is beyond me. Amos Alonzo Stagg was a pioneer who invented many different plays and formations that are still used to this day.
Most notably were the man in motion and statue of liberty in addition to the dozen of other plays that he created. He was one of the greatest coaches of all time, winning seven conferences and two national championships (1905, 1913) with the Chicago Maroons (1892-1932), where he went 224-112-27 in 41 seasons.
He also spent some time with Pacific (1933-1946) where he won five more conference championships. When the discussion of the greatest to ever roam the sidelines on autumn Saturday's comes up, Stagg is near the very top of the list.
No. 8 Frank Leahy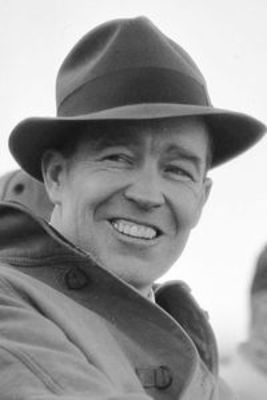 Career Record: 107-13-9 (82%)
Frank Leahy coached for 13 seasons, 11 with the Irish. But it was his four national championships that puts him this high on the list.
Despite taking a year break from coaching by serving time in World War II (1944-1945), he came back from his lone national championship to win three more.
One could argue he had the greatest dynasty in Notre Dame history with his four consecutive undefeated seasons ('46-'49).
Though he had a tie in two of those seasons, two consecutive national championships was and still is not an achievable goal. Yet there he was in South Bend accomplishing things that only Knute Rockne once accomplished.
Leachy did it all by learning from his own former coach, Rockne, when he played under him from 1928-1930. Ranking among the greatest Notre Dame head coaches is one great longtime achievement, but ranking among the best of the best is another.
No. 7 Bud Wilkinson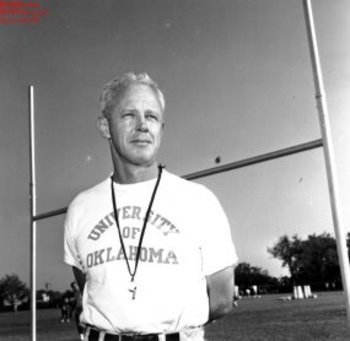 Career Record: 145-29-4 (81%)
Bud Wilkinson may have only coached for 17 seasons, but he accomplished more in that time than nearly any other coach in the history of the sport.
The Oklahoma Sooners were fortunate enough to have the legend in Norman, where he went on to win 14 conference championships (13 straight '47-'59) and three national championships ('50, '55, '56).
His Sooners walked right through the Big Big Six/Seven/Eight Conference posting a 93-9-3 record. In those 13 straight conferences he lost just one individual conference game (Texas).
The domination did not end there as he won four Orange Bowls and two Sugar Bowls in his 17-year career.
The legend holds the record for most consecutive home victories (47).
No. 6 Fielding Yost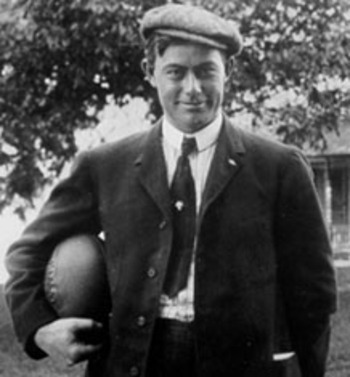 Career Record: 198-35-12 (80%)
The man known for his "Point-A-Minute" squads from 1901-1905 made his illustrious career as one of the best of all time.
During his 25-year tenure at Michigan, he went 165-29-10. But during those four years from 1901-1905 he went an unstoppable 55-1-1 by outscoring the competition 2,821 to 42.
He won four national championships during those four seasons and he eventually got back to the promised land after struggling for about a decade by winning 2 more national championships in 1918 and 1923.
A total of six national championships and 10 Big Ten championships makes Yost one of the all-time Big Ten greats as well as one of the upper echelon coaches in the history of college football.
No. 5 Bobby Bowden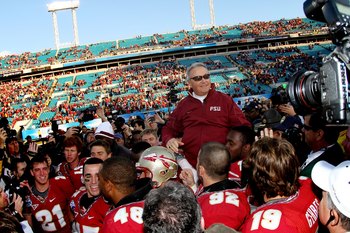 Doug Benc/Getty Images
Career Record: 377-129-4 (74%)
Bobby "Dag gummit" Bowden is among the greatest coaches of all time due to his longevity and numerous of accomplishments with the Florida State Seminoles.
He took over a brand new Seminole program and turned them into a national powerhouse program that had 34 illustrious seasons.
Tallahassee grew to love Bowden after he led them to what is, in my opinion, the greatest college football fact of all time.
Bowden's 14 consecutive seasons (1987-2000) of top four postseason finishes is something that no coach in history will never achieve in their lives.
In that time span, Bowden won nine conference championships, two national championships ('94, '99) and an untouchable and unforgettable 152-19-1 (88%) record.
It was sad to see Bowden call it quits in 2009 after 44 career seasons, but he will undoubtedly be remembered as one of the greatest of all time.
No. 4 Joe Paterno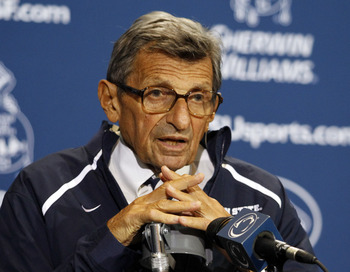 Justin K. Aller/Getty Images
Career Record: 406-136-3 (74%)
To this day, Paterno's raspy voice just wreaks of a college football legend. Going 5-5 in his first season way back in 1966 was where everything started for the all-time winningest coach in FBS history.
Paterno's 406 wins is the most ever and it looks as if nobody will ever catch the 84-year-old Penn State coach.
In Happy Valley, "Joe Pa" is the first and only FBS coach to lead his team to 400 or more wins. He has also led his program to two national championships ('82, '86), five undefeated seasons and 37 career bowls (24-12-1).
There is no doubting that Paterno is one of the greatest in the history of the sport as he is one of just three active who have already been inducted into the College Football Hall of Fame (Chris Ault and John Gagliardi).
No. 3 Tom Osborne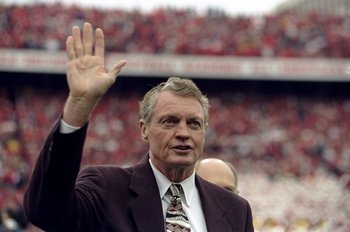 Brian Bahr/Getty Images
Career Record: 255-49-3 (83%)
Coaching in Lincoln for a quarter of a century, Osborne was known as the "model of consistency" by never earning less than nine wins in a season on top of his 13 conference and three national championships ('94, '95, '97).
Maybe the most recognizable stat was the way he finished his career off at Nebraska. Osborne's record in his final five seasons was an incredible 60–3 (.95%) which remains the best finish to any coaching tenure in the history of the sport.
His final game was in the final season before the BCS began. He would go on to defeat Tennessee 42-17 in the 1998 Orange Bowl.
Osborne is Nebraska football, but also much more. He left his own mark on college football, dominating both lines of scrimmage. Most notable was his unstoppable rushing attack led in part by college football legends Tommy Frazier ('94-'95 Titles) and Mike Rozier ('83 Heisman).
The current day athletic director of Nebraska never failed to lead his team to a top 25 postseason ranking and stands as one of the all-time greats in all of sports history.
Honorable Mention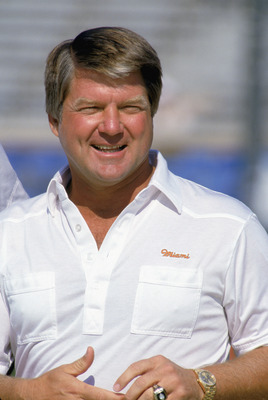 Jonathan Daniel/Getty Images
So, who just missed the cut or is arguably just as deserving?
Well, Les Miles is currently 96-38 with one national championship at LSU and Chris Petersen is already 66-5 through five and a half seasons with Boise State.
Perhaps I should not have left Gene Stallings' 97 victories or national championship with Alabama back in 1992 off the list?
Jimmy Johnson also had that run with the Miami Hurricanes in the late 80s where he went 81-34-3, including his 12-0, 1987 national championship. Perhaps, Howard Schnellenberger, Bobby Dodd, Tubby Raymond or Paul Brown should have made the cut?
I tried to balance coaches from recent memory along with coaches from the early 1900s. It is extremely difficult to rank some coaches that are not popular nowadays.
There were a ton a coaches to choose from and I will gladly enjoy hearing which coach you think I should have included and which one I should have bumped out.
No. 2 Knute Rockne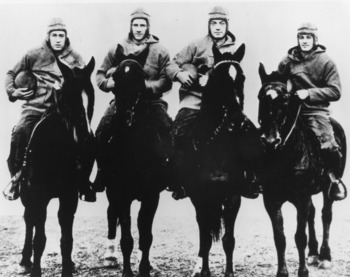 Notre Dame University/Getty Images
Career Record: 105-12-5 (86%)
Talk about an all-time icon. Rockne coached from 1918-1930 and won five national championships ('19, '20, '24, '29, '30).
Rockne was credited for inventing the forward pass and also introduced the T formation in the backfield. The mark he made on Notre Dame will forever go down in history as one of the greatest moments in college football.
His "win one for the Gipper" speech will never be forgotten, just like the players he turned into legends. George"Gipper" Gipp, Frank Thomas, Frank Leahy and Curly Lambeau were all beyond special, but nothing beat the "Four Horseman" (Harry Stuhldreher, Don Miller, Jim Crowley and Elmer Layden).
Rockne tragically died on flight TWA 599 on March 31, 1931 which ended his historic, record setting coaching career. 20 years later he was named into the College Football Hall of Fame and will forever be remembered arguably the greatest that ever lived.
No. 1 Paul "Bear" Bryant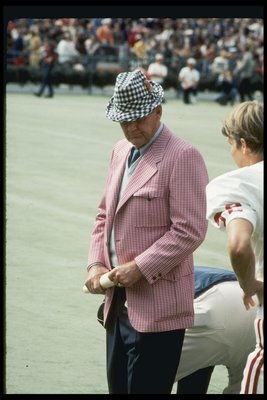 Getty Images/Getty Images
Career Record: 323-85-17 (76%)
There is no doubt who the most recognizable coach in the history of college football is. Former Alabama legend Paul "Bear" Bryant is one of the true symbols of why college football may be the greatest sport in the world.
Gracing the sidelines with his houndstooth hat for 25 illustrious years with Alabama was just one of the numerous reasons to love coach "Bear" Bryant.
He forever changed the way we look at college football with all of his accomplishments, including 14 SEC Championships and six national championships ('61, '64, '65, '73, '78, '79). He took over the Tide in 1958 and went on to reach 24 consecutive bowl games.
"Bear" changed his team as society changed. His first three national championships were won with all white players, his last three were integrated.
He treated every player with the same amount of respect, saying he only had football players and nothing more. The legend stated it best saying, "I ain't nothing, but a winner."
On the day of his death (1/16/83), the only piece of jewelry he had on or ever wore was a gold ring that read, "Junction Boys."
He won a conference title during four years at Texas A&M and he also won a SEC Championship in his eight prior seasons with Kentucky.
At every home game in Tuscaloosa, the Crimson Tide commemorates Paul "Bear" Bryant on the jumbotron. Former Florida Gators coach Urban Meyer says that is what he remembers most about coaching in the SEC.
There are many historic legends that will forever remain in our hearts, but these were my very own top 50 greatest coaches of all time.
I would love to hear all of your own personal favorites and what memories you can still recall to this day. Just talking about all of these icons makes me wish every single day was Saturday.
Keep Reading