NFL Picks Week 6: Detroit Lions and 3 Teams on Upset Alert
October 12, 2011
Gregory Shamus/Getty Images
This week's slate of NFL games has some pretty good matchups.
The game of the week has to be the San Francisco 49ers at the Detroit Lions, as improbable as that sounds.
It should be a good game, which means the Lions have to be put on upset alert.
Let's take a look at that game and two others that could feature upsets.
Detroit Lions (5-0) vs. San Francisco 49ers (4-1)
The Lions are on a magical run to start this year, with a perfect 5-0 start.
This week, they have a home game against the 49ers, which at the start of the season looked like a fairly easy victory.
Well, the Niners just put a 48-3 beatdown on the Tampa Bay Buccaneers and are on fire.
No longer are the 49ers a doormat. Alex Smith actually looks like a decent quarterback and the defense has been fierce.
The Lions probably aren't going to score more than 24 points this week, so it will be interesting to see if they can win with their defense.
My guess is they'll lose to the 49ers, but that it will turn into a valuable teaching point for Jim Schwartz. He'll be able to show his team they can't rely on Matt Stafford and Calvin Johnson to bail out the defense every week.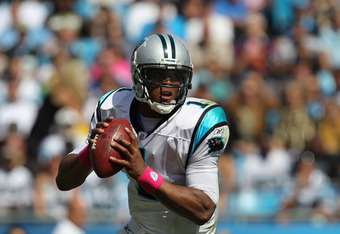 Streeter Lecka/Getty Images
That will make the Lions better in the long run.
Atlanta Falcons (2-3) vs. Carolina Panthers (1-4)
The Panthers are 1-4, but they could easily be 5-0.
Of their four losses, all of them have been by a touchdown or less.
Cam Newton is due for a win, and the Falcons are just the team to beat. They've taken a major step back this season from last year's 13-3 record.
The Julio Jones pick hasn't worked out so far and the offense hasn't been getting the job done.
Furthermore, the Falcons defense has been worse than last year, too. John Abraham's injury isn't helping matters.
The Falcons will continue reeling this week and will dig themselves a big hole to try to climb out of.
New England Patriots (4-1) vs. Dallas Cowboys (2-2)
Tony Romo has had two games in which he was the hero and two games in which he was the goat.
This week, he's probably due to be the hero.
That shouldn't be too hard, considering how bad the Patriots pass defense has been this year.
If he can avoid throwing stupid interceptions in the late stages of the game, the Cowboys have a legitimate shot of pulling off this upset.