Cleveland Browns: Position by Position Report Card At the Quarter-Season Mark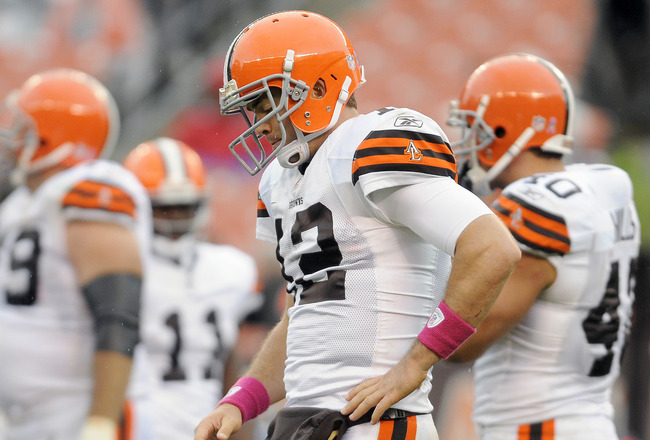 Jason Miller/Getty Images
At 2-2 after four games and one bye week the Browns are, on paper, essentially mediocre. With a fourth of the season in the books, the Browns have won half of their games.
Going by rough estimates, this is right about where we thought they would be (at least in terms of win-loss record) at this point in the season.
But of course, it's never really that simple. So in the interest of breaking down the team's successes and failures to determine how things are really progressing in team president Mike Holmgren's master plan, it's report card time again!
Following is a position by position report card for the Browns at the quarter-season mark for 2011. Please be sure to add your own thoughts on how each position group is faring in the comments below!
1. Quarterbacks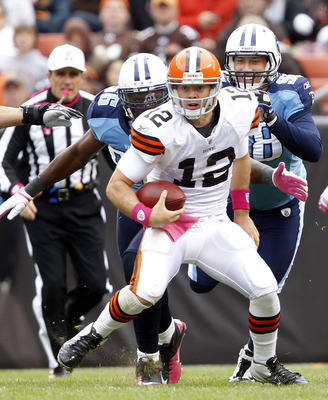 Matt Sullivan/Getty Images
Four games into his sophomore effort, Colt McCoy has shown that he has the potential to be the quarterback the Browns' system requires for success, but also that he's still learning.
McCoy has had good games and bad thus far. He's engineered a masterful comeback in the waning seconds of a game, and he's also made costly mistakes.
By the numbers, McCoy has been decent, completing 100-of-172 passes for a 58.1 percentage and logging just under 1,000 yards after four games with 984. He has six passing touchdowns and three interceptions.
While the numbers aren't spectacular, I find them tough to complain about, especially when factoring in McCoy's youth, inexperience and the style of offense he plays in. But there is obviously room for improvement.
So far, McCoy seems to be progressing far more quickly as a leader than as an athlete, as many of his mistakes on the field have been more of the physical sort than the mental sort.
But overall, there are facets of both categories that McCoy can improve upon. McCoy needs to get rid of the ball faster and at the same time remember to not let plays completely fall apart when he's pressured and just wing it.
So far he's done a good job of making up for the shortcomings of his offensive line and his wide receivers, but there's still room for improvement.
Aside from McCoy, we haven't seen much of anything from other QBs, a blessing considering how bleak the Browns' backup options appear. Thus there's not much to report on other passers, though I think we can all agree that we hope never to see another Josh Cribbs' reverse again.
Grade: B
2. Wide Receivers and Tight Ends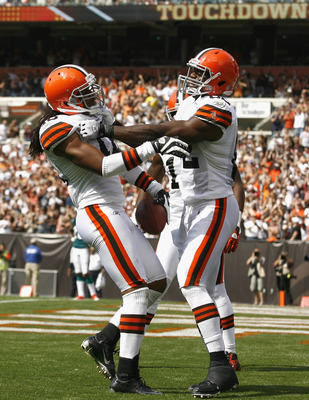 Matt Sullivan/Getty Images
Here's a stat that should concern you if you're a Browns fan: The Browns have yet to crack the 1,000-yard mark in receiving yards, currently standing at 984 and one of just seven teams who have failed to reach 1,000.
Their receivers, and yes this includes all eligible pass-catchers, not just WRs, rank 27th in the league.
As we've discussed many times, the offensive line and the playcalling both play large roles in the ineffectiveness of the passing game, but for our purposes here, we'll focus on the receivers themselves and how well they personally are getting the job done.
Of all the WRs, interestingly it is Mohamed Massaquoi, the guy most of us thought could be out of a job before the season started, who leads the team in yardage. Unfortunately though, he only needed a meager 194 yards to receive that distinction.
On his heels is TE Ben Watson, logging 173 yards in four games and also posting two receiving TDs (Massaquoi has one). The other notable contributors have been Josh Cribbs and rookie Greg Little, with 153 and 131 yards, respectively.
TE Evan Moore has been effective at times but quieter and less involved than expected at the outset of the season, and of course, Peyton Hillis is in the mix with 15 receptions for 76 yards. Brian Robiskie has been practically invisible.
Overall, the receivers have been unremarkable but serviceable. As frustrating as the low yardage totals have been, we can only hold the receivers themselves so responsible for that when they're having to do their jobs with a shaky-at-best offensive line and ineffective playcalling.
Still, for the most part, they aren't improving the situation much. Rookie Greg Little is showing potential, Watson is quietly reliable, and Massaquoi, if not great, has been better than expected. The rest of the group, however, lies somewhere between a non-factor and a liability.
Grade: C
3. Running Backs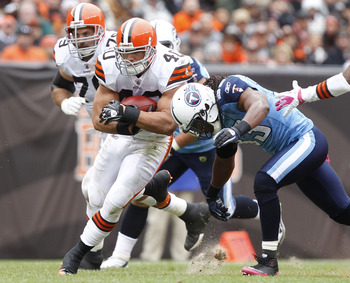 Matt Sullivan/Getty Images
And now for the most surprisingly disappointing component of the Browns: the running game.
It's true. Sadly one of the few areas where the team looked solid at a starting level, even if they had some concerns in terms of depth, has actually been pretty maddening (pun intended) so far this season.
First, let's get one thing out of the way: There is no "Madden curse," unless you count the part of it that gets a player's name on the radar of the national media and gets tongues wagging about non-stories full of exaggerated details about contract disputes and illness and sitting out. But that's a whole other topic.
Performance-wise, Hillis has struggled a bit out of the gate. I don't see this as Hillis falling off in terms of performance as much as a problem with the offensive line and with the blocking in general. Many of us were unhappy when Lawrence Vickers was let go. Turns out, we were right to be concerned. Hillis with a fantastic lead blocker, and Hillis without one turned out to be (surprise!) two very different commodities. Don't blame the RBs themselves for this: This is something that management should have anticipated.
Beyond that, the problem at RB is, as expected, mostly about a lack of depth. Montario Hardesty has done a decent job of filling in for Hillis, but "fill in" looks to be about where he'll top out. And whether he can stay healthy remains a concern.
Beyond that, FB Owen Marecic still clearly has a long way to go in terms of development, though he has already improved from game to game, and Armond Smith has his moments, but he still looks too raw to be used regularly.
Grade: C
4. Offensive Line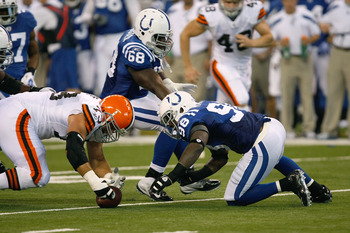 Scott Boehm/Getty Images
And now we come to the root of much of the offense's problem on the whole: the offensive line.
Yes, Joe Thomas is awesome. But he's only one guy in five. Imagine walking into a war zone with 20 percent of a bullet-proof vest. That's what life is like for Colt McCoy every Sunday.
Obviously we all know the left side of the line has held up far better than the right. The left side, for the most part, has actually been good enough not to spark much complaint at all. But the right side has been so bad that it really doesn't matter.
Other teams are crushing anything that comes through the right side for the Browns, and they've also learned to anticipate much of what comes from the left because they know the Browns are crippled and limited in what they can do when going right. It has created a situation where the right side is so ineffective, that it has often rendered plays to the left dead as well because defenses see them coming a mile away.
There isn't much to say in terms of specific personnel here; we've said it a thousand times, and it hasn't gotten much better. The Browns have yet to find a RT who is even serviceable, and aside from Alex Mack and Thomas, the entire line might ideally need an overhaul.
Let's thank the Atlanta Falcons for all those extra picks in next year's draft; we're going to need them to overhaul the offensive line.
Grade: D
5. Defensive Line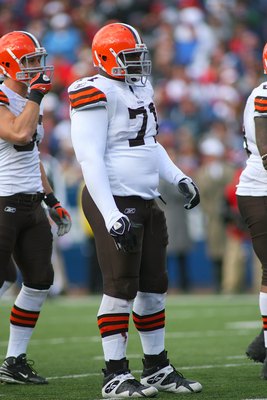 Rick Stewart/Getty Images
Of all the components of the team, the DEs and DTs are probably the group that I am the most pleasantly surprised by. Here we have a group of guys who have actually progressed faster than scheduled, rather than being on pace or lagging behind, as is the case for other areas of the Browns' roster.
Ahtyba Rubin has made the switch from the 3-4 to the 4-3 nearly flawlessly, and in addition to being a beast in terms of his play, he is quietly emerging as a young leader for this group. I have essentially zero complaints about his performance.
Jayme Mitchell has also been a pleasant surprise. He's had some hiccups, but has done a nice job stepping up and filling a role that looked like it didn't have an occupant for much of the offeseason.
And then there are rookies Phil Taylor and Jabaal Sheard, two guys asked to start right off the bat as soon as they entered the NFL, both of whom have impressed me so far.
Obviously both Taylor and Sheard are experiencing some growing pains and will make mistakes as the learning process progresses, but I have been extremely impressed by how quickly both have not only adapted to the NFL on the fly, but also already shown signs that they are rapidly becoming true impact players. Hats off to both of them for their exceptional rate of progress and to GM Tom Heckert for hitting what looks like two home runs in his first two draft picks of 2011.
Grade: B/B+
6. Linebackers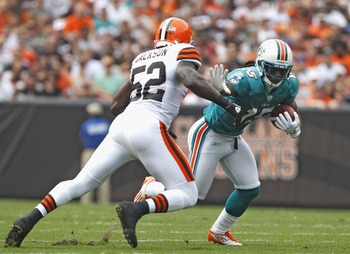 Matt Sullivan/Getty Images
So far in 2011, the going opinion on the linebacking corps for the Browns is that they've been better than expected, but still aren't where they need to be. For the most part I agree with that assessment, though I think much of the problem boils down to a depth issue and the lack of one true marquee pass-rusher rather than poor play by the three starters in general.
First, let's give credit where it's due: D'Qwell Jackson has been just outstanding. At the close of 2010, no one knew if Jackson would even be healthy or effective enough to play, let alone start. He's now the leader of the defense both in terms of his effectiveness and in terms of intangibles. He's far and away the defense's top performer with 40 tackles (27 solo) and 2.5 sacks.
Behind him is veteran Scott Fujita with 23 tackles (15 solo), and then Chris Gocong (who recently signed a multi-year extension with the Browns) with 10 tackles.
Fujita is a great locker room guy and for the most part gets his job done, but his age keeps him from really being part of the long-term plan. As for Gocong, the contract would seem to indicate that he is part of the bigger picture for the Browns, but there are many who still don't really buy him as a starting LB on the kind of defense the Browns are ultimately hoping to build.
Overall, I'm not unhappy with the linebackers. The team has a huge depth problem at the position that needs to be addressed in the future and will cripple them if someone is hurt, and the team still lacks that one true go-to killer pass-rusher it needs to really destroy opposing passers' effectiveness, but the unit that is out there right now has been decent.
This group (and the lack of depth behind the starters) may not be the answer for the long haul, but for the time being, they're getting the job done well enough to not draw the bulk of the complaints being levied against the Browns.
Grade: B-/C+
7. Secondary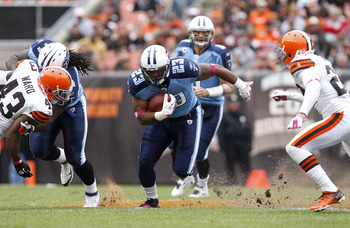 Matt Sullivan/Getty Images
I hate to end this report card on a bad note, but I suppose it's only fair considering the number of times the Browns have done this to us by finishing a season in a disastrous fashion. I'm kidding. Kind of.
Ah the secondary, a group that was supposedly going to be much further along in its development in 2011 than it really turns out to be.
Obviously, you can't argue with Joe Haden. He's a true talent who will continue to excel and stand out and is still getting better. But after than, well, things are looking pretty bleak.
We talked about the depth issues at running back and at linebacker, and indeed the issue also exists on both lines as well, but in the secondary, it's an immediate problem that is already costing the Browns more dearly than at any other spot aside from the offensive line.
In terms of cornerbacks, Haden is really the only truly viable starter the Browns have. The others, on a better team, would be bench players. Sheldon Brown is too old and ineffective, and Skrine and Dockery are still too young and raw to be every down players, though I do have hope for both of their upsides for the future.
At safety, things are a bit unclear as well. T.J. Ward has been outstanding at times, but has been notably less involved than he was last season. I don't worry too much about Ward given his level of talent and the fact that he proved his worth as a rookie, but I do wonder why he's been less of a factor this season.
I haven't seen enough from Usama Young to pass much judgment on him just yet, but I'm not unhappy with what I've witnessed so far. And perhaps the biggest pleasant surprise in the secondary has been Mike Adams, who played his way up to a starting job and while not exactly a Pro Bowler, has done a pretty nice job playing above where he was expected to.
Overall, the secondary is inconsistent from man to man. Haden has been excellent, Adams has been a pleasant surprise, Ward has been shockingly under-involved and Brown has been a liability. Thus it's tough to give a grade to them as a group, so we'll break it down by individuals in addition to an overall score.
Grades:
Joe Haden: A-
Sheldon Brown: D-
Usama Young: Incomplete
T.J. Ward: C+
Mike Adams: B
Overall: C/C-
Keep Reading

Cleveland Browns: Like this team?