15 Players You Don't Want on Your NHL Fantasy Team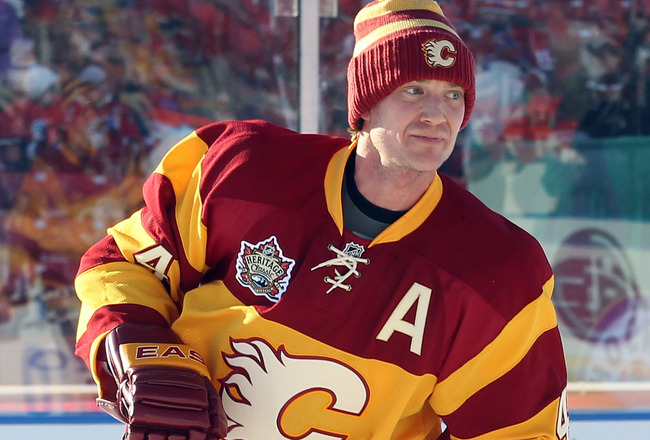 Andre Ringuette/Getty Images
Heading into your 2011-12 fantasy hockey draft, you probably have or had a pretty good idea of who you wanted to take. Whether pre-ranking players, or building up a queue as you go along, we all know who we need to get for certain scoring categories.
Then you have those players that you find sitting on the bubble. Don't worry, they certainly aren't irreplaceable; you need to get the most out of your fantasy hockey roster.
Here's a look at 15 players you can pass on drafting in favor of superior options.
Jason Arnott (St. Louis Blues)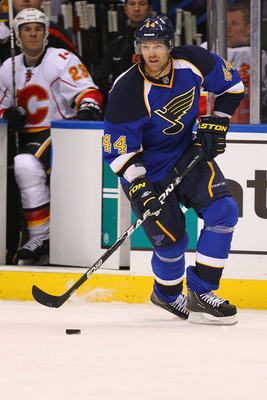 Dilip Vishwanat/Getty Images
Though he finished strong with seven points in 11 games with the Caps last season, and is off to a positive start with three points in two games with the Blues, this is one guy you can certainly pass on.
Until two seasons ago, he had been posting solid numbers, but he's past his 60-70 point days. He's getting older, and he isn't the power forward he used to be with New Jersey and Dallas. Instead, go with a younger guy that may leak down to the later rounds, or even Arnott's teammate, Andy McDonald.
John Michael-Liles (Toronto Maple Leafs)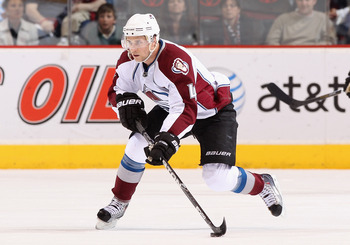 Christian Petersen/Getty Images
His numbers aren't all that bad, but my big concern with John-Michael Liles is his plus-minus rating. Toronto will be fighting for a playoff spot, which means they won't have a comfortable lead in goal differential this year by any means. Playing the majority of the minutes on Toronto's blue line, he will likely finish the season a minus player. The depth chart for NHL rearguards is deep, not to worry.
James Neal (Pittsburgh Penguins)
Eliot J. Schechter/Getty Images
James Neal had some great times in Dallas, playing alongside Brad Richards, one of the game's top playmakers. After being dealt to Pittsburgh at the deadline, Neal struggled to find any kind of consistency at all.
The Pens are hoping he'll be Sidney Crosby's long-awaited left wing compliment.
When Crosby returns, however, remains a mystery, despite reports claiming he may be back within weeks. You need every categorical point you can get in fantasy hockey, though. Find another late left wing option.
Depending on how deep your league is, Alex Tanguay would be a viable replacement. He has been available in both of my leagues of eight and ten teams, each with four full lines and three bench positions for roster spots.
Milan Hejduk (Colorado Avalanche)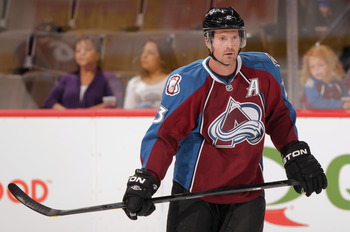 Doug Pensinger/Getty Images
Milan Hejduk was once a 98-point player, but those days are long gone.
At best, he'll rack up around 60 points. He will see power play time in Colorado, but you can't afford to hand over the plus-minus category every week. Just last season, Hejduk finished a career low minus-23 on a weak Avalanche squad.
I've found the right wing position to be quite deep in fantasy leagues thus far; no need to worry over this one.
Kris Versteeg (Florida Panthers)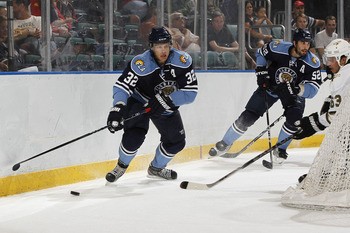 Joel Auerbach/Getty Images
After having a great year with the Blackhawks in 2008-09, Kris Versteeg's production has dropped off, after bouncing around Toronto, Philadelphia, and now in Florida.
Left wing might be the most shallow position of them all in fantasy hockey, but there are plenty of other options than Versteeg. Try picking up James van Riemsdyk, Alex Tanguay, Andy McDonald or Versteeg's teammate, David Booth, instead.
Ryan Ellis (Nashville Predators)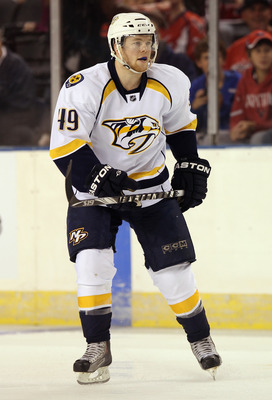 Bruce Bennett/Getty Images
This one is a much easier decision, yet I've seen many fantasy GM's draft Ryan Ellis late. Management made it clear before the season started that Ellis was going to start in Milwaukee, the Predators' AHL affiliate. Though the young defender was a popular candidate to make the team after scoring an astounding 101 points with the Windsor Spitfires last season, the Predators would like to see him hone his game, and get a little stronger.
There's no rush right now, with the likes of young guns Shea Weber, Ryan Suter and Jonathan Blum on the blue line right now. Ellis will likely get a call-up this season, but he's not worth occupying a valuable roster spot with on the bench most of the year.
Blake Wheeler (Winnipeg Jets)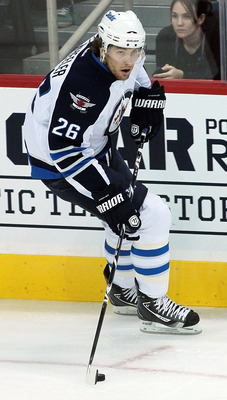 Marianne Helm/Getty Images
Since being traded to Atlanta at the end of last year, Blake Wheeler went on a tear, posting 17 points in 23 games with the Thrashers.
This year, with the freshly relocated Winnipeg Jets, Wheeler is projected to see top minutes on the first line, but, as I said with Milan Hejduk previously, the right wing position is fairly deep with options. I don't expect that production to continue for Wheeler. It may be tempting, but you can pass on this one.
Ryan Nugent-Hopkins (Edmonton Oilers)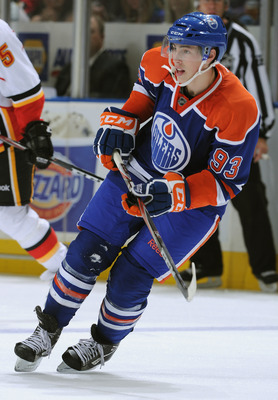 Dale MacMillan/Getty Images
Of all rookies in this year's crop, Ryan Nugent-Hopkins may be the most tempting to grab for your squad. Even on a team with four full lines akin to a real-life hockey roster, there's just too many established centers to take first.
Unless you have a large number of teams in your league, I would pass on the kid this season, but watch out for him next year.
Vincent Lecavalier (Tampa Bay Lightning)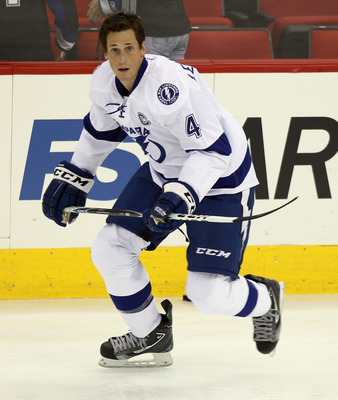 Bruce Bennett/Getty Images
Vincent Lecavalier used to be a 50 goal scorer and a 100 point man. This just isn't the case anymore in Tampa, unfortunately. Since the arrival of both Steven Stamkos and head coach Guy Boucher, Lecavalier has bought into more of a two-way role with the Lightning, which has benefited the Bolts quite nicely.
However, for fantasy owners, look for his production to decline a little more this season. Paul Stastny, Matt Duchene and John Tavares are three quite reliable options to fill those roster spots down the middle for your team. All three of these guys should be available in the sixth, seventh or eighth rounds. Snag one of them.
Erik Cole (Montreal Canadiens)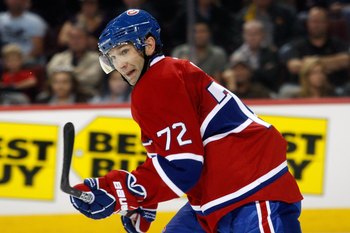 Richard Wolowicz/Getty Images
After posting 26 goals and 52 points last season with the Carolina Hurricanes, Erik Cole seemed to be a fairly decent mid-to-late round pick on the relatively shallow left wing position. This year, you won't be as fortunate with his services.
It's already been reported that Cole will be filling a third-line role with the Montreal Canadiens this year, not the most ideal type of player you would like to have on your fantasy team.
Jay Bouwmeester (Calgary Flames)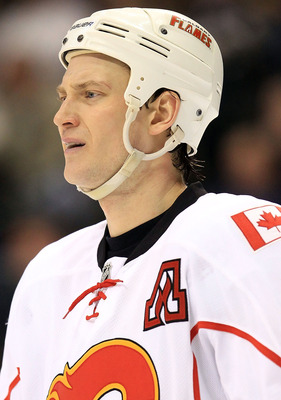 Ronald Martinez/Getty Images
After scoring between 42 and 46 points in three different seasons for the Florida Panthers, you would think the young Jay Bouwmeester would be a phenomenal pickup, if available.
Well, it's been anything but that since the Calgary Flames acquired him in 2009. In his two full seasons with the Flames thus far, he has not managed to reach 30 points, and has been a minus player. He's a commonly taken defender in many leagues, but there's plenty of other defensemen you can go with to avoid that trap.
Rick DiPietro (New York Islanders)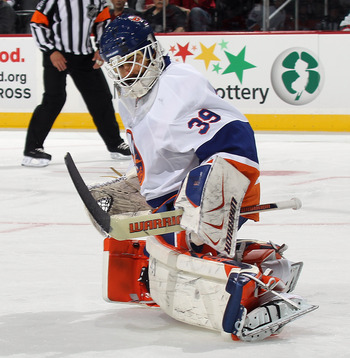 Bruce Bennett/Getty Images
Here's a guy the New York Islanders locked up for life, virtually, but he just hasn't lived up to that contract one bit. To his credit, he hasn't had a stellar team in front of him, but he hasn't proven to be a legitimate No. 1 goaltender in his career.
With Evgeni Nabokov on Long Island this year, he may be on an even shorter string. Although, when you lock up a goalie for life with such a lucrative contract, like DiPietro, it leads me to believe Nabokov will be used as trade bait this year. Regardless, this is a last-case scenario for you fantasy hockey GM's.
Michael Ryder (Dallas Stars)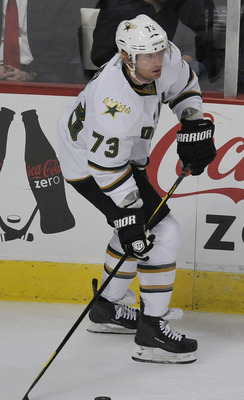 David Banks/Getty Images
Michael Ryder isn't the 60-point man he once was. Just last season, he tallied just 41 points with the Boston Bruins, up from the 33 he scored the season before.
The good news is that he's with a Dallas Stars team that isn't as good as the Boston Bruins. Even in Boston, he saw power play time, so that will likely be his only upside in Dallas. However, that's not enough to justify taking him at the right wing. I would much rather take a guy like P.A. Parenteau or even better, the injury-prone, but stellar, Ales Hemsky.
Martin Brodeur (New Jersey Devils)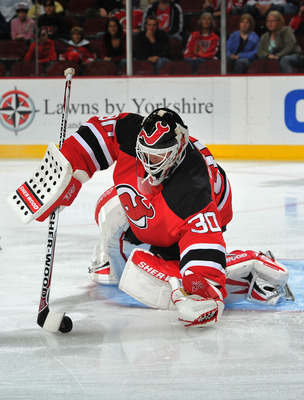 Christopher Pasatieri/Getty Images
This is a tough one to write.
Martin Brodeur is one of the best goaltenders of all-time.
He's seen so much success in his time with the New Jersey Devils. But the three-time Stanley Cup champion doesn't have the magical team in front of him he used to on a regular basis. The Devils managed to finish 23rd in the league last season, after an amazing second-half run. However, Brodeur compiled a 23-26-3 record with a 2.45 goals against average and .903 save percentage. Certainly one of the worst seasons of the future Hall of Famer's career, and coming off elbow and knee injuries, Brodeur is slowing down.
It doesn't help his case that he's lacking the strong depth-filled teams in front of him that he's used to backing. With goalies like Henrik Lundqvist, Pekka Rinne, Tomas Vokoun, Tim Thomas, Ryan Miller, Ilya Bryzgalov, Carey Price and Marc-Andre Fleury in the league, it's time to turn the page on Brodeur to embrace this new excellent pool of talent in the league.
At best, he could be a backup or third-string goalie for your team, but, at age 39, it is time to look elsewhere for a bonafide No. 1 fantasy netminder other than the great Martin Brodeur.
Justin Williams (Los Angeles Kings)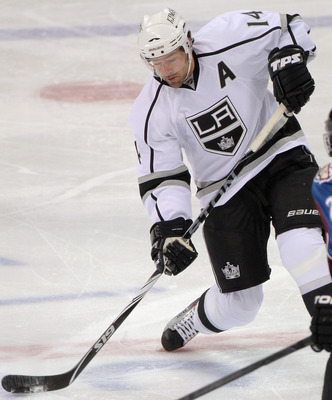 Doug Pensinger/Getty Images
Injury problems are the big concern here with right winger Justin Williams. He's shown flashes of brilliance over the course of his career, especially in 2006-07, scoring 33 goals and 67 points with the Carolina Hurricanes, and with the Los Angeles Kings this past season, scoring 57 points in 73 games.
He will get power play minutes most likely, but the injury risk is not one you need to take, especially when there are other easy options. Daniel Alfredsson, Brad Boyes, Rene Bourque and Ales Hemsky are all right wingers that were taken after Williams in three drafts that I've done recently. Go for one of them instead, especially the former three.
Keep Reading