Marcus Allen Talks USC Football NCAA Sanctions and Reason Players Take Money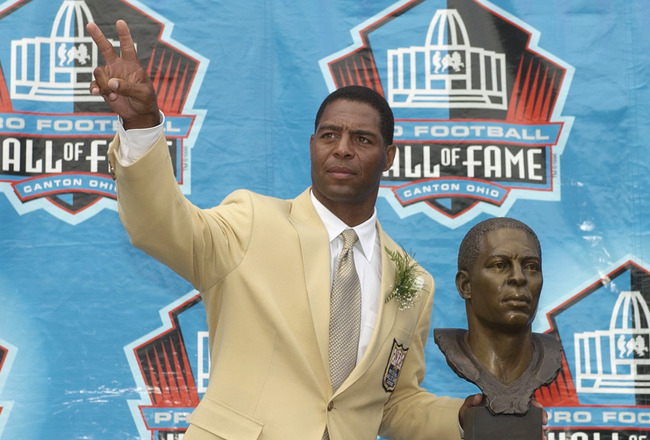 David Maxwell/Getty Images
USC Heisman Trophy winner and NFL Hall of Fame inductee Marcus Allen graced me with an exclusive interview for an hour to talk about the USC Trojans and college football.
This is the last in a series of four articles and Marcus discusses the USC football NCAA sanctions, reasons athletes take money and his concerns over athletes leaving college too early.
Previous topics discussed include:
USC is best place to play football
Marcus also discussed his association with Heisman House football legends and the Heisman Trophy fan ballot.
Here is what Marcus had to say about the NCAA sanctions and money issues.
Making Sense out of Hypocritical NCAA Sanctions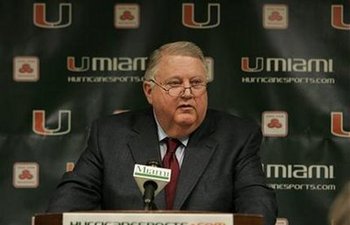 Ex-Miami AD Paul Dee chaired the NCAA COI on the USC case and highlighted the hypocrisy of the NCAA with his comments about USC and his own violations that were more severe
Marcus Allen has strong opinions about the USC sanctions from a hypocritical NCAA organization as do many Trojan fans.
He also believes there is a problem with the failure of a NCAA scholarship to cover all costs and take into account the location of a school with a high cost of living.
Many USC fans believe that giving USC football the second-worst sanctions in NCAA history for one player who received money 130 miles from campus from third parties who had nothing to do with the school was unfair and many of the findings were false or unproven.
Marcus told reporters in a conference call on September 1 that there are issues to be addressed by the NCAA:
"The state of football on the field is excellent but off the field there are tremendous challenges. There has to be major changes and we're kidding ourselves if we think we don't have to. There has to be something done to give guys an incentive to stay in school.

Schools are making a lot of money off of these young men and yes, they're getting an education but there has to be something else. If you pulled back the curtain I'd think that every program is compromised in some way."
I asked Marcus what he thought about the NCAA sanctions against USC including losses of 30 scholarships, two bowl games, free agent transfers and restrictions on practice attendance. He said:
"Obviously I disagree. To penalize kids that have nothing to do with the situation and now that the curtain has been pulled back and you look at the gentleman [NCAA COI chair Paul Dee] who rendered the verdict on us and you take a look at his program that he was a part of, I don't even have the words to describe it.

It is embarrassing to be lectured in that manner and then your own house isn't clean. It was almost like some personal vendetta against 'SC.

You tell us we should have known about two star players [Reggie Bush and O.J. Mayo], I think it was lack of institutional control, but you have something like 72 players on your watch and you don't know [there was also the 1995 NCAA sanctions for $600,000 Pell Grant fraud at Miami under Dee's AD watch].

It is easy to lose two people but you [past Miami AD Paul Dee] are telling me you have 72 players and you are not aware of that? You allow that booster to run on the field and you are not aware of that, and you lecture us that we should have known. It is mind-boggling.

Then there is not a reduction in the [USC] sanctions based on what has occurred. It [NCAA report] should have been discredited. The NCAA should have come back, apologized and said they were going to redo this. It is amazing.

Maybe that is why we get all these superconferences to get rid of them [NCAA].

If I were the NCAA Board of Directors, I would say this smells very bad and is a bad situation. We have to go in and reduce this or eliminate something, but to do nothing after the guy that was in charge of infractions at the time had such a dirty program. I can't believe the NCAA has not done something."
Reasons Athletes Take Money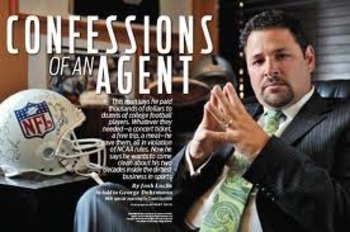 Sports agent Josh Luchs who paid many college players and has made it clear this goes on all the time at all the major schools
Marcus Allen feels very strongly that athletes take money because their scholarship does not cover all the costs and this is a big problem for athletes from lower-income families.
He also feels that there is a disparity in the NCAA rules for scholarship compensation because the cost of living is very different around the country.
Marcus discussed the reason so many football players violate NCAA rules and take money:
"Because they don't have money. I read the papers and they almost try to embarrass you about the value of the scholarship.

What are they worried about? You can't work. You can't do anything else. There is not enough money for all the expenses.

Why don't the administrators accept a salary to just cover their expenses and nothing else?

We received $250 [monthly] to live off campus. But a dollar in Arkansas and a dollar in Los Angeles are very different and you can't compare them.

The kids just think about surviving. Most of these kids come from poor communities. Some of the NCAA restrictions are so tough that it is an indictment on the system. They are almost causing this to happen.

Is there a rule that you can't go to a coach's house for dinner because it is seen as an extra benefit? That is so stupid. For example, take Thanksgiving. A kid can't go home, where else should he go? He should be able to go to the coach's house. They should be able to have a team function. They are crazy; it makes no sense.

The NCAA should give the kids something to make them at least comfortable."
Athletes Should Not Leave School Too Early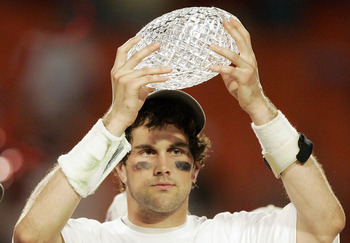 USC QB Matt Leinhart returned to USC for his senior year even though he won the Heisman Trophy and the BCS National Championship in 2004
Brian Bahr/Getty Images
Marcus Allen does not understand the academic goals of the NCAA if they allow athletes to leave college to go pro prior to four years.
Marcus does not like the three-year college football rule and detests basketball's one-and-done. Here are his thoughts:
"I would also like to see the kids stay in school four years. The ones leaving early now are really not prepared emotionally, intellectually; so I would like to see four years of school required.

Basketball is embarrassing with its one-and-done. How does the NCAA allow that when they talk about education being important? These kids don't get an education and some don't even go to school. That's the biggest contradiction. What is the goal here?"
Of course, you can understand everything about the NCAA if you boil it down to money for their member colleges. They do not live up to their mission statement and they are so far away from the basis that Congress gave them tax-exempt status in 1906 it is hard to believe that nothing has been done.
I want to thank my favorite football player, Marcus Allen, for spending time with me and sharing his thoughts on USC and college football. It was an honor to talk to him, and I hope you enjoyed reading his insights also.
Keep Reading

USC Football: Like this team?