Michigan vs. Michigan State: TV Schedule, Live Streaming, Radio and Game Time
October 11, 2011
Leon Halip/Getty Images
Michigan vs. Michigan State has been an interesting contest in recent years. The Spartans have actually been the better squad since Lloyd Carr left Michigan and Rich Rodriguez took over. In fact, the Wolverines finished behind the Spartans each and every year.
But Rodriguez is out and Brady Hoke is in. The new coach has the Wolverines on fire and off to a 6-0 start.
Granted, they have left the Big House just once so far this season and haven't played many other legitimate opponents, it still says something that they've already hit six wins.
The Spartans, on the other hand, fell to Notre Dame (a team Michigan beat in the final seconds) but are 4-1 overall.
The Wolverines' trip to East Lansing will be the Spartans' toughest test of the year.
Both teams need a win here to add some legitimacy to their campaigns, and it is one rivalry you aren't going to want to miss.
Where: Spartan Stadium, East Lansing, Michigan
When: Saturday, Oct. 15 at 12:00 p.m. EDT
Watch: ESPN
Radio: Michigan—WWJ (950 am); Michigan State—Spartan Sports Network.
Live Streaming: ESPN3.com
Betting Line: Michigan State -2
Michigan Injury Report:
Ricky Barnum, OL, doubtful with ankle injury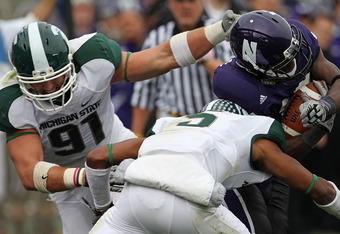 Jonathan Daniel/Getty Images
Cameron Gordon, LB, questionable (back).
Michigan State Injury Report:
Bennie Fowler, WR, questionable (foot)
Blake Treadwell, C, questionable (knee)
Jared McGaha, OL, questionable (knee)
Tyler Hoover, DL, questionable (back)
BCS/Top 25 Poll Implications
Major implications. Michigan is one of the the few unbeaten teams left in college football and they'd like nothing more than to stay that way. They have yet to crack the Top 10, however, because they haven't played a ranked team.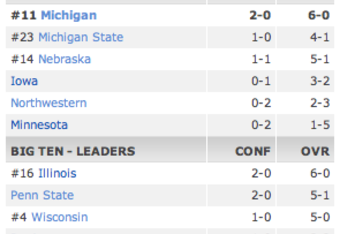 That all changes this week.
Michigan State needs to avenge its loss to Notre Dame. A win over Michigan will vault them up the rankings, send their rival downward and also play a huge impact in the Big Ten standings.
Both the Wolverines and Spartans, members of the Legends Division, are the only two Legends teams to remain unbeaten in conference play.
Several teams in the Leaders division have yet to taste defeat at the hands of a Big Ten foe, but the Wolverines and Spartans are on rare ground. The winner of this game takes a huge step toward an appearance in the new Big Ten championship game.
Key Storyline: On the Road Again
Michigan has left the Big House only once this year. A week ago, they needed to overcome a 10-point halftime deficit and wound up shutting out the Northwestern Wildcats in second half for a 42-24 win.
But the Spartans are not the Wildcats.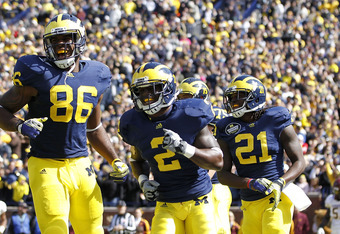 Leon Halip/Getty Images
The Wolverines are only 4-6 in their last 10 road games and the Spartans have beaten them in each of the last three years.
Michigan State is 14-3 in their last 17 home games.
It will be crucial for the Wolverines to stay in this game early and not let State dictate the way the game is played.
Spartan Stadium will be rocking and the Wolverines have to be ready for it.
What They're Saying
The Cleveland Plain-Dealer talked about how important this game really is writing:
So the winner Saturday will take a step toward Indianapolis on Dec. 3. The Nebraska that played the second half against Ohio State (not the Nebraska that played Wisconsin or the first half against Ohio State) will be a challenge. If it's any solace for Ohio State fans, if the Buckeyes had beaten the Cornhuskers on Saturday night to drop Nebraska to 0-2 in the Big Ten, that actually would have helped Michigan's divisional title chances. So the OSU loss wasn't good for Michigan.

Regardless, this game has some heft, and not just in the state of Michigan.

The Wolverines have to like their chances to stay in the game, one way or the other. They've held opponents scoreless in the second half of four of their six games, including Saturday while overcoming a 10-point halftime deficit against Northwestern.
And all of it is surprisingly true. This game has a huge impact on what will happen in the Big Ten this season.
Michigan Player to Watch: Denard Robinson, QB
Denard Robinson is always the player to watch when Michigan takes the field. His speed, game-changing ability and flare for the dramatic make it impossible to not watch.
He's already thrown for 1,130 yards and 10 touchdowns while rushing for 720 yards and eight touchdowns.
He is the Wolverine offense and they go as he goes.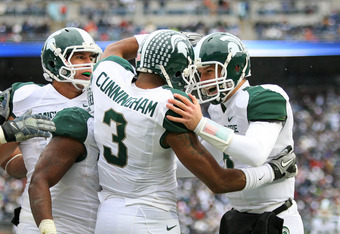 Hunter Martin/Getty Images
Michigan State Player to Watch: B.J. Cunningham, WR
Quarterback Kirk Cousins and the Spartans offense hasn't been great this season, but when they get going, a lot of it has to do with B.J. Cunningham.
The senior wide receiver accounts for nearly 40 percent of Cousins' completions on the year with 38 catches for 582 yards. The biggest problem is he and Cousins haven't scored a lot. He has two touchdown catches on the year, but that needs to change if the Spartans want to win this game.
Key Matchup: Spartans Defense vs. Denard Robinson
There is no way to stop him, but they must contain him. To do that means keeping him in the pocket when he decides to throw and taking advantage of any errant passes.
Robinson has 10 touchdown passes on the year, but also has nine interceptions.
Michigan State has only given up an average of 10.3 points per game on the year. In their ugly 10-7 win over Ohio State a week ago, they limited the Buckeyes to 35 yards rushing and forced an interception out of Braxton Miller.
They'll need a similar, and even better, performance against Robinson to win this ball game.
Prediction: Michigan State 27, Michigan 24