Alabama vs. Ole Miss: TV Schedule, Live Streaming, Radio, Game Time and More
October 11, 2011
Dave Martin/Getty Images
Another week and another easy game for the No. 2 Alabama Crimson Tide, as they hit the road to take on the Ole Miss Rebels. 
Ole Miss is by far the worst team in the SEC, and the Crimson Tide should have no trouble on Saturday. If Houston Nutt wishes to keep his job, then he needs to put up some sort of fight against Nick Saban and the Crimson Tide this weekend. 
This is a game that will help Trent Richardson gain more points towards the Heisman Trophy. The Rebels will do their best this weekend, but the mighty Crimson Tide will dominate all four quarters. 
With that said, let's take a look at some specifics for this SEC West showdown. 
When: Saturday, Oct. 15 at 6:00 p.m. ET 
Where: Vaught-Hemingway Stadium, Oxford, MS
Watch: ESPN, ESPN3.com
Listen: WACT 1420 AM in Tuscaloosa, WQLJ 93.7 FM in Oxford 
Betting Line 
Alabama is favored at -26 1/2, and it's a no-brainer that the Crimson Tide will cover. Since Alabama shutout Vanderbilt, then of course the Crimson Tide will cover against Ole Miss, considering the fact that Vanderbilt blew out the Rebels 30-7. 
Alabama Injury Report 
Linebacker C.J. Mosley missed the second straight after injuring his elbow against Arkansas a few weeks ago. His status is not yet known for the trip to Ole Miss, although Alabama should be just fine without him. 
Running back Eddie Lacy injured his foot prior to last week's game, which is why he didn't play. The coaching staff is hopeful that Lacy will be good to go come Saturday.
Ole Miss Injury Report 
 Running back Brandon Bolden is still recovering from an ankle injury, and while he did play last week, he only had six carries. The Rebels will continue to monitor his status throughout the week, but he should play. It's just uncertain how productive he will actually be. 
BCS/Top 25 Implications 
 The Ole Miss Rebels just aren't good enough to crack the Top 25 this year, but what an upset this would be if they took down the mighty Crimson Tide. 
As the No. 2 team in the country, Alabama shouldn't move anywhere in the polls unless LSU somehow loses to Tennessee. The Crimson Tide will chalk up another SEC victory, which will only make the game against LSU in a couple weeks that much more interesting.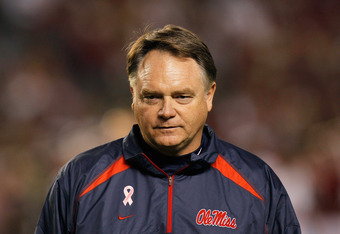 Kevin C. Cox/Getty Images
What They're Saying 
Rebels' head coach Houston Nutt was asked what he thought of the Crimson Tide, and he believes they're better than in years past. Per al.com:
Because of depth and what they do on defense. They just haven't given up many explosive plays....They just do an excellent job of not letting you cross that last white line...The bottom line, and the most important thing, is they have a lot of experience.
Alabama has arguably the best defense in the country this season, and Nutt knows he has his hands full on Saturday. The Crimson Tide just shut out one bad SEC team, and Nutt is hoping he doesn't face the same fortune.
Nick Saban told FOX Sports that, despite the shutout victory over Vanderbilt, his team could have played better. 
We didn't have the mental energy and intensity that we like to have, to play with the kind of consistency that we need to in order to improve as a team. We obviously didn't play our best football game, especially in the first half. We played a lot better in the second half.
The Crimson Tide were thankful that Vanderbilt missed some field goals, but in the second half they only allowed 49 yards. 
Imagine what the score could have been in Alabama was playing to its full potential? Then again, it was Vanderbilt, so the Crimson Tide didn't need to give it their all, much like this week against Ole Miss.
Of course, that doesn't fly with Saban, which is why Alabama should come out fast a strong on Saturday. 
Alabama Player to Watch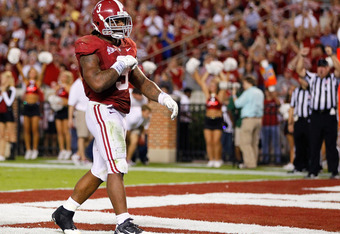 Kevin C. Cox/Getty Images
Trent Richardson has rushed for over 100 yards for five straight games, and all eyes will be on him to see if he can keep the streak alive. 
Richardson is averaging six yards per carry and has already scored 11 touchdowns this season. He's making a strong push for the Heisman Trophy, and there is a great chance he goes over 200 yards on Saturday. 
Ole Miss Player to Watch 
Sophomore running back Jeff Scott had his second game over over 100 yards rushing last week, but more importantly he carried the ball 24 times, which is, by far, the most all season. 
Scott is averaging five yards a carry, and the Rebels will need him to make the most of his carries on Saturday if they want to have any shot at winning. 
Alabama is very good at stopping the run, so keep an eye on Scott and whether or not he can edge out the talented Crimson Tide defense. 
Key Matchup 
The Rebels' offense against the stout Alabama defense is the matchup to watch all day long. The Crimson Tide shouldn't have much trouble moving the ball down the field, which is why the Ole Miss' offense has to deliver. 
Alabama has already produced two shutout victories this year, and the Rebels will hope they aren't the third, even though the possibility of that happening is very slim.
Key Storyline 
 Will Houston Nutt be able to put up some sort of fight against one of the best teams in the country? Nutt is on the hot seat, and he can cool it down if he manages to keep things close against the Crimson Tide.
Nutt has to have his team prepared this weekend, or else they will be embarrassed at home, which is never a good thing.
Prediction 
 The Crimson Tide will run all over the Rebels on Saturday, and, much like last week, this game should be over at half time.
Ole Miss hasn't beaten Alabama since 2003, and it doesn't appear the Rebels will be beating the Crimson Tide anytime soon. The Rebels will get a couple of scores against Alabama to avoid being shutout, but the reality is that they have no chance to win this game because Alabama's defense is just too good. 
Alabama 45, Ole Miss 16