Matt Schaub Injury: Updates on Texans Star's Week 6 Status and Fantasy Value
October 11, 2011
Thomas B. Shea/Getty Images
There are several conflicting reports on the Internet about the health of Houston Texans quarterback Matt Schaub.
Fantasy owners are understandably on edge.  As the waiver wire deadline rapidly approaches, people need to know whether or not to go after a new quarterback.
Judging by the most trusted reports, it's best to remain patient.
UPDATE: Sunday, Oct. 16 at 3:40 p.m. EDT by Adam Wells
A bum knee will not keep Matt Schaub out of Sunday's game against the Ravens. According to Rotoworld.com, the star quarterback is ready to go after practicing with the team on Thursday. 
The Ravens always play stout defense, but they have had some problems defending the pass this season. Of course, Schaub will be without Andre Johnson in this game, and Derrick Mason has been with the team for less than one week. 
October 14th at 3:02 p.m. ET by Matt Faulconer
Matt Schaub returned to practice today according to NFL Draft analyst Dion Caputi.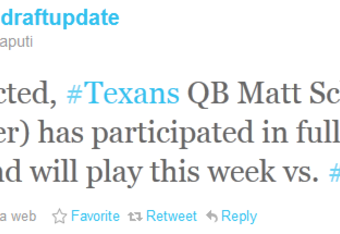 This shouldn't be a surprise, as Schaub's status for this weekend was never really in question. However, from a fantasy perspective, it's tough to believe that Schaub is a legitimate fantasy option this week against the Baltimore Ravens.
October 13th at 7:30 a.m. ET by Eric Bowman 
ESPN is reporting some very interesting news pertaining the Texans quarterback, whom many fantasy players heavily rely on. 
Houston Texans quarterback Matt Schaub missed practice Wednesday, but says he'll be ready to go by Sunday.

Schaub sat out because of a sore throwing shoulder.
I think this was just a precautionary move, but we will continue to monitor his status. If Schaub misses another day of practice then the injury is obviously more serious than originally thought. 
Still, this does worry Schaub's fantasy owners. The Texans' QB hasn't been lights out this year, and now that he's about to take on a very tough defense it might be a good idea to bench him, but that all depends on who your backup quarterback is. 
October 12th at 6:45 p.m. EDT
It appears as if Matt Schaub should be fine for this weekend. According to Fox Sports, he won't miss any time, but his fantasy status should be downgraded.
The Houston quarterback has been sacked nine times this season and is starting to feel the effects. The signal-caller is now nursing a bruised thigh, a foot problem, and a sore shoulder. He is not expected to miss any time but he should be downgraded for the immediate future as the injuries and the absence of Andre Johnson will likely diminish his production.
Schaub should be left on the bench if you have any other options this weekend. The Houston Texans meet the Baltimore Ravens this weekend who have one of the best defenses in the NFL.
October 11th at 2:30 p.m. EDT
While there have been rumors that the injury is serious, Rotoworld reported here that Schaub is being listed as day-to-day.
That report came a day after Schaub told the Houston Chronicle that his knee didn't bother him on the unsuccessful final play against the Raiders.
The Texans have generally been pretty upfront about injuries this year. When Arian Foster was battling his injuries, it didn't really come as a surprise to anyone.
Gary Kubiak was always very up front, saying that Foster's playing time would be limited, if he played at all.
While you never cheer for injuries, the Texans are not a bad team to have them happen to. When they do, fantasy owners and fans aren't kept in the dark.
With Andre Johnson out and Matt Schaub banged up, Arian Foster is likely going to have a big day.
Now, if Schaub plays, he's going to be in a tough spot. He'll undeniably be banged up and going against a nasty Ravens defense.
If you're a fantasy owner, I really hope that you drafted a good backup quarterback. Even if he plays against the Ravens, I don't think I would advise you to put Schaub in your lineup.
If you're a Texans fan, this might be a rough week for you. Facing the Baltimore defense at 100 percent is a daunting enough task. When you have to line up against them without your best receiver and possibly without the starting quarterback, the task becomes that much more challenging.
But as for how serious Schaub's injury is, just keep your eyes open and remain patient. Remember that it's only Tuesday. Real practices don't begin until Wednesday.
There are some rumors out there that Schaub will miss several weeks. Right now, those are just rumors. They may end up being true, but nothing from a reliable source has been confirmed as of now.