NFL Green Bay Packers: A Perfect Season in the Works?
Lately, the Green Bay Packers have been the best team in the NFL. They have managed to go 6-0 without much real competition along the way. They are now the only undefeated team in NFL.
However, very few teams ever get to the perfect season. In fact, since the modern era of NFL, only one team has ever gone an entire season without a loss, which is the 1972 Miami Dolphins. The 2007 New England Patriots almost made it as well, with a perfect regular season only losing at the Super Bowl.
This Green Bay Packers team is good enough to meet those amazing expectations and gain a perfect season; however, the history here is undeniable.
With a tough schedule ahead of them being a part of the hardest division in NFL, there are many chances for this great Green Bay team to finally lose their undefeated streak.
The following are every single regular season game the Packers will play for the rest of the year, along with a rough percentage chance of them losing the game.
Begin Slideshow

»
Playing a 1-5 Minnesota Vikings team seems like a blowout win for Green Bay, but do not underestimate the chances of the Vikings here.
First, this game will be in the Metrodome giving the Vikings an understated home-field advantage.
The Dome has always been a great field for Minnesota, where they have pulled out wins two-thirds of the time they have been in the stadium from 2003-2010.
However, that did not help them much against the Bears.
What will help them is that we may finally see Adrian Peterson take off with a new young quarterback in Christian Ponder. The kid is a wild card at this point who could end up helping Peterson much more than McNabb has so far.
However, Green Bay has the fourth-best rushing defense in NFL and too solid of an offense to be stopped by Minnesota's middle-of-the-road defense.
In the end, it could be a closer game than most expect, but only one winner is coming out of this: the Green Bay Packers.
Minnesota Vikings' winning chances: 10 percent

This match-up could go two ways: a closely contested contest or an absolute blowout win for the Packers.
So far, the Chargers are 4-1, but they have not had any truly impressive showings. The one moment they could have proven they were a contender, they were crushed by the dominant New England Patriots.
As far as home-field advantages go, San Diego's Qualcomm Stadium does not usually give the Chargers a huge advantage.
Also, Green Bay will be coming into this game fresh as they have a Week 8 bye. That should make this match a simple matter.
While the Chargers could pull out some nice plays, it is most likely that they will simply be beaten by Green Bay as easily as they lost to New England.
San Diego Chargers' Winning Chances: 15 percent
Their first game against the Minnesota Vikings had Green Bay away from home.
This time, they will be able to play their first match-up at Lambeau Field since their dominant victory over the St. Louis Rams.
The Vikings will be coming off a bye week and probably want revenge against the team that beat them at home, but they will have a packed crowd in Lambeau Field booing them the entire game.
In the end, this should be an even easier game for Green Bay, even with the bye for Minnesota, as they pull out another win against the Vikings, shutting them down for the season.
Minnesota Vikings' Winning Chances: 5 percent
It is questionable at this point which Tampa Bay team we will see.
The Tampa Bay Buccaneers have so far been a team with a huge amount of potential.
They have had disastrous early games, but they just pulled out a huge win against the New Orleans Saints.
The team strikes me as a group that will keep improving as the year goes on, but, at Lambeau Field against an almost surely still undefeated team, all that possible improvement will probably not push them past Green Bay.
However, if the team that came out and beat the Saints on Sunday comes out in Week 11 against the Packers, this could be a great game to watch.
Tampa Bay Buccaneers' Winning Chances: 25 percent
This will be a turning point for the NFL season.
This will be a game between two of the best teams in NFL, even though Detroit has officially lost its undefeated streak.
The only team that could pull out an upset on the Lions would be the Chicago Bears at home, but even that seems unlikely, so we will probably see a 9-1 Detroit Lions team here.
This Thanksgiving game will be amazing to watch, as Green Bay vs. Detroit turns into an amazing shoot out.
With this match being at home for the Detroit Lions, the ball is already in Detroit's court.
Also, the Green Bay vs. Detroit Thanksgiving game has been a long time rivalry with Detroit pulling out most of the wins. The record for Green Bay against the Detroit Lions on Thanksgiving Day is 6-10-1.
This year, Green Bay looks like the better team, but it is very likely that Detroit will pull out the win here with everything statistically in their favor to gain revenge for their 2010 Thanksgiving loss to the Packers.
Detroit Lions' Winning Chances: 65 percent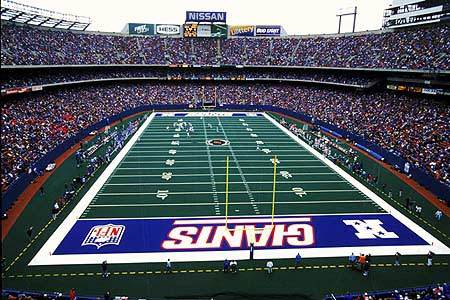 The New York Giants have looked impressive this year, with Eli Manning playing the best football of his career.
By this point in the season, it seems likely that the Giants will have remained the top team in the NFC East with the Redskins showing some serious weaknesses, the Cowboys too variable, and the Eagles showing very little life even with their win against the Redskins.
This will be a good match-up that could be a great shootout between Eli Manning and Aaron Rodgers.
If Green Bay makes it this far undefeated, they will have a tough match here, but will probably not lose, though it would not be a surprise if the Giants pulled this one out.
New York Giants' Winning Chances: 35 percent
This should an interesting match-up to predict as there are multiple factors.
Until this week, I would have given the Oakland Raiders a good chance at taking the AFC West as they are a more solid offensive team than the Chargers, who are their only real competition.
However, this week, reports have come in that Jason Campbell will be out indefinitely due to injury.
In his place, the Raiders have gained Carson Palmer.
Now, it is still questionable how he will mix in with this Raiders offense, but the Raiders has been mainly focused on running the ball lately with Darren McFadden.
I don't see Palmer hampering that strategy. In fact, I would make a prediction that he might end up helping the team more than Campbell could have.
In that case, this will be a big challenge to Green Bay.
Of course, there is no real telling how well Palmer will fit in with the team yet, but regardless I would still put trust in the incredibly solid Green Bay team.
Oakland Raiders' Winning Chances: 25 percent
Arrowhead Stadium is notoriously loud. In fact, it has been called the loudest stadium in the NFL.
Too bad, the Kansas City Chiefs have been a notoriously weak team this year as they have always had an advantage in the stadium, but a stadium cannot help the worst defense and third-worst offense beat the best offense in NFL.
If Green Bay is undefeated at this point, there is no way they will allow Kansas City to end that streak.
Kansas City Chiefs' Winning Chances: 5 percent
At this point, Green Bay will have almost surely clinched a spot in the playoffs.
Whether that is as a wild card or a division winner will be an interesting point to see.
If Green Bay still has Detroit nipping at their heels or even ahead of them, Green Bay will probably go into overdrive at this point.
If the Lions collapse by this point, Chicago might have a chance to get some revenge for their earlier loss at home to Green Bay.
In the end, it seems likely that Green Bay will not be able to rest long, so they will wrestle against a game Chicago Bears team for a win that should help them near the end of the season as the best team in NFL.
Chicago Bears' Winning Chances: 20 percent
Will this be the most important game of the final week?
This could be about clinching the NFC North.
This could be the game where one team needs this for a wild-card berth.
In the end, this will be one of the most physical and interesting games to watch in NFL.
With this game being in Lambeau Field, it seems likely that Green Bay will have an advantage here.
However, it all matters the situation.
Green Bay is looking like the best team in NFL, so they may actually have this division title in their grasp.
If so, Detroit will want this win much more, and they will fight for it to the end.
Detroit Lions' Winning Chances: 50 percent
Green Bay has quite a few difficult games in front of them.
With two games against the Detroit Lions and some difficult match-ups against possible future playoff and even Super Bowl rivals in New York and Oakland, this will not be an easy run for the Packers.
No matter what happens, this is a team that will almost definitely be finding a playoff berth.
Will they stay undefeated up to that point and become the third team ever to gain a perfect regular season in this modern NFL era?
Could they even complete the second-ever perfect season at the Super Bowl?
It seems unlikely, but we will have to wait and see.
Green Bay Packers' Perfect Regular Season Chances: 5 percent
Thanks for reading!
Comments are always encouraged.