Auburn Football: How Is Cam Newton's Departure to NFL Hurting the Tigers Now?
October 11, 2011
Christian Petersen/Getty Images
For all the good Cam Newton brought to the Auburn Tigers in 2010, his departure to the NFL has certainly left a very large gap at the quarterback position. Midway through the 2010 season, a buzz was in the air about Auburn's quarterback and he was well on his way to winning a Heisman. Midway through the 2011 season, the story is not how good Auburn's quarterback play has been, but rather how inconsistent it has been and, for lack of a better word, how poor it has been.
Cam Newton played almost every snap of every game in 2010 and even though it has left Auburn coaches with more gray hair this year, it changed the Auburn nation to an "all-in" family last year. Should I also mention the undefeated season, the SEC Championship and the National Championship that his play helped bring to Auburn? Nah. I'll not mention it, as surely everyone knows about it by now.
The Auburn quarterback was the best in the world last season, I'll admit, but Auburn accomplished all it did in 2010 because it played as a team. I've watched several of the games a second time and not once did I see Cam Newton on defense. Maybe someone else did, but I did not.
Still, Newton's playing time in 2010 propelled Gus Malzahn's offense to the top of the charts. In 2011, it is the same Gus Malzahn offense—however, with starting quarterback Barrett Trotter under center, Auburn's offense has now spiraled downhill towards the bottom of the ranks.
In Trotter's defense, last year's quarterback, Cam Newton, had a much different cast of characters with which to move the ball down field. Those players have since graduated, or either the took their chances with the NFL draft back in April.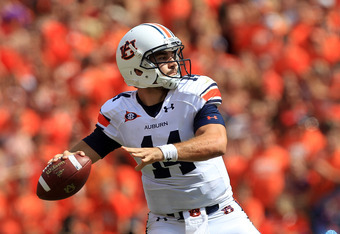 Streeter Lecka/Getty Images
Perhaps the gap is larger than we think? Perhaps, the gap actually lies within the whole offense and most of the defense? In other words, a different team entirely takes the field these days and perhaps the quarterback is not to blame alone.
Barrett Trotter is not Cam Newton, we all agree, but if he is the one who should lead the offense, shouldn't he be expected to put up much better numbers than he is doing? Not all of his passes are being dropped, and at times it appears he is taking too long to make reads. 
Perhaps Trotter's inconsistent play comes from the fact that he has not played in three years. In 2007, as a high school quarterback at Briarwood Christian in Birmingham, Alabama, Trotter set state records with his play, throwing 3,086 yards and 42 touchdowns. Back then, Trotter's passing yards per game averaged just over 23, but now at Auburn in 2011 things are not as good.
Lately, freshman quarterback Kiehl Frazier has energized the crowds with his play and when he has entered games this season, he has certainly reminded everyone of what Auburn had last season. Unfortunately, Kiehl Frazier is incomplete because he is inexperienced and does not yet know how to run the entire offense with confident ability. With each passing week his ability will grow, and although many Auburn fans want to see the future right now, Auburn will do better behind Barrett Trotter or backup Clint Mosley.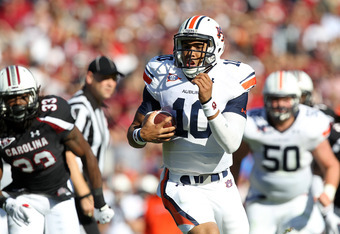 Streeter Lecka/Getty Images
All I know about Mosley is that he is the second-string quarterback and that he was very upset the day coach Gene Chizik handed the starting quarterback job to Barrett Trotter. Mosley's reaction alone on that day tells me that he thought he should have received the job. At the beginning of the season, the Auburn coaches always insisted that each quarterback played and competed about as good as the other, and that Trotter was chosen over Mosley because of his leadership ability. 
Now, we are six games into the season with six games remaining. It is surely evident that Auburn is not going to win the SEC this season, or a national championship for that matter. Auburn will definitely play in a bowl at the end of the year but unless there is better and more consistent play from the Auburn quarterback, it may not be too special.
On the other hand, the Tigers realistically have a chance to win eight or nine games this year. Okay...perhaps nine is stretching it a little...or a lot, but maybe not if the gap at quarterback will close a wee bit to what it was like in 2011 with Cam Newton. 
No one expects any of Auburn's current quarterbacks to be Cam Newton. We know that he is gone. On the same hand, we the Auburn family, do expect the coaches to evaluate the team and to make the right choice at every position, including quarterback, for the next six games.
So far, Auburn quarterbacks have thrown nine touchdown passes and 10 interceptions. One of those stats needs to go way up and the other needs to decline drastically. Granted, two of the interceptions accounted for were thrown by a backup wide receiver in the Wildcat formation or either during a trick play. Nonetheless, Auburn must have exceptionally better play from its quarterback from here forward.
If Trotter is the man, so be it. But if he fails, perhaps it is time to try Clint Mosley. If Mosley should fail, well then I guess the coaches may as well put in the future, Kiehl Frazier, and let him develop in the now.
Like all gaps, they eventually get filled. The gap at Auburn quarterback left by Heisman Trophy winner Cam Newton will eventually get filled as well. Whether or not that will be in 2011 is the question!