Alabama Football: Crimson Tide's Defense Good, but Not on Par with 2009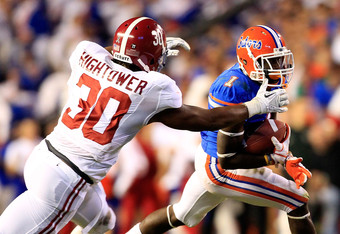 Hightower doing his best Rolando McClain impersonation
Sam Greenwood/Getty Images
Many are questioning just how good Alabama's defense is. The answer to that question can't be answered in only half a season, but a six-game comparison to the 2009 version of the Crimson Tide defense shows similarities, but not superiority, to the 2009 squad.
Both defenses have been disruptive to the midpoint of the season. The current defense has totaled 43 tackles behind the line of scrimmage versus 42 for the '09 squad.
The 2009 squad was better at forcing turnovers. They intercepted nine passes and forced five fumbles versus the current defense which has intercepted seven passes and forced four fumbles.
The lower interception ratio may be related to the most glaring difference. The 2009 Alabama defense had sacked the quarterback exactly twice as often as the current defense. They had 16 sacks to Alabama's eight.
One big difference between the two defenses: Marcell Dareus. Dareus had tailed 4.5 sacks by this time from the defensive line. Alabama's leading sacker on the team is backup nose man Nick Gentry who has gotten some of those sacks in trash time.
To date, the three starting defensive linemen have not gotten a sack. The 2009 squad didn't have as much quality depth at defensive line as the 2011 squad has and more rotation of the starters may be reducing the chances for any of them to get many sacks.
It's clear, however, that Alabama doesn't have a Marcell Dareus on this team.
This is not to say they haven't been disruptive or dangerous. The 2011 version of the Crimson Tide has sent the most quarterbacks to the training room since Cornelius Bennett stalked the sidelines in Tuscaloosa.
Rick Stewart/Getty Images
Alabama doesn't publish hits on the quarterback. If they did I would suspect the numbers to be high, but they have not been able to close the deal on sacks.
The 2009 squad also had Javier Arenas. He had three sacks already at this point. Alabama has a fantastic secondary, but they have not found someone capable of raiding the backfield like Arenas did so often in 2009.
There is one big statistic that shines brightly for the 2011 version of the Crimson Tide defense: points allowed.
After six games, the 2011 squad has surrendered only 42 points including two shutouts. The 2009 squad had scored no shutouts and surrendered 75 points.
The difference could be tied to several factors.
At this point, the 2009 squad had faced Virginia Tech's Tyrod Taylor, Arkansas' Ryan Mallet and Ole Miss' Jevan Snead.
Alabama's current squad has only faced two quarterbacks of note, Arkansas' Tyler Wilson and Florida's John Brantley. Brantley only lasted about a half before being summarily retired to the locker room.
Wilson lasted much longer but took a vicious beating and eventually was replaced to avoid further injury.
Kevin C. Cox/Getty Images
The 2011 Crimson Tide defense is physically extremely talented. The presence of five legitimate NFL-quality defensive backs make it very hard to mount a consistent drive against Alabama. They are all tall, can run and can hit.
Running the ball has been very tough in 2011. The 2009 team had Mount Cody and he was a freak for sure. Josh Chapman took over for Cody two years ago and isn't as dynamic a player, but right now he is making it nearly impossible to run between the tackles.
The 2011 squad also has Jessie Williams, a player who could be a wellspring of untapped talent. It seems with every game he is becoming more disruptive and penetrating into the backfield more.
If Williams can improve quickly enough he has the athletic ability to be a real difference-maker down the stretch. He isn't Marcell Dareus, but he can be a reasonable imitation of him if he improves.
The damage factor can't be overlooked. Alabama retired several starting quarterbacks in the first half, more or less eliminating much chance of scoring many points. Backup quarterbacks often throw for yardage, but rarely score points.
All of which begs the question: Why is Ole Miss quarterback Randall Mackey talking trash since he is the next man with the bull's eye on his chest?
Stay tuned Saturday to see how that all turns out.

This article is
What is the duplicate article?
Why is this article offensive?
Where is this article plagiarized from?
Why is this article poorly edited?

Alabama Crimson Tide Football: Like this team?