Liverpool vs. Man U: Start Time, Live Streaming and Schedule
October 11, 2011
Clive Brunskill/Getty Images
Two of the most historic clubs in all of football will take the pitch when Manchester United visit Liverpool on Saturday.
All clubs are coming off the two-week international duty window, and it has given a few players the necessary time needed to heal and get back on the pitch.
Manchester United currently sit at the top of the English Premier League table with 19 points and a 6-1-0 record. They've scored 24 goals and only conceded five.
Liverpool isn't too far behind with 13 points and 4-1-2 record. They, however, have only scored 10 goals and have conceded eight.
But Liverpool is finally the healthiest they've been all season and things could certainly turn around quickly. The Reds spent a lot of good money this summer and they finally get their skipper, Steven Gerrard, back in his normal spot in the starting XI.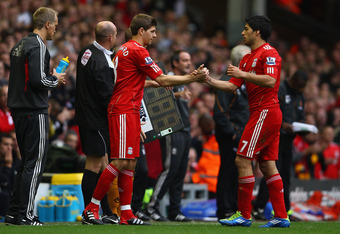 Clive Brunskill/Getty Images
The Red Devils are battling some injuries, but have so much talent that it hasn't really mattered.
However, this trip to Anfield will be their toughest match of the Premier League campaign so far.
This is a match you don't want to miss.
Where: Anfield, England
When: Saturday, October 15
Watch: ESPN2, Sport.TV Liga Inglesa (Portugal)
Live Streaming: ESPN3.com
Betting Line:
 Liverpool +200
Manchester United +130
Draw +230
Liverpool Key Injuries:
Glen Johnson—The English full-back hasn't made it on the pitch since September 10th with a hamstring injury. He is aiming to be on the pitch though.
Daniel Agger—The 26-year-old defender is dealing with a rib injury.
Manchester United Key Injuries:
Nemanja Vidic—The United skipper is still out with a calf injury.
Rafael—The 21-year-old Brazilian is out until November with a shoulder injury.
Tom Cleverley—United's surprising middle man is expected back after battling with a foot injury.
Biggest Storyline: Defense
This is the biggest factor for both sides in this game. United conceded their largest tally of goals on the season in a UEFA Champions League group match with FC Basel before blanking Norwich City four days later. This club has all the talent in the world, but some of the players want to see more consistency out of the back.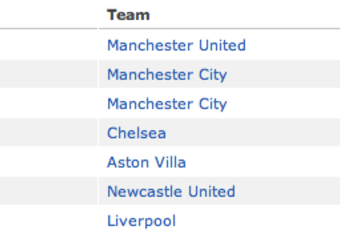 As for Liverpool, giving up goals at the most inopportune time seems to be their thing. They know Untied is going to get their chances, and this match will come down to whether or not they can limit those opportunities as much as possible, and score when they have the chance.
If the Reds get into a shootout with United it isn't going to end well. Liverpool has surrendered seven goals over the course of their last five matches.
Player to Watch for Liverpool: Steven Gerrard, MF
Liverpool finally has their skipper back on the pitch. Gerrard has made three substitute appearances for the Reds since returning from a seven month rehab, but now is the time he's chosen to return—and it just happens to be against Liverpool's bitter rivals in Manchester United.
He's one of the best players in all of England and makes the Reds that much better. His presence should help things flow better through to Luis Suarez up top, and it will be important to involve him early.
Expect Gerrard to be very active and a big part of the Liverpool effort.
Player to Watch for Manchester United: David de Gea, GK
The 20-year-old Spanish keeper has been a lightning rod for talk all season long. He has tremendous potential, can make some ridiculous saves, but is also prone to a mental lapse every now and then.
He's recorded two clean sheets and 32 saves in six league games this season.
It will be important to see how he handles set pieces from the corners and from range. With Gerrard back on the pitch those opportunities become infinitely more dangerous.
Suarez, Andy Carroll, Dirk Kuyt, Gerrard and others will look to test de Gea early in his first trip to Anfield as a United player.
What They're Saying
Liverpool manager Kenny Dalglish is thrilled to have his captain back in his side. He told reporters of his importance saying (via Goal.com):
A fit Steven Gerrard strengthens this football club, no ­question. If you have Steven in your squad, it's going to raise the profile and standard. We want to have a really strong squad—and him being in it makes it that much stronger.
Meanwhile, things for Manchester United and the Premier League's leading scorer, Wayne Rooney, boiled over after being sent off the pitch in England's recent Euro 2012 qualifying match against Montenegro.
His United boss backed him without even seeing the play though, saying (via ESPN):
I didn't see it, I haven't seen it all. It was one of these, how do you put it, reflex actions by the boy. He's been tackled, and he's reacted. He's got the fiery temper which to my mind is not the worst thing in the world. But he's shown tremendous improvement in terms of his temperament, his reactions to tackles and things like that over the last few years. As maturity comes along, then it brings other things you see, it brings the responsibility, which he is improving all the time.
Rooney continues to dominate opponents in the Premier League and this shouldn't have any effect on him going into this match.
United's scoring machine will be on full display at Anfield.
Prediction: Manchester United 3, Liverpool 1