5 Issues the Houston Texans Must Fix in Order To Be Super Bowl Contenders
October 11, 2011
Thomas B. Shea/Getty Images
For the record, before the season started, I never saw the Texans as anything more than an early playoff exit. At most, maybe one win if they were able to get a playoff game at home for the first round.
But then the season started and the defense looked better than I could have possibly imagined. Sure, there were still problems but as constructed, I began to believe that Wade Phillips could have them finish the year with at least a Top 15 defense. With an offense that had seemed as potent as any other team in the league, that formula will win you a lot of games.
This, combined with the fact that no other team in the AFC looked unstoppable, I began to think "why not us?" 
After the Texans were able to pull off the victory over the Pittsburgh Steelers in Week 3, I saw no reason why this team couldn't win and win big this season. But what a difference a week makes.
All teams that have won a Super Bowl or have been just a contender for one, has had its drama and problems they've had to overcome. For the Texans to reach that level, there are certainly things they'll need to fix or learn how to rise above. Here are a few of the things I think that could help them reach that level.
Overcoming Key Injuries
All teams face injuries in this league and the great ones never miss a beat. But it does seem like the Texans are getting hit by injuries to their top players on both offense and defense. Losing Andre Johnson makes a powerful offense an above average one. Sure, they'll still put some yards up with Arian Foster out there, but the downfield threat is gone when starting Jacoby Jones in place of Johnson.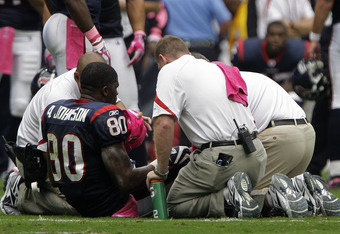 Thomas B. Shea/Getty Images
Jones has showed nothing this season, including the ability to simply run a route correctly, and he needs to seize this opportunity or he could find himself in the unemployment line next season.
But with the news that Andre might be back in a couple of weeks, that was nowhere near the blow the team received yesterday when it learned that Mario Williams is done for the season with a torn pectoral muscle. This is devastating to a Texans defense that was getting consistent pressure on the opposing quarterback. Mario was still learning the position and he had already accumulated five sacks in four games and a quarter. Williams has his detractors out there, but you're about to see just how valuable he was to this team's run defense. 
Brooks Reed is going to have to grow up really fast for there not to be a glaring drop off. I wouldn't be surprised to see Wade move Cushing around in certain situations and have him sliding outside to come off the edge in passing situations. Wade Phillips will have to prove how smart he is for the pass rush to continue to be as solid as it has been through four games.
Better Special Teams Play
A missed field goal, a blocked punt and getting fooled badly on a fake punt was the difference in Sunday's loss to the Raiders. Add poor tackling on kick returns and you have all the makings of a disaster in late-game situations with this unit.
Rookie or not, Brett "The Hitman" Hartmann can't let things like that happen if he wants to stick around. There are plenty of veteran kickers out there looking for work right now. As for Rackers, I'll cut him some slack since he made up for his earlier miss by hitting a long one that everyone in Houston was sure he would miss later in the game. Still, he doesn't miss that one earlier and maybe we avoid the end-zone interception to win the game.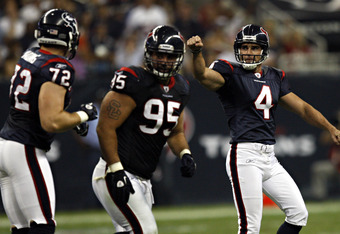 Bob Levey/Getty Images
This entire unit must play better for the team to improve on so many facets of the game: Field position for both offense and defense as well as the scoreboard.
Cut Down on the Stupid Mistakes
I already mentioned the many failures of the special teams, but there are plenty of others to accuse here. The mistakes of Matt Schaub have been well chronicled all over the city this week by anyone willing to listen to their gripes. And, unlike usual, it would be hard for me to defend him.
Matt is a much better quarterback than the locals give him credit for, but he does seem to consistently make a huge mistake at the end of games. I'm not ready to put him in the Tony Romo category yet, but for the first time since he's been here I am not opposed to the team thinking about a quarterback of the future in the next draft or two.
Better Secondary Play
With this defense that Wade Phillips runs, everything is predicated on the pass rush. If the guys up front aren't getting pressure on the quarterback, you're going to be transported back to the 2010 season. But the defensive line isn't going to beat their guys on every single play, so some ability and plays are going to be necessary by the secondary. Johnathan Joseph is the only guy out there that doesn't scare me when the ball is thrown his direction.
Jason Allen has seemingly replaced Kareem Jackson in the starting lineup, which is a move I agreed with. And while Allen will make some plays on the ball and come up with an interception here or there, his tackling is a concern. But it's not even close to his knack of giving a receiver about an eight yard cushion on every play. He made first-round bust Darrius Heyward-Bey look like a legitimate receiving threat this week with said coverage decisions.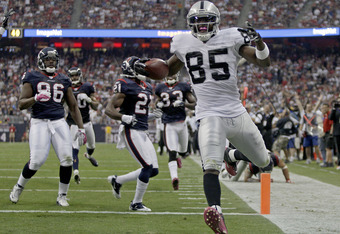 Thomas B. Shea/Getty Images
I realize that you can only play the best you got, but hopefully the coaching staff can get this issue with Allen corrected before he lets Joe Flacco actually look like a good NFL quarterback this Sunday.
Beat the Teams You're Supposed to Beat
After the game with Baltimore this Sunday, the Texans' schedule gets much lighter than it started. They can ill-afford to continue to let a team, like the Raiders this past weekend, that they're much better than stick around in a game. Looking at the stats for that game, Houston should have won by three touchdowns.
The Oakland offense didn't even get a first down until the two-minute drill in the second quarter. You have to take advantage of those kinds of opportunities and the Texans haven't shown the ability or willingness to do that in the past or present.
The Browns, the Jaguars (who they play twice), the Bengals and the Colts are all teams that Houston should beat on paper. They need to get it done or else Bob McNair may be playing an old Bob Dylan tune (that's "The Times They Are a-Changin'" for all you youngsters out there) when he calls Gary Kubiak into his office at the end of the season.
Let's hope it doesn't come to that.
Mike Kerns is a featured columnist for the Houston Texans at Bleacher Report. Feel free to follow him on Twitter at @Zepp1978 and catch his latest Texans podcast at State of The Texans.