Alicia Sacramone's Hottest Pictures Ever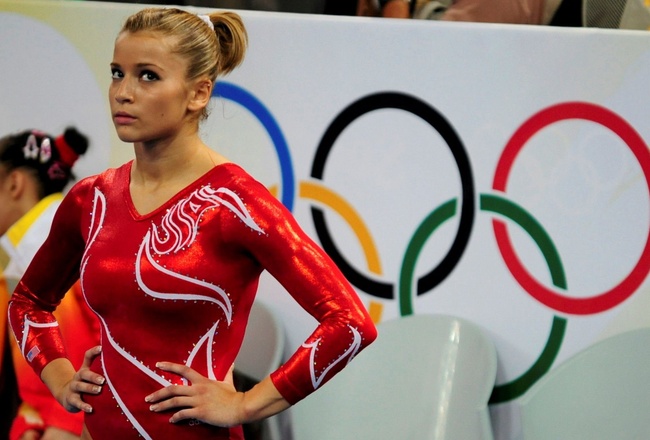 After making a breathtaking appearance in ESPN's most recent Body Issue, artistic gymnast Alicia Sacramone is gaining quite the fanbase.
Known to football fans as Brady Quinn's girlfriend, this beauty is garnering her own attention with sexy poses and prolific athleticism.
But fans are still wondering who Sacramone truly is.
While her photo shoots are often beautifully calm and subtly exotic, they sometimes reek of danger and a willingness to experiment.
One can only hope to understand this budding star through her descriptive pictures.
Here are Alicia Sacramone's hottest pics of all time.
Enjoy.
20. Classy and Confident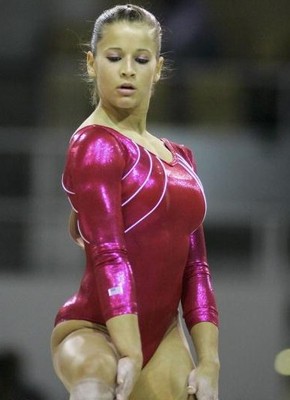 As her uniforms got classier, so did her performances.
At the National Championships from 2004 to 2008, Alicia Sacramone won 12 medals (six gold).
At the World Championships from 2005 to 2007, she won seven medals.
Sacramone's prosperous career continued at the 2008 Beijing Olympics, where she won a team silver medal.
She doesn't leave empty-handed.
19. Little Miss Sunshine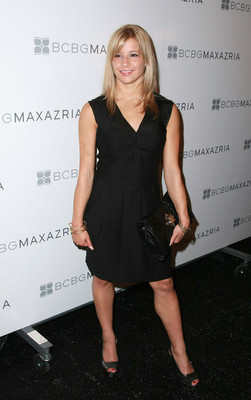 She may be prolific on the padded mat, but Alicia Sacramone can also light up the camera with her natural beauty.
She and teammates Shawn Johnson and Nastia Liukin were the first athletes ever to become CoverGirl spokesmodels when they were signed in 2008.
Sacramone even appeared in a Gatorade commercial featuring a parody of Monty Python and the Holy Grail.
18. A Mental Game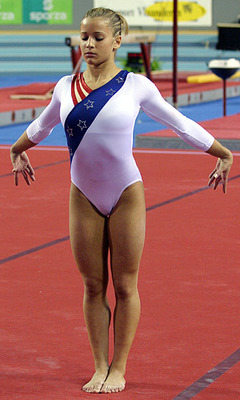 Sacramone's apparent ability to find a zen-like state during her performances has clearly led to a fruitful career.
She also never gives up, as Sacramone made a comeback in 2010 by winning the National Championship on vault following a significant shoulder injury. She then won the world title as well.
Winning the gold medal gave Sacramone nine overall, joining Shannon Miller and Nastia Liukin as the U.S. athletes with the most medals at the gymnastics world championships.
17. Light at the End of the Tunnel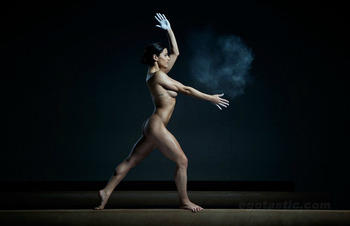 After she retires from gymnastics, Sacramone will undoubtedly have a wide array of opportunities to succeed.
In the summer of 2009, she stayed in Los Angeles and designed for men's fashion company Tank Farm, so she's clearly able to follow directions.
Besides, Sacramone's poses always insinuate future domination.
16. Been There, Done That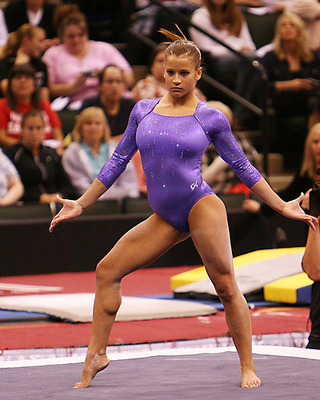 In 2011, Sacramone seemingly got bored with her mundane routine and decided to add floor exercise to her competitive repertoire at the CoverGirl Classic.
She won gold on vault, tied for gold on beam and won the bronze on floor.
Being named to the 2011 U.S. Women's World Championships Gymnastics Team was her greatest honor, until Sacramone tore her Achilles' tendon training in Tokyo.
This pose insinuates that nothing will stop her.
15. Dirty Dancing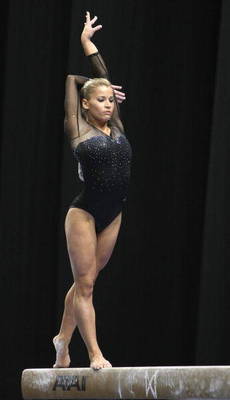 While she did start training for gymnastics at eight years old, it was Sacramone's study of dancing at age three that certainly helped her produce ideal results on the mat.
This outfit certainly impressed the judges.
14. Bend It Like Sacramone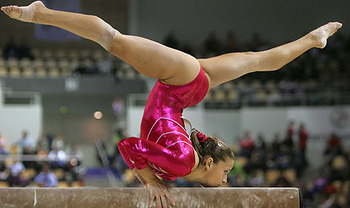 Fans were disappointed in Sacramone's decision to retire following the 2008 Beijing Olympics.
During an interview at a Boston Bruins game in February 2009, she confirmed the retirement.
However, she was clearly starving for competition, and returned to training in August 2009; shoulder surgery earlier that year could only slow her down so much.
Her smile gave fans hope.
13. Youth in Revolt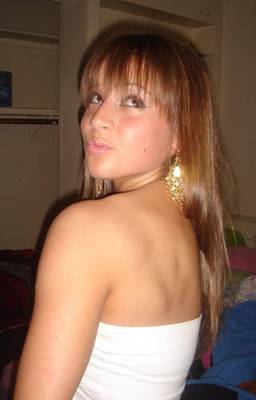 Inside a determined and focused gymnast is a youthful kid yearning for a good time.
With Brady Quinn seemingly never getting a shot to start for the Denver Broncos, he undoubtedly has plenty of time to take his beautiful girlfriend out on the town.
Perhaps he can take her to Chuck E. Cheese's for a cheesy time.
12. Sacrificing Her Innocence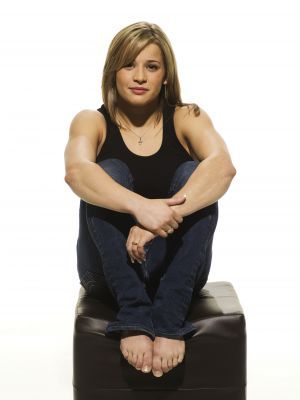 Considering she's often bereft of the normal amount of clothing, Sacramone undoubtedly found the decision to accept the offer to be in the ESPN Body Issue as an easy one.
One thing about her that fans don't know, however, is that she is allegedly not very flexible.
Her beauty seemingly distracts fans from her lack of stretching ability.
11. One in a Million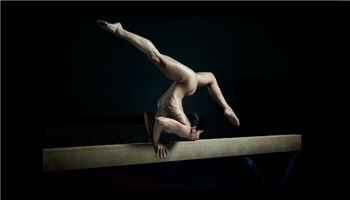 Few female athletes have the ability to shine off the field like this beauty does, but Sacramone is starting to understand her sexiness and take full advantage.
The ESPN Body Issue will surely lead to a plethora of other opportunities—although a lack of clothes will most likely be required.
10. She's the Man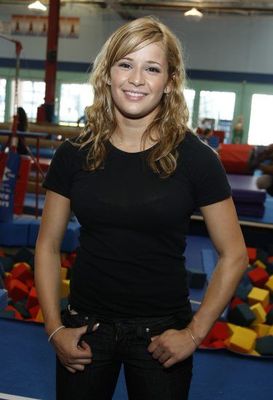 Don't be fooled by the gentle smile—Sacramone can hold her own, and not only on the mat.
The result of a full-grown man getting punched in the face by the artistic gymnast says it all.
9. Amazing Grace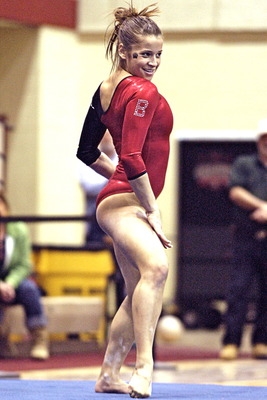 With seven years on the national team (2002-2008 and 2010), one might expect Sacramone to have the stellar moves that elicit excitement from judges, but it's her stares that exhilarates viewers.
While her moves are sexy and her performances breathtaking, it's Sacramone's sensual expressions that cause her fans to go into a frenzy.
The judges never have a chance.
8. Alicia Sacramone: When Nature Calls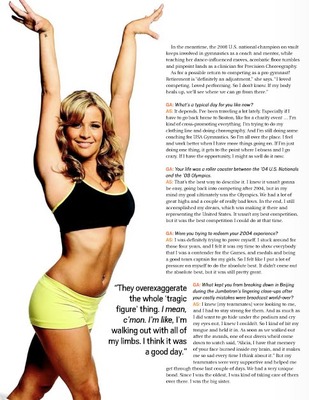 While she has yet to dive into the world of modeling, Sacramone can only fight the temptations so long.
Appearing in the ESPN Body Issue is definitely a start, and fans continue to yearn for more.
7. Stretching the Limits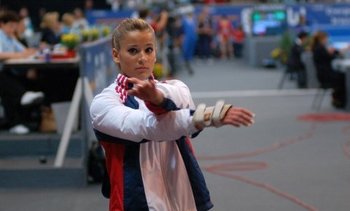 The best poses aren't the provocative ones, but rather those that happen by accident.
While it's safe to assume that Sacramone knew the camera was on her, the baffled and clueless expression reeks of modeling prowess.
It's only a matter of time.
6. An Obvious Distraction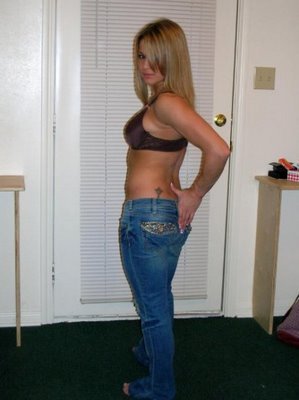 While many fans must be wondering why the Denver Broncos brought in Tim Tebow last week against the San Diego Chargers considering Brady Quinn was named the No. 2 quarterback on the depth chart during the preseason behind starter Kyle Orton, they have to be even more baffled by Quinn's ability to keep his mouth shut.
Here's the reason.
5. Stand and Deliver
A warming smile and an engaging posture, Sacramone clearly has it all.
While she may attract the camera with every movement she makes, every slight twinkle of the eye, this pose reeks of classiness.
Sacramone seems to be climbing the ladders of fan appreciation more quickly with every photo.
4. The American Dream

It seems as if Sacramone never has to do much to garner attention—and she knows it.
With a slight tilt of the head and a subtle smirk that is almost hidden beneath her beauty, this gymnast clearly has judges in a trance.
She'd rather be lucky than good.
3. Odd Man out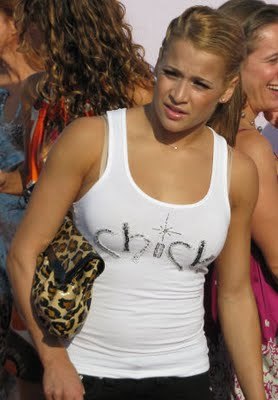 While Alicia Sacramone's other half, Brady Quinn, hasn't exactly prospered as a signal-caller in the NFL,—throwing 10 touchdowns, nine interceptions and a measly 1,902 yards—she still believes he deserves a shot over the well-known former Heisman Trophy winner, Tim Tebow.
This is seemingly the look that Sacramone gives Broncos head coach John Fox every time he chooses the former Florida Gator over her boyfriend.
2. Provocative Excitment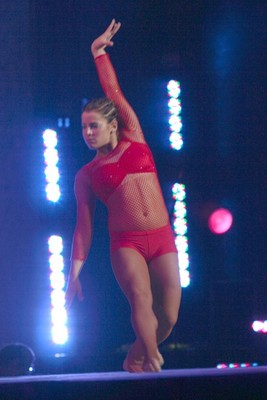 While most fans certainly approve of this sexy outfit, they undoubtedly can't remember the last time gymnastics was this exciting.
Beginning her gymnastics at the tender age of eight, Sacramone always flashed potential. She began competing in the elite ranks in 2002 and joined the United States National Team in 2003.
Her success snowballed from there.
1. The Perfect Date
Sacramone began her gymnastics career with Romanian coaches Mihai and Silvia Brestyan at Gymnastics and More Club, and they are still with her today.
It seems from this shot that they put her on a unique training regimen that had her lifting bowling balls to strengthen her upper body.
However, it's more likely that she liked to partake in bowling on her off days.
Brady Quinn most likely saw this picture and decided to take her bowling on the first date.
And it worked.
Keep Reading