The Most Polarizing Player on Every NFL Team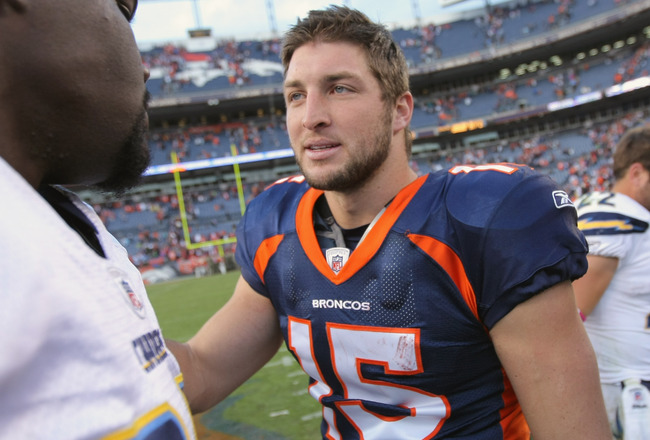 Doug Pensinger/Getty Images
If you look up the term "polarizing" at dictionary.com, you will find that it means "to divide into sharply opposing factions."
Opposing factions divided over an NFL player could consist of teammates, other members of the organization, the media or most likely fans.
The divide could be over a player's performance on the field or his behavior off it.
Some NFL teams have an obviously polarizing player, while other teams really make you think long and hard whether any of their players divide others into sharply opposing factions.
So which players are the most polarizing in the NFL?
I have selected one possible candidate from each team.
Since you obviously know some of your teams better than I, let me know if you have a better choice.
For now, enjoy the read.
Michael Vick, QB, Philadelphia Eagles
Brody Wheeler/Getty Images
This was a tough call between wide receiver DeSean Jackson and Vick.
Jackson's effort in lieu of not having a new contract has been sporadic. Yes, he has 21 catches for 421 yards, but only two touchdowns. Of more concern is that he will have a great effort one week and then disappear the next.
But Vick is even more polarizing for a couple of reasons. First, there are simply fans who will never forgive him for his dog-fighting involvement.
Now most Eagles fans were willing to look past this issue when he was tearing up the NFL in 2010 with 21 touchdowns and six interceptions and a quarterback rating of 100.2.
However, in 2011 Vick has thrown eight touchdowns with seven interceptions, his quarterback rating is a modest 85.3 and the Birds are 1-4.
On sports talk radio, Vick has gone from the phoenix rising from the ashes to an athlete who isn't an elite quarterback to some callers.
If the Eagles continue to struggle, expect the debate to get more heated.
Chad Ocho Cinco, WR, New England Patriots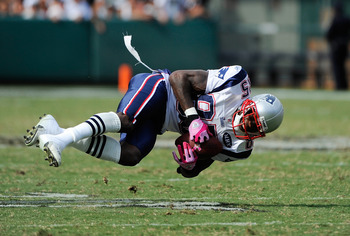 Thearon W. Henderson/Getty Images
When Ochocinco came to the Patriots this offseason, some people predicted a career renaissance a la Randy Moss.
Some people still expect that renaissance despite the fact that Ochocinco only has nine catches for 136 yards so far this season.
The other faction of fans know that Wes Welker, Deion Branch, Rob Gronkowski and Aaron Hernandez are all better options for quarterback Tom Brady than No. 85.
Tony Romo, QB, Dallas Cowboys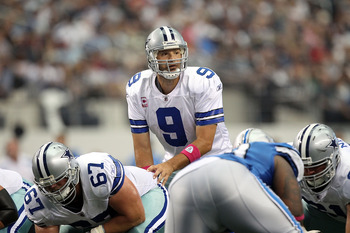 Ronald Martinez/Getty Images
Romo has the unique distinction of being arguably the most polarizing player based on how he performs every single week.
Before the Cowboys' bye week, Romo was the foolish goat for taking needless chances in the form of interceptions that allowed Detroit to come back and beat Dallas.
The week before this epic failure, Romo was the gutty tough winner who led his team to a 18-16 victory despite a cracked rib and punctured lung.
Ironically, these separate factions that are polarized by Romo can actually be the same people, as fans vary in their opinion about the Dallas quarterback from one week to the next.
Reggie Bush, RB, Miami Dolphins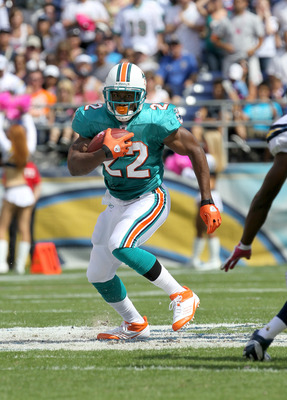 Stephen Dunn/Getty Images
One camp still sees Reggie Bush as the electric player he was at USC.
The other camp, those without the aqua-tinted glasses, realize that Bush would be better served as a full-time punt returner and third down back rather as a full-time ball carrier.
Even a change in role might not bring back the dynamic former Trojan to what he once was.
A.J. Hawk, ILB, Green Bay Packers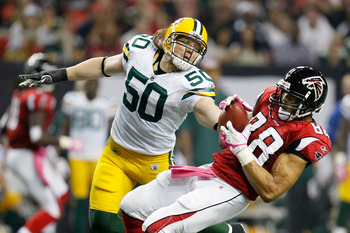 Kevin C. Cox/Getty Images
Let's "keep it real."
There aren't many polarizing players for a team that is the defending Super Bowl Champions and has yet to lose a game in 2011.
But, when A.J. Hawk was drafted with the fifth overall pick in 2006, he was expected to be a game-changing, play-making linebacker. He showed flashes of the ability as an outside linebacker before the team shifted him inside in 2009.
Some people still feel he would be better served on the outside, but his consistency as a tackler (averages over 100 stops a season) makes that change unlikely to occur.
C.J. Spiller, RB, Buffalo Bills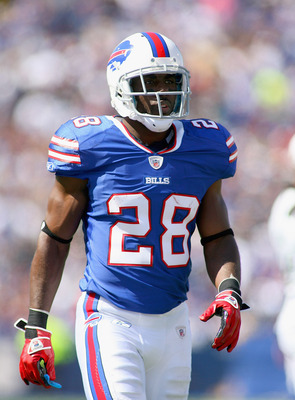 Rick Stewart/Getty Images
Lost among the Bills' 4-1 start is the impact - or for that matter lack of impact - by C.J. Spiller.
In fairness to Buffalo, Fred Jackson's monster start at running back (90 carries for 480 yards and five touchdowns) has put Spiller in the background, but there are clearly two schools of thought on Spiller that are all too reminiscent of the aforementioned Reggie Bush.
Some people still see the dynamic player from Clemson and are encouraged by his limited action of 15 carries for 107 yards (7.1 yards per carry average) and a touchdown.
Other people suggest that Spiller's 5'11", 197-pound frame isn't suited for an NFL pounding and that the Bills made a mistake by drafting a return specialist with ninth overall pick in the 2010 draft.
Peyton Hillis, RB, Cleveland Browns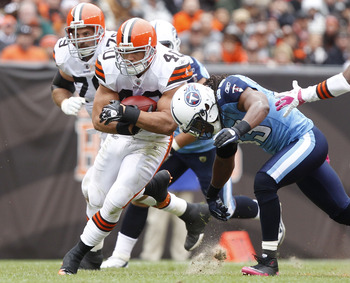 Matt Sullivan/Getty Images
Boy, I am surprised to be including Hillis on this list.
But, the recent controversy on whether Hillis could have played with strep throat, but reportedly chose not to on advice from his agent has made him a polarizing figure in Cleveland.
Was his absence from the team's win against Miami a contract ploy?
We may never know, but it has clearly rubbed some people the wrong way.
While others want the Browns to show Hillis (who is in the last year of his rookie contract) "the money" as Jerry McGuire or, in this case, Hillis' agent Kennard McGuire would probably say.
Peyton Manning, QB, Indianapolis Colts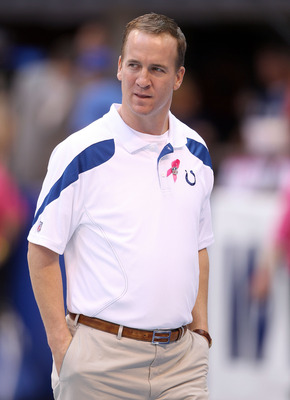 Andy Lyons/Getty Images
It's Peyton's Place in Indianapolis or is it Andrew Luck's?
It's not so much whether Peyton Manning is a polarizing figure, although there are a portion of Colts fans who wonder why he has only won one Super Bowl, it's that his status with neck surgery has been polarizing.
Some fans trust that Manning will return to action either this year or next and return to his pre-injury form.
Another separate faction believes that Manning is done and that the Colts are deliberately tanking their season in an effort to draft Manning's successor in Luck.
David Garrard, Ex-QB, Jacksonville Jaguars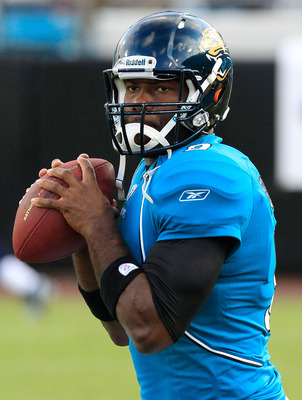 Sam Greenwood/Getty Images
I had to cheat a little bit here. I had to pretend that there were any Jaguars players relevant enough (minus Maurice Jones-Drew) to be polarizing, and then all I came up with was their former starter who they released on Sept. 6, less than a week before the start of the regular season.
Garrard makes this list because his poor play forced Jaguars' coach Jack Del Rio to make the stunning eventual decision to go with rookie Blaine Gabbert at quarterback.
It's a stunning and polarizing decision because it all but ended any chance of Del Rio keeping his job beyond this season.
There is a segment of Jacksonville faithful that believes Garrard shouldn't have been released and represented the Jaguars best chance at winning.
Then there is a segment of Jacksonville faithful that believes that playing the rookie Gabbert now is the best for the Jaguars' future.
But, there is also a segment of Jacksonville faithful who would rather have professional wrestler Alberto Del Rio as the Jags head coach right now over Jack.
Mark Sanchez, QB, New York Jets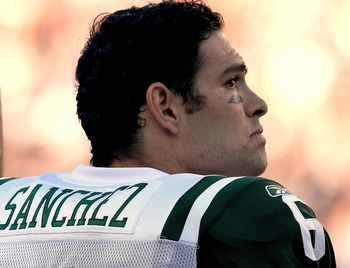 Jim Rogash/Getty Images
Is the "Sanchize" another young quarterback who needs time to grow or is his career passer rating of 71.9 a case of what you see is what you get?
There are Jets fans who sit on either side of the fence, but the side that thinks Sanchez is a bust is starting to get heavy.
DeAngelo Williams, RB, Carolina Panthers
Wesley Hitt/Getty Images
There is little doubt about DeAngelo Williams' talent as a running back. But, was he worth the five-year $53 million contract extension the Panthers provided?
So far, this year he has carried the ball 46 times for 258 yards and a touchdown.
For a running back who is carrying the ball 10 or less times a game and will turn 29 next year, that seems like a poor investment to some. For others, having a solid running game with Williams and Jonathan Stewart to help a young quarterback like Cam Newton along is priceless.
Darren Sproles, RB, New Orleans Saints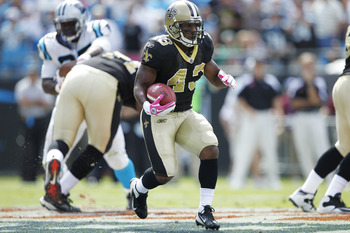 Joe Robbins/Getty Images
When we think of a polarizing player, we often tend to focus on the negative. Darren Sproles should be an exception. Sproles has carried the football 26 times in 2011 for 185 yards (a 7.1 yards per carry average).
The polarizing issue is whether Sproles can and maybe should handle a heavier workload with how successful he has been.
Sproles received 11 carries this past Sunday and his average per carry went down, but he was still effective.
Confusing matters is that Sproles is also a weapon in the passing game (31 catches for 264 yards).
Talk about a nice "problem" to have.
Jason Campbell, QB, Oakland Raiders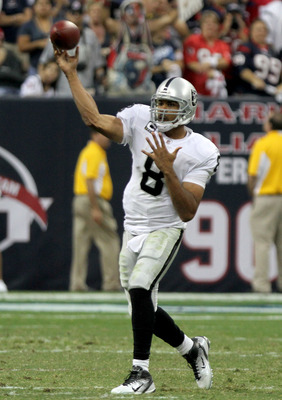 Thomas B. Shea/Getty Images
Campbell has been an average quarterback statistically throughout his seven-year NFL career. His career passing rating of 82.8 which hasn't fluctuated greatly from that number at the end of any one season would seem to be proof of that.
Campbell wouldn't seem to be a polarizing figure but a predictable one. However, the polarizing issue is whether he is good enough to take the Raiders to the playoffs.
A part of Raider Nation wonders if he can't be the team's Trent Dilfer, a game manager who doesn't screw things up. Another part of Raider Nation points out that in the two games the Raiders lost against New England and Buffalo, Campbell "winged the ball around the yard".
Carson Palmer, QB, Cincinatti Bengals
Andy Lyons/Getty Images
Even though the Bengals are 3-2, the shadow of Carson Palmer continues to hover over Cincinnati like a dense fog.
Should Palmer swallow his pride and play out his contract with the Bengals? Some people think so especially since Palmer is not officially retired.
Should notoriously cheap Bengals' owner, president and general manager Mike Brown, just for once, show a little understanding to a player who committed to his franchise for eight seasons by trading or releasing him.
There are more than a few people who feel this way too.
James Harrison, LB, Pittsburgh Steelers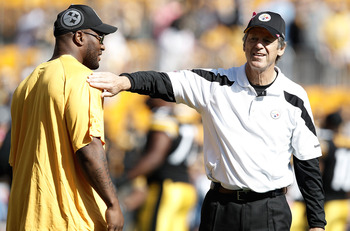 Jared Wickerham/Getty Images
No, I didn't forget that defensive players existed. Well, maybe just for a second.
Regardless, Harrison needs eye surgery to repair an orbital bone fracture and will miss an undetermined amount of time.
Harrison is a polarizing player not only for the multiple questionable hits that have earned him several fines from the NFL, but also for the fact that his skills might be eroding quicker than the shoreline after a hurricane.
Will we see the former 2008 AP Defensive Player of the Year when he returns, or is this another in the long line of stellar Steeler's linebackers whose best days are quickly behind him?
Ndamukong Suh, DT, Detroit Lions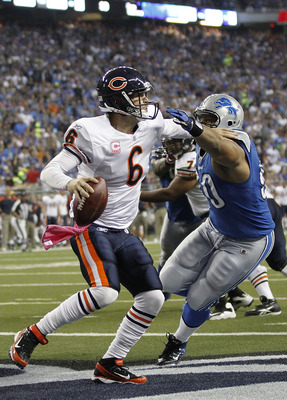 Leon Halip/Getty Images
Unquestionably, Suh is one of the most dominant defensive players in football in just his second season.
He also has gained a reputation as a dirty one in certain circles. He has been fined three times in the last year for his aggressive style of play.
In this kinder, gentler NFL we now have, expect the fines to keep coming regardless of whether he tones down his aggression or not. The polarizing discussion of whether his play crosses the line will continue too.
Kenny Britt, WR, Tennessee Titans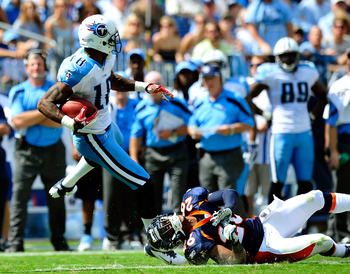 Grant Halverson/Getty Images
While the Titans weren't exactly jumping for joy when their star wide receiver went down with a torn ACL and MCL from dodging a Denver Broncos safety on Sept. 25, their public relations staff might not have lost any sleep either.
Britt might be an ultra-talented player (he already had 17 catches for 289 yards and three touchdowns before his injury), but his several run-ins with authorities has alienated fans, media members and quite possibly members of his own team.
The "Britt Dilemma" seeks to answer the seemingly age-old question, "Can you put up with the off-the field failure for the on-field success?"
Tim Tebow, QB, Denver Broncos
Doug Pensinger/Getty Images
Has there ever been a bigger chasm in the school of thought about one player in NFL history than with Tim Tebow?
For some, Tebow is like a mythical figure. Mind you, this is completely based on his magnificent college career, not on his limited NFL work which includes 45 completions out of 92 attempts and 733 passing yards in two seasons.
Others point to Tebow falling to third-string during training camp this offseason and being in serious danger of being released. Still others think that Tebow would make an ideal H-back.
Well, for better or worse, the faction that has "Tebow Mania" is in for their religious experience in two weeks when the ex-Florida product gets his first start of the season against Miami on a gameday where ceremonies will have his national champion Gator squad from 2009 being honored.
Jay Cutler, QB, Chicago Bears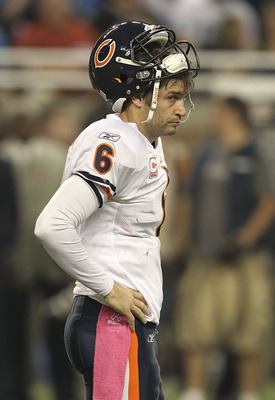 Leon Halip/Getty Images
The moment that Jay Cutler removed himself from the 2010 NFC Championship game with a knee injury that was of debatable severity you had to know that some people will question his toughness for the rest of his career.
Cutler's supporters point out that he has stuck it out for the most part in Chicago despite an offensive line that has more holes than a donut factory.
Truthfully, both sides have a valid argument.
Matt Ryan, QB, Atlanta Falcons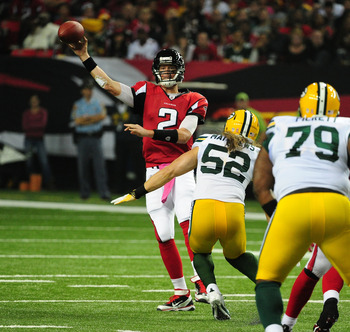 Scott Cunningham/Getty Images
As I pointed out the other day, is Matt Ryan really "Matty Ice" or "Vanilla Ice"?
He's a polarizing figure in Atlanta because the city has yet to fully embrace him, and it's not hard to see indications of that when you look around the Georgia Dome and still see more than a few Michael Vick jerseys.
Others point out that Ryan has had to survive a porous offensive line in 2011 and a suspect defense in his prior three seasons in the league, especially in the playoffs.
Josh Freeman, QB, Tampa Bay Buccaneers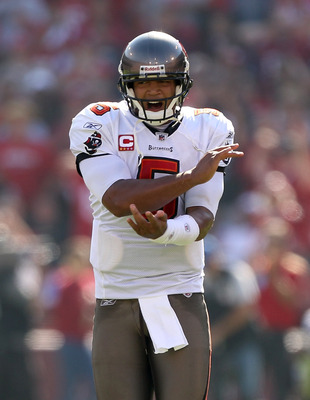 Ezra Shaw/Getty Images
Call this more of a projection selection. The Bucs don't really have a polarizing figure as of the moment, but if quarterback Josh Freeman continues to struggle, he could find himself in a similar position to Ryan.
At least Ryan has multiple trips to the playoffs, as the media completely hyped him into the next franchise quarterback.
Both quarterbacks have unquestionable physical skills, but there is a thought that the decision-making and composure isn't there for either quarterback, at least not yet in big situations.
Joe Flacco, QB, Baltimore Ravens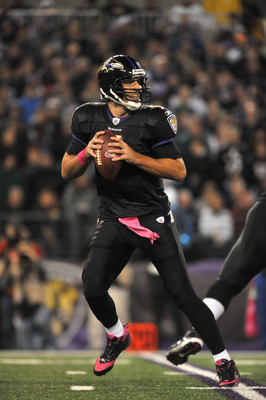 Larry French/Getty Images
Notice a trend here with young developing quarterbacks?
Flacco has the added dimension of a rifle-like arm that can deliver any pass, but he also frustrates a large portion of the Ravens' fanbase with his inconsistency.
Just take a look at his numbers this year.
Is he the quarterback that completed 27-of-48 passes for 389 yards with three touchdowns and no interceptions in a 37-7 rout of St. Louis?
Or is he the guy who completed 15-of-32 passes for 197 yards, one touchdown and two interceptions in a 26-13 loss to Tennessee?
Osi Umenyiora, DE, New York Giants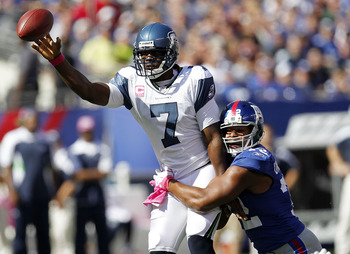 Jeff Zelevansky/Getty Images
Umenyiora wants a new contract and was willing to hold out to get it. He returned to practice for a couple of days before exiting to have arthroscopic knee surgery.
He has since returned to action, but the feeling in some circles is that Umenyiora only cares about his next paycheck.
Others say that Umenyiora's 63.5 sacks in eight seasons has earned him a new deal, especially if as he claims, Giants General Manager Jerry Reese promised to renegotiate his contract.
Rex Grossman, QB, Washington Redskins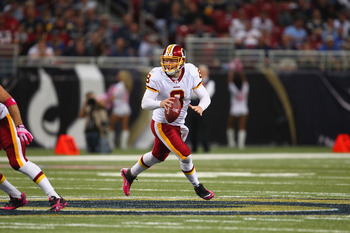 Dilip Vishwanat/Getty Images
Yup, another quarterback.
The similarity here is to Jason Campbell as another veteran quarterback who many fans just can't rally behind.
A portion of the Redskin fanbase believes that Grossman can be a game manager who might take Washington (3-1) to an NFC East division title.
The other faction believes that Grossman will self-destruct and take the Redskins chances at a division crown with him.
Jason Allen, CB, Houston Texans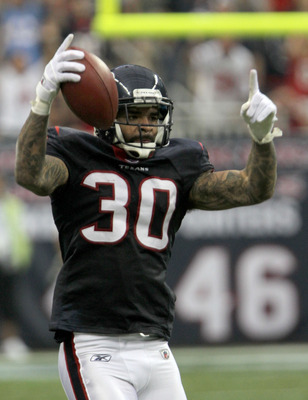 Thomas B. Shea/Getty Images
I obviously had a hard time coming up with a polarizing player on the Texans, but actually Allen isn't a bad choice.
Allen has had eight interceptions in the last two years, including six a year ago in split duty between the Texans and the Miami Dolphins, the team that drafted him in the first round in 2006.
However, is he really any good? Despite coming up with big defensive plays, he arguably gives up more and his attempts to cover the Jets' Braylon Edwards in 2010 border on the ludicrous.
26. Larry English, LB, San Diego Chargers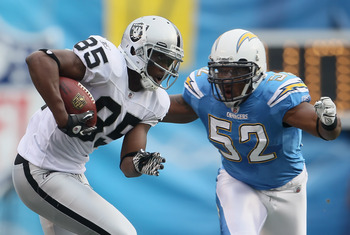 Jeff Gross/Getty Images
Don't get me wrong. I don't think San Diego fans spend a great deal of time arguing over whether English will ever become the player he was supposed to be when he was drafted out of Northern Illinois with the 16th pick in 2009 draft. Hey, Jason Allen was drafted with the 16th pick too. Hmm.
Regardless, the Chargers keep trotting him out there, even though he hasn't started a game this season.
27. Michael Crabtree, WR, San Francisco 49ers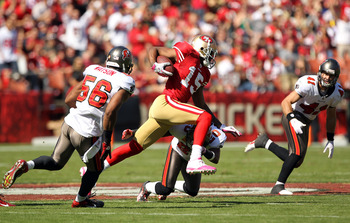 Ezra Shaw/Getty Images
When Crabtree was picked 10th overall in the 2009 draft, he was supposed to become the game-changing wide receiver the San Francisco area has missed since Terrell Owens, Jerry Rice or John Taylor.
He might still become that, and a certain portion of the fanbase believes he will. The portion that looks at the 1,498 receiving yards and eight touchdowns spread out over his over two-year career likely doesn't.
28. Steven Jackson, RB, St. Louis Rams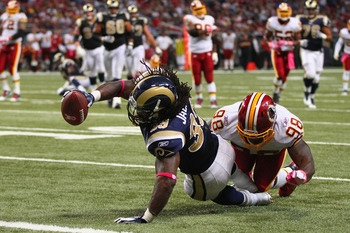 Dilip Vishwanat/Getty Images
Have injuries and 1,901 rushing attempts in just over seven seasons finally caught up with Steven Jackson?
He has just 23 carries in 2011, although he has 124 yards (a 5.4 yard per carry average) on those runs.
In just the last two seasons, Jackson has carried the ball a mind-blowing 654 times and caught 97 passes.
The reason this is polarizing is the valid question of whether head coach Steve Spagnuolo has ruined Jackson during his tenure with the Rams.
On the one hand, Jackson has always been a workhorse back who needs the football multiple times to hurt a defense. On the flip side, it's hard to imagine him every being the same after 2009-2010.
29. Donovan McNabb, QB, Minnesota Vikings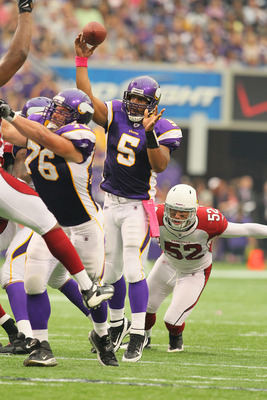 Adam Bettcher/Getty Images
I am not sure that McNabb is all that polarizing if for no other reason than I am not sure that a faction still supports the overrated quarterback.
I suppose the coaching staff that keeps trotting him out there supports him, but most fans and media want the Christian Ponder era to start and start now.
McNabb has thrown for a paltry 849 yards and four touchdowns in five games. Ouch.
30. Kevin Kolb, QB, Arizona Cardinals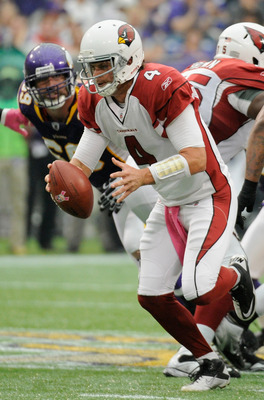 Hannah Foslien/Getty Images
It's not fair, but Kevin Kolb is probably always going to be held to the standard of a second draft pick and a starting cornerback which is the price it took Arizona to pry him away from Philadelphia.
Some fans were glad the team paid the price because the franchise needed a reason besides money for Larry Fitzgerald to stay in the land of the sun.
Other fans realized that Kolb might not justify the price the team paid for him.
And his five touchdowns with six interceptions for the 1-4 Cardinals suggests he hasn't so far.
31. Glen Dorsey, DE, Kansas City Chiefs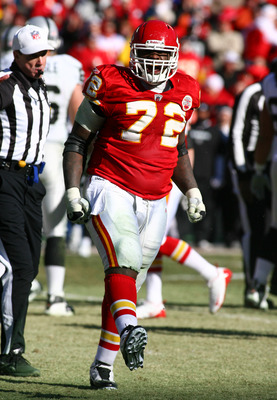 Tim Umphrey/Getty Images
The 3-4 defensive ends aren't supposed to be sack machines, and Dorsey certainly hasn't fit the bill in his fourth season with the Chiefs. He has four career sacks.
Still, there is a school of thought that Dorsey would make a much better 4-3 defensive tackle, where his ability to penetrate would remind people of his dominating days as an LSU Tiger.
Others think he is a colossal bust for fifth pick overall in 2008 no matter where you would line him up.
32. Charlie Whitehurst, QB, Seattle Seahawks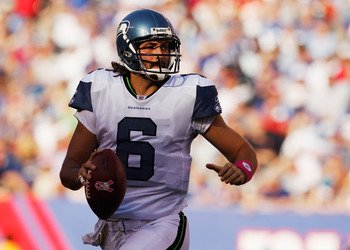 Mike Stobe/Getty Images
Sorry, Charlie.
This is your head coach, Pete Carroll's fault. If he hadn't traded a 2011 third round pick, switched spots with the San Diego Chargers in the second round during the 2010 draft, and paid you $8 million dollars, you'd never be on this list.
But Carroll did, and then was so enamored by your performance (57 completions out of 99 attempts with two touchdowns and three interceptions) as a reserve in 2010 that he brought in Tavaris Jackson to be the starter when incumbent Matt Hasselback left for greener pastures in Tennessee.
Last Sunday, Jackson got hurt and Whitehurst filled in admirably, so he is getting a second chance to reinvigorate the faction (can Carroll be a faction all by himself) that initially supported him? More importantly he'll get a chance to mollify the faction of fans that wanted his head when Carroll made the ill-fated trade.
Keep Reading