2011 Chicago Blackhawks: What We Learned During NHL Opening Weekend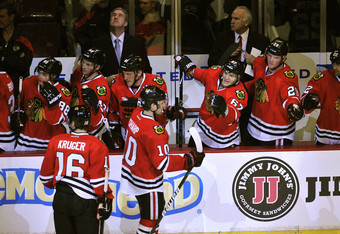 Game 1 is the most worthless game of the year.
David Banks/Getty Images
The first game of the season is the most worthless game of the year in any sport. I never watch the first game. Never. If the Blackhawks open at home next season, I will listen to Jim Cornelison sing the National Anthem, listen to all of you scream, and then turn off the television. I have been to one Opening Day game in my life and that was when the Reds (sorry Cubs/Sox fans, again) opened the Great American Launching Pad. Christening a new park is a special circumstance that happens only once every thirty to forty years. That is the only way I break my "Opening Day Sucks and is Pointless" rule. I think that is fair enough.
(Sidenote Example for Those Who Don't Follow the Cubs or White Sox: Take the Reds this year. On Opening Day, the team fell behind 5-0 and then rallied back to win on a walk-off home run in the ninth inning. It sent the town into a flurry. The Reds fan base felt the magic again. 2011 was going to be a special year! Naturally, the team finished 79-83, and unlike game one of 162, they were especially "unclutch" and were near the bottom of the league in hitting with runners in scoring position. That game is what birthed the "Opening Day Sucks and is Pointless" rule. I am still upset. End tangent.)
Opening Day games are often a really inaccurate display of team quality and future performance. There are too many unknowns and frankly, too many stupid things that occur. You have the pre-game festivities, unusual nerves, new players in new uniforms, and larger than normal crowds in some cities. Kari Lehtonen won't be that good. Marian Hossa and Duncan Keith won't team up to make silly turnovers that result in game-winning goals.
However, the second game of the season (thankfully at the Madhouse) is a better barometer, especially when you are playing the same team again. What a great idea home-and-homes are to start a season! I want this every year! It's like watching the same movie back-to-back during some TV marathon on Black Friday or seeing a blockbuster outside of the movie theater. In the second viewing outside of "First" or "Brand New" (a great indie band, by the way), our minds pay more attention to character adaptations and plot quality instead of being concerned with how the movie matches up to the publicity that brought us to theater in the first place.
What Blackhawks player is most valuable to the future of the franchise?
For example, I was wowed by the graphics and colors and noise of the first two installments of the Transformers series when seeing them in a movie theater that provides the total package of great surround sound, total darkness, and good friends. Recently, while sitting down to watch the second installment, Transformers: Revenge of the Fallen, I realized that while in theaters I was actually treated to an overzealous effort by Megan Fox to convince us she's attractive, pitiful acting by every single actor/actress involved, and robots fighting for the stability of the universe. The selling point of modern movies is the experience of wasting $40 at the movie theater, not the quality of the film on the big screen. Robert Redford and Audrey Hepburn are rolling in their graves.
Back to hockey.
With home-and-homes, fans get the opportunity to witness how players adjust to identical competition, whether coaching staffs can make sufficient corrections, and in the Blackhawks case, how home ice advantage might make a difference after coming home from a loss. After all, the Hawks will probably lose again. So, in this opening weekend, what did we learn about the Blackhawks?
The Home Ice Magic Might Be Back
29-8-4, the team's 2009 home record, might be a bit of stretch, but they looked really good in the game Saturday night against the Stars. Right from the first puck drop, they looked like a completely different team from the group on Friday in Dallas. There was energy, enthusiasm, aggressive play, active sticks. You name it, they were doing it.
David Banks/Getty Images
Maybe the most telling sign of "Madhouse on Madison magic to come" were the breakaway goals by Sharp and Toews. In 2010-11, it seemed like those breakaways were stuffed by some overachieving goalie who was playing way above what his GAA would indicate. As a result of being the defending Stanley Cup champions, the Hawks were not only facing everyone's best shots, but also getting beat by everyone's best shots. There was only one sustained winning streak last season and it was enough to sneak the Hawks into the playoffs.
The between-the-legs finish by Toews and top-shelf wrister by Sharp on Saturday are the kind of goals that went in all the time a couple years ago. If Patrick Sharp were to replay the situation that produced that goal 100 times, I have all the reason in the world to believe he would score 100 times. For the first time in what feels like one year, the Blackhawks responded to some slight adversity and gave the Stars their best shot. There is a fundamental difference here.
Instead of being the hunted, Chicago is the hunter again despite league-wide knowledge that they are a Western Conference power.
I hope that the difference in style shown in the two games is an indicator that the Hawks can turn it on whenever they wish. This ability was a defining quality of the Stanley Cup champions in 2009-10. If they had lost two straight, they weren't going to lose a third. If they were playing a bottom-feeder while on an extended winning streak, they won the game to extend the streak even further.
Players Know Their Roles
Elsa/Getty Images
In order to have those extended streaks of success, members of a team must know their roles. Sports franchises operate the same way that regular for-profit businesses do. The employees, or players in this case, need to know what they are expected to do so that the system flows correctly.
If every Nike employee believed his or her job to be equivalent to Phil Knight, nothing would ever get accomplished because of constant conflict.
Last year, there was no stability in the lineup for the Hawks. There were a couple main reasons for this, which I covered in my most recent article. The main reason was the Hawks inability to jump-start their season in mid-October. The slow start forced Joel Quenneville to show that he was aware of the struggles. He did this by switching lines and flip-flopping goaltenders. In actuality, he was disturbing the formation of any team chemistry that was there for the taking. Blame can't be assessed here, however, because something had to be done. The necessary roster overhaul by upper management played a huge part in this problem and should be identified as the source of blame.
Leading up to this past weekend, the off-season goal was not to acquire more toughness or improve the penalty kill. The goal was to create an identity on the ice that Toews can build around and win with on a consistent basis. We saw some glimmers of that this past weekend.
Toews, Kane, Sharp, Hossa: Score, pass, shoot... And do it often.
Brunette, Bickell, Frolik, Mayers, Carcillo: Create disturbance in front of the net, possess the puck, finish rebounds.
David Banks/Getty Images
Bolland: Be the glue.
Seabrook and Keith: Possess, shoot from the blue line, make crisp passes on transition
The Great Gazoo (aka Niklas Hjarmalsson), Leddy: Be consistent, form a bond, grow together to expand the defensive power through two lines
Everybody Else: Don't screw up!
With the need for an identity being established by front office staff, the Hawks can reasonably be expected to submit themselves to the concept of playing out the established roles. Now that the organization has the resources to make this happen, there is great reason to believe that this year's version of the Hawks will be more consistent and closer in quality to the Stanley Cup champs (I keep typing that because it still sounds so good). Nike needs a creative design team and an incredible marketing staff to sell its shoes and apparel. The Blackhawks need grit, speed, and consistent quality effort to win games in the National Hockey League.
Past Reader Comment To Consider:
"I expect a huge season out of the Hawks! A full season of play from Kane (who I also see having a huge year, 100 points maybe??)."
This comment was submitted before the Hawks decided to try Kaner at center. At center, he will be forced to be more physical, take faceoffs, and play defense. This could hinder his point scoring potential significantly and make him more susceptible to injury.
David Banks/Getty Images
However, I agree with Jason. I think he could score 100 points or get very close. Here's why: Patrick Kane will be challenged for the first time in his career. When guys like Kane are newly challenged, one of two things happen. They rise up and soar to new heights or they still operate at the previous threshold and slide farther back among the alpha dogs.
Patrick Kane is a party boy. He loves the night life. He will always be the Robin to Toews' Batman. Doesn't that have to make him a little restless at night? Don't you think there is an unspoken competition between the youngsters to see who really is the more worthy player? Kane isn't captain material, don't get me wrong. But he could become the bigger superstar, couldn't he?
He can do everything Toews can do. He can pass, score, and possess the puck. His numbers speak to that point. His highest point total is 88 during 2009-10. He scored 72 as a 19 year old. He had 73 points in 73 games last year despite fighting injuries for a good portion of the season.
The jury is out on the 100 point/superstar potential for Patrick Kane. There is one thing that is for certain, no matter who you ask. Jonathan Toews is the face of the organization and will stay that way for as long as he wishes. I hope Kane is okay with being Robin but still strives to be Batman. That would be the ideal situation.
Feel free to email matthew.wells4@gmail.com with any questions, comments, or concerns.
Thanks to hockey-reference.com and the official website of the Chicago Blackhawks for the help on statistical information used in this piece!
This article is
What is the duplicate article?
Why is this article offensive?
Where is this article plagiarized from?
Why is this article poorly edited?

Chicago Blackhawks: Like this team?