Big Ten Football Rankings: Week 7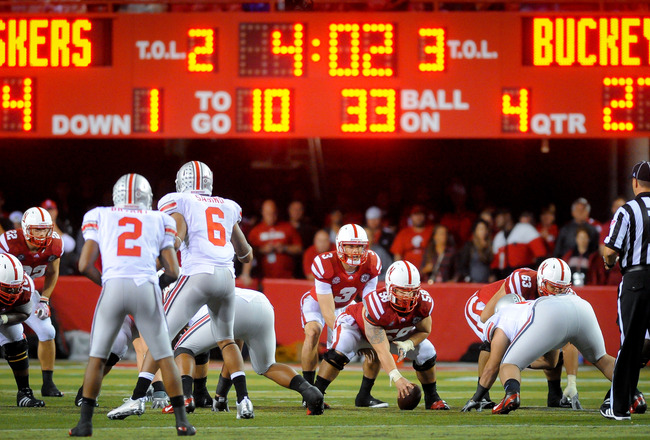 Eric Francis/Getty Images
Another exciting week of Big Ten football is in the books.
After the second week of conference play, the Big Ten title picture is becoming a little clearer. There are still a lot of questions for most of the teams in the Big Ten, and we should get those answers in the coming weeks.
As of right now, here are where the teams stand.
1. Wisconsin (5-0, 1-0) vs Indiana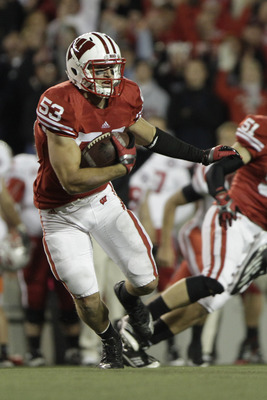 John Gress/Getty Images
Wisconsin, the Big Ten's only legitimate BCS title contender, stays in the spotlight once again.
The Badgers' rushing attack is one of the most potent in the country and its defense is just as impressive. Wisconsin isn't out of the woods just yet, still having to face the Fighting Illini and Penn State's awesome defense.
2. Michigan (6-0, 2-0) @ Michigan State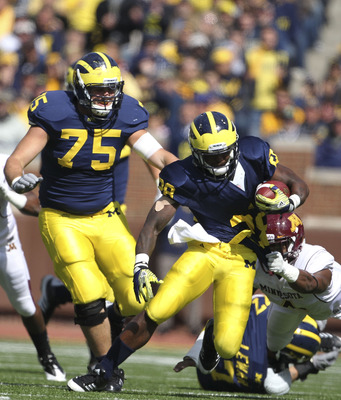 Leon Halip/Getty Images
Michigan comes in at No. 2 this week, simply for the fact that they've managed to make it through half the season unblemished.
Michigan looks to be a contender in the Legends division but is not without faults. Denard Robinson has been prone to multiple turnovers and the offense doesn't really get going until the second half. If the Wolverines continue that trend against teams with a good defense, look for the numbers in the loss column to increase. Michigan State just so happens to have a good defense.
3. Illinois (6-0, 2-0) vs Ohio State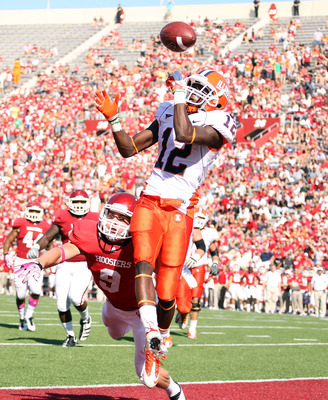 Andy Lyons/Getty Images
Perhaps the surprise of the Big Ten this year is Illinois, who is 6-0 for the first time since starting 7-0 in 1951. Led by dual-threat quarterback Nathan Scheelhaase, the Illini offense is off and running—Literally.
The Illinois rushing attack ranks 13th in the nation with 226.2 yards a game. Illinois appears to be a legitimate threat to Wisconsin's title hopes, providing they can remain unscathed.
4. Nebraska (5-1, 1-1) Bye Week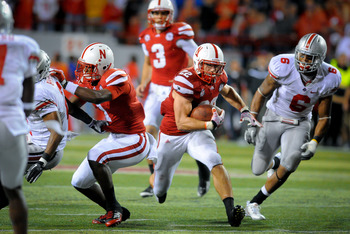 Eric Francis/Getty Images
Historic.
That's the word that comes to mind when one mentions Nebraska's comeback victory against Ohio State. Not only was it Nebraska's first Big Ten win and their first against the Buckeyes, but it was also the biggest comeback in school history.
Nevertheless, the Huskers still have much to prove, mainly on defense. The Huskers take a well-deserved rest this weekend, then return to Big Ten action at Minnesota.
5. Michigan State (4-1, 1-0) vs Michigan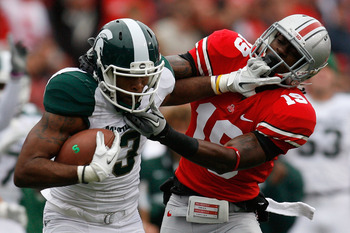 Kirk Irwin/Getty Images
Michigan State can take a big step towards Indianapolis with a win at home against big brother Michigan. The Spartans are playing great on defense and shouldn't squander a lead should Denard Robinson be in his usual gift-giving mood.
Michigan State looks to be one of three teams in the driver's seat for the Legends division title.
6. Penn State (5-1, 2-0) vs Purdue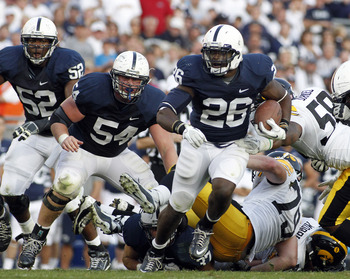 Justin K. Aller/Getty Images
The McGloin/Bolden experiment still isn't working in Happy Valley, but the Nittany Lions can sure play defense.
The Lions' formula for winning games is about the same as Nebraska's the last two years: rely on defense, do what you can on offense. Penn State will be in every game they play, but need better offensive performances to win the Leaders.
7. Iowa (3-2, 0-1) vs Northwestern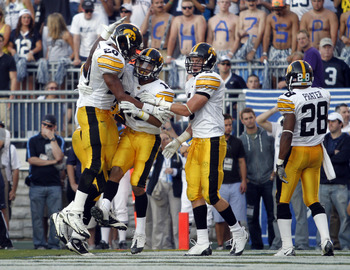 Justin K. Aller/Getty Images
Iowa looked to be a contender in the Legends division. After a humbling loss to Penn State, that title has changed to pretender.
The Hawkeyes were flat out embarrassed Saturday, putting up only a field goal. We'll find out just where the Hawkeyes stand when they host a downtrodden Northwestern team. They're not quite out of contention just yet, but one more loss and the Hawkeyes can forget about Indianapolis.
8. Ohio State (3-3, 0-2) @ Illinois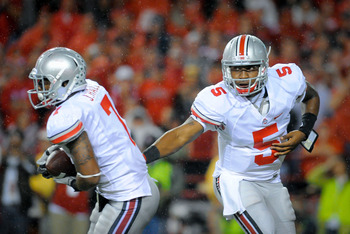 Eric Francis/Getty Images
Where to go from here?
Only a week after nearly being shut out at home, the Buckeyes were embarrassed on national television by allowing Nebraska to rally from 21 down to take the win. Ohio State's season is in shambles and visiting a surging Illinois team won't help matters.
9. Purdue (3-2, 1-0) @ Penn State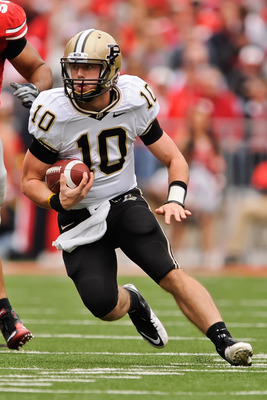 Jamie Sabau/Getty Images
What to make of the Boilermakers?
One week they look simply helpless they just explode on offense. Granted it was against the conference doormat, Minnesota, but still. Purdue has shown flashes, if only they could avoid the injury bug. A bowl game is still in the equation, but Purdue is going to have pull some upsets.
10. Northwestern (2-3, 0-2) @ Iowa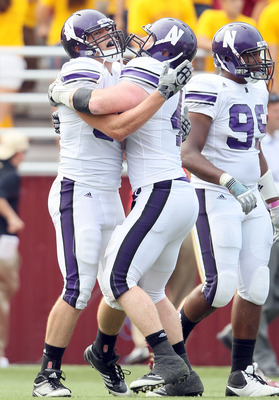 Elsa/Getty Images
So much foDan Persa's Heisman campaign.
Persa missed the first three games and returned in a loss to Illinois. This week he and the Wildcats tried to knock off undefeated Michigan but couldn't maintain a halftime lead. Northwestern may be better than 10th-best in the conference, but they're going to have to prove it.
11. Indiana (1-5, 0-2) @ Wisconsin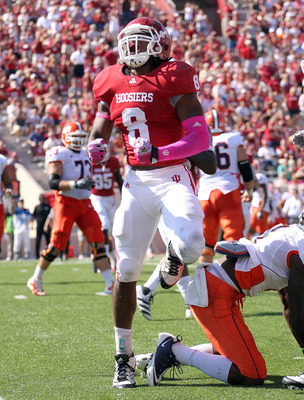 Andy Lyons/Getty Images
The Hoosiers had Penn State on the ropes last weekend, even having a chance to win it late in the game, but couldn't make enough plays. This weekend, Indiana started off strong but couldn't finish. The Hoosiers aren't the worst but they are close to it—here's to better luck next year.
12. Minnesota (1-5, 0-2) Bye Week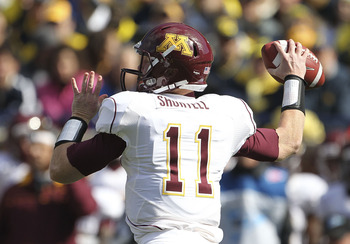 Leon Halip/Getty Images
Jerry Kill told Golden Gophers fans what to expect. He didn't promise Rose Bowls or national titles. But he did promise improvement. Maybe not this year but in the future.
Gophers fans need to patient and look forward to next year.
Keep Reading