College Football: 3 Coaches Who Must Go and 3 Who Must Be Hired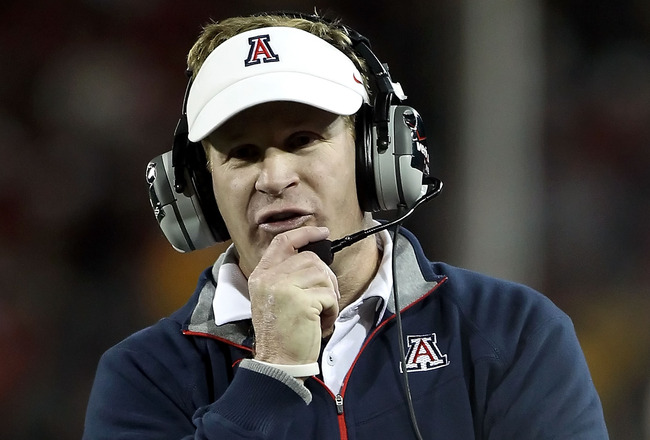 Fired by the University of Arizona on Monday, October 11, Mike Stoops isn't the only coach who should be shown the door by his employer.
Christian Petersen/Getty Images
College football's landscape is changing rapidly, but one things remains certain—coaches will be fired. In fact, Mike Stoops has already been fired by the Arizona Wildcats midseason. What coaches should see the door at the end of the season, and who are the most attractive replacements?
Fire: Mack Brown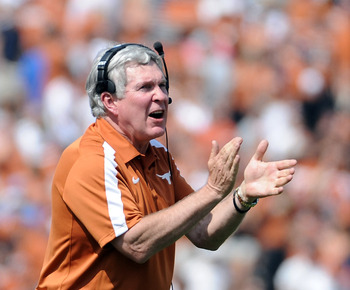 No coach has done less with more talent than Mack Brown.
Harry How/Getty Images
While he has a BCS National Championship under his belt, head coach Mack Brown of the Texas Longhorns should see a pink slip after continuously doing the least with more talent than any team in the nation. Texas regularly fills its class early and does so in remarkable fashion with annual Top 5 recruiting classes. More amazing is the fact that Brown continues to play second fiddle to Oklahoma in the crumbling Big XII.
Yes, Brown won a national title at Texas, but his success was singularly the result of quarterback Vince Young's ability to use his legs to get out of a bad play or Young's unfailing confidence that his receiver would come down with the ball if it was anywhere in the vicinity of his star pass catchers. Brown notoriously runs two receiver patterns which don't work in today's game, but Young and Colt McCoy were capable runners as much as they were passers. As such, Brown has beneficiary or talent that overcomes his inability to coach.
Any coach in America would give his left arm to have the talent Texas has in its backyard. Additionally, any coach would be ecstatic that every single player in his back yard wants to play for him. Firing Mack Brown and replacing him with any remotely competent coach would do wonders for a proud Texas program. Furthermore, Texas wouldn't have to deal with another drubbing by Oklahoma like the one the Longhorns felt on Saturday.
Fire: Mark Richt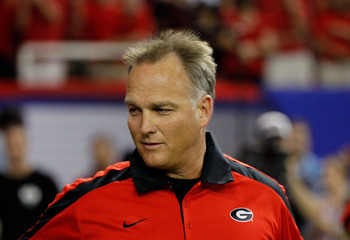 If one looks under the name Richt in the dictionary, he will find the synonyms "boring" and "average."
Kevin C. Cox/Getty Images
An SEC juggernaut that has Atlanta, Georgia, in its backyard, the Georgia Bulldogs must fire Mark Richt to move on to greener pastures. Since coming to Georgia from Florida State Richt has been anything but remarkable. His teams have consistently underachieved or simply been mediocre in a conference that chews up and spits out the mediocre.
Unfortunately, the average Georgia fan has regularly defended Richt, blaming his defensive coordinator or injuries for the underachieving Bulldogs. This may be the year the fans and administration lose their patience, but it's been years in the making, as the casual outsider has seen the inevitable for years.
Georgia's talent is not thin, but its coaching staff is lacking. Creativity is non-existent and productivity is minimal. The largest spark anyone has ever seen from the Bulldogs has come on one occasion—when the Dawgs received a 15 yard penalty for rushing the end zone after scoring first on a Tim Tebow-lead Florida Gators team. Besides that moment, college football fans have been searching for a pulse from Georgia for years.
Fire: Jeff Tedford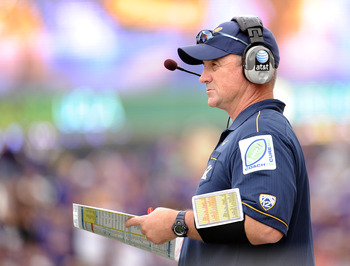 Jeff Tedford has his heyday, but multiple mediocre seasons and a PAC-12 that has only gotten tougher should signal the end of Tedford's reign.
Harry How/Getty Images
Jeff Tedford had a remarkable run after recruiting the likes of Marshawn Lynch, Jahvid Best, and Aaron Rodgers, but seasons of mediocrity only illustrate that Tedford's success was fleeting. A 5-7 team in 2010 failed to qualify for a bowl game, while the 2009 Bears finished with five losses including a loss to Utah in the Poinsettia Bowl. Both 2009 and 2010 were preceded by a mediocre eight win season in 2008, which is the highlight of the past four years for Cal. If the Bears are going to compete for a conference title, they need to find a coach who can get them over the hump and into the conference title.
Is Tedford the man? It seems the Bears have plateaued in their quest for greatness, needing a spark to rejuvenate them. Can Tedford bring in the recruits to do so, or should the administration go in another direction? The Bears have already dropped two games to Pac-12 middle-tier teams. If they end the season at the bottom of the conference, Cal fans will have no choice but to demand Tedford's ouster.
Hire: Mike Leach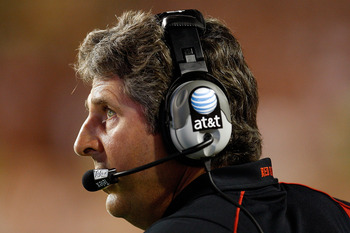 Wrongfully booted from a Texas Tech school more concerned with politics than success, Mike Leach is an excellent for any team.
Ronald Martinez/Getty Images
Mike Leach is the most attractive candidate available for a head coaching position. While his personality won't win a contest for most congenial, he knows X's and O's better than most of his peers and turned a lowly Texas Tech team into a high scoring juggernaut. Unfortunately for Leach, he stepped in the middle of a political fiasco that resulted in his ouster, since he doesn't pretend to have time for petty Texas politics or prima donna announcers.
The winningest all-time coach at Texas Tech, Leach deserves mention for all big time coaching positions left open by fired or retiring coaches. Who will take a risk on him at the end of the 2011 season?
Hire: June Jones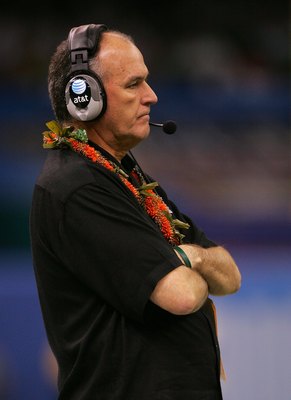 June Jones has multiple successes at Hawaii and SMU, resurrecting two average to below-average programs. What could he do for a major program?
Matthew Stockman/Getty Images
June Jones has turned two below average non-BCS squads into contenders for Top 25 status, now. At Hawaii, Jones took the Warriors from 0-12 in 1998 to a 9-4 record the following year. The media loves him and his run-and-shoot offense fills the seats. The media loves him and his fans adore him, but Hawaii refused to invest in football, so Jones left for SMU.
SMU is a more difficult task for Jones, forcing him to use creativity and the ground game more than he'd like, but Jones took SMU to its first bowl game since the death [enalty was imposed on the school. Jones returned to Hawaii where he led SMU to a 45-10 drubbing over Nevada.
For large programs seeking a turnaround, from the mediocre to awful, June Jones is an excellent candidate who's proven himself capable more often than not. Comparing his current career path to Urban Meyer's path before reaching Florida would not be a reach. Ignoring Jones at the end of the 2011 season would be a mistake for any program.
Hire: George O'Leary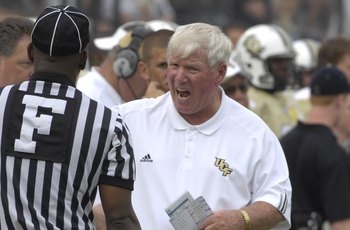 Despite his misrepresentations on his resume before being hired by Notre Dame, George O'Leary has proven himself time and time again, including a Liberty Bowl victory over Georgia with UCF.
Al Messerschmidt/Getty Images
George O'Leary had a prolific offense at Georgia Tech. Then, the Notre Dame debacle occurred when it was discovered that he "fudged" his resume to obtain his first coaching position. O'Leary was forced into purgatory to prove himself once more, but has done so in remarkable fashion at Central Florida.
Not only has UCF been a regular contender for the conference title in Conference USA, but UCF defeated a talented Georgia program led by wide receiver AJ Green in the 2010 Liberty Bowl. Now, it appears UCF is at the front of the line to be acquired by a BCS conference once they begin poaching non-BCS schools.
O'Leary has shown the ability to coach fundamentally sound programs that put points on the board at two universities, now. The discipline-heavy coach with a nasty temper will have his teams ready on Saturday. A program that needs to fix its reputation and win games should seek the services of O'Leary.
Keep Reading