Philadelphia Eagles: Don't Count out Michael Vick and the Eagles Just Yet
October 11, 2011
Brody Wheeler/Getty Images
Michael Vick and the Eagles have been struggling these first five weeks of the NFL season.
Throughout the Internet, numerous stories analyze the struggles of the "Dream Team" and provide various explanations.  Many articles are calling for Andy Reid to be fired.  Others have placed blame solely on the shoulders of Michael Vick.  Regardless, the bulk of the attention is that the Eagles are in trouble and are already declaring this season a failure.
I am going to go out on a limb and say that the Philadelphia Eagles are going to be just fine.  People need to take a step back and take a deep breath. 
Now, I am not saying that they can afford to lose a couple more games.  They clearly have gotten to the maximum losses any winning team can afford, but hope is clearly not lost.
Given the talent and personnel that the Eagles have, I wouldn't find it out of the realm of possibility that the Eagles can go the rest of the season with only one additional loss and possibly secure a playoff berth.
Let's take a look at their remaining schedule:
Week 6           at Washington
Week 7           BYE
Week 8           Dallas
Week 9           Chicago
Week 10         Arizona
Week 11         at NY Giants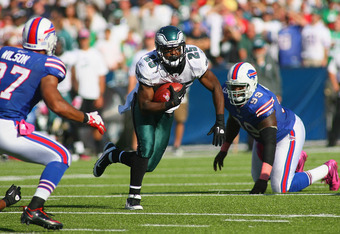 Rick Stewart/Getty Images
Week 12         New England
Week 13         at Seattle
Week 14         at Miami
Week 15         NY Jets
Week 16         at Dallas
Week 17         Washington
Sure, there are some tough games ahead, but given all their talent, they do have the ability to win every game the rest of the season.  The only team that I would argue that they might be completely mismatched against would be the Patriots.
Also, take into consideration the makeup of the NFC East.  Currently, the Washington Redskins are on top of the NFC East.  Really, Washington is in first place in the NFC East? 
Below them are the Giants, who we've seen have their own troubles to overcome.  They just lost this past week 36-25 to the Seahawks. 
After the Giants in the standings are the Cowboys.  I don't think I need to say anything more about the struggles they've had this year.
If the Eagles can come out with a win at Washington this upcoming week, the whole tone will change.  The Eagles will go into a bye week and can refocus to get ready for the steep hill they will have to climb.  The Eagles have so much talent on their roster that they might just be able to climb that hill.
Michael Vick and the Eagles will bounce back.  Sometimes star-studded teams just need a sense of urgency.  You can bet they feel it now.