NFL Picks Week 6: 3 Stone Cold Locks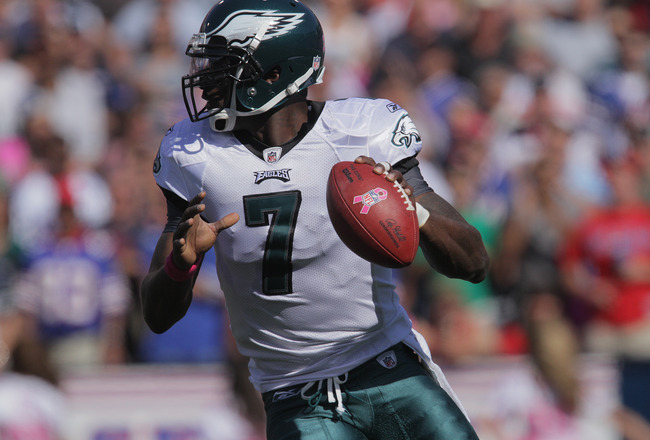 Brody Wheeler/Getty Images
The first five weeks of the much anticipated NFL season have been incredible.
We've seen the lovable losers, the Buffalo Bills, turn into one of the AFC's juggernauts on offense. The Detroit Lions are looking like they are in a two horse race with the Green Bay Packers to be the NFC's representative in the Super Bowl.
On the other side of that coin, the Philadelphia Eagles are in utter disaray. The Atlanta Falcons just cannot seem to get it together and we are still unsure of who the Pittsburgh Steelers really are.
One thing has been certain this year, the NFL is short on "locks". But, I'm about to give you three of them for the week.
St. Louis at Green Bay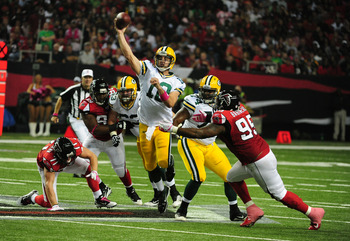 Scott Cunningham/Getty Images
According to VegasInsider.com, this game opened at a line of Green Bay minus 14.5. Right now, it's wavering between that and 15 points.
Conventional wisdom says, "That's too many points to give an NFL team."
I say, "So what!"
Green Bay is the NFL's most potent offense. They can score from anywhere on the field. The only thing that could slow the Packers at this point is a union strike. They are the most well-oiled machine since Georgia Tech laid 222 points against on Cumberland in 1916.
Talking about the Aaron Rodgers led attack is reminiscent of the Jim Carrey speech in The Cable Guy before he starts singing Jefferson Airplane's "Somebody to Love". He said, "You might recognize this song as performed by Jefferson Airplane, in a little rockumentary called "Gimme Shelter," about the Rolling Stones and their nightmare at Altamont. That night the Oakland chapter of the Hell's Angels had their way. Tonight, it's my turn."
If I'm wrong, please, someone tell me. The Rams boast the leagues worst rushing defense at nearly 180 yards per game. Michael Vick, Eli Manning, Joe Flacco, and Rex Grossman have managed to average 225 a game through the air, largely because the run defense has been a sieve.
It's obvious Green Bay is going to win this game. In the end, I don't care if the Rams were spotted 20 points, the Packers would still win.
Jacksonville at Pittsburgh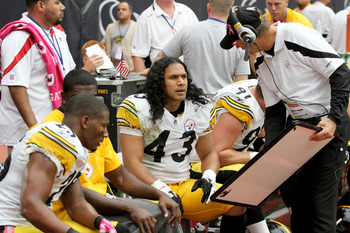 Thomas B. Shea/Getty Images
VegasInsider.com opened this game up at Pittsburgh minus 13. There has been a little movement in the way of Jacksonville. Some of the hotels are running the game between 12 and 13 points.
What's appealing about the Steelers is there ability to put up points and shut an opposing offense down. Unfortunately, they've looked very old and slow at times. They completely shut out the Seahawks and nearly nullified the early success Matt Hasselbeck and the Tennessee Titans have had. Baltimore and Houston have made them look bad on both sides of the ball and they barely beat Indianapolis. Somehow, they've managed to give up less than 300 yards of offense a game and have the leagues top pass defense in yards allowed.
Then, there are the Jacksonville Jaguars. Since a surprise win against the Titans in the season opener, they've amassed 43 points (10.75 points per game) in their last four. A bad mix for the Jags, they will be matching the league's worst passing offense against its best defense. This will be a long day for Blaine Gabbert and company.
Expect the Steelers to win big at home.
Philadelphia at Washington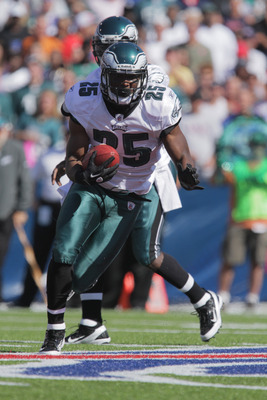 Brody Wheeler/Getty Images
VegasInsider.com says that the 'Skins are a one point favorite. Yikes.
Is this an issue of where the Eagles are getting too much respect for the talent they have versus how they are really playing? Normally, one would look at this and see Washington getting the three point home field advantage and think to themselves that on a neutral field, Philly is the favorite. So, how is this going to play out?
When we last saw Washington playing, Ryan Torain ran like crazy against a bad St. Louis defense. That's the lasting memory most have. In reality, Tim Hightower has averaged less than four yards a carry and sat in week four due to injury. Rex Grossman has played okay, not great. His six touchdowns and five interceptions aren't exactly setting the world on fire.
Philly is 1-4. Not much else to say. They've looked as pathetic as their record indicates. It's beyond gut-check time for Andy Reid and his team. It's passed put up or shut up. In the words of Al Davis, "Just win, baby." That's all this team needs to worry about.
The teeth of their defense is soft. Their linebackers are average at best. Their strength is their secondary and those players are not even being used to capitalize on their strengths. Much is being made about bringing in a defensive consultant. They need to just line up and play football.
As poor as they have looked, the Eagles are averaging 25 points a game. Away from home, a division rival. While they may not turn their season into anything, they pull it together for this game and win.
Keep Reading