MLB Playoffs: Why Milwaukee Brewers' Ryan Braun, Prince Fielder Are Unstoppable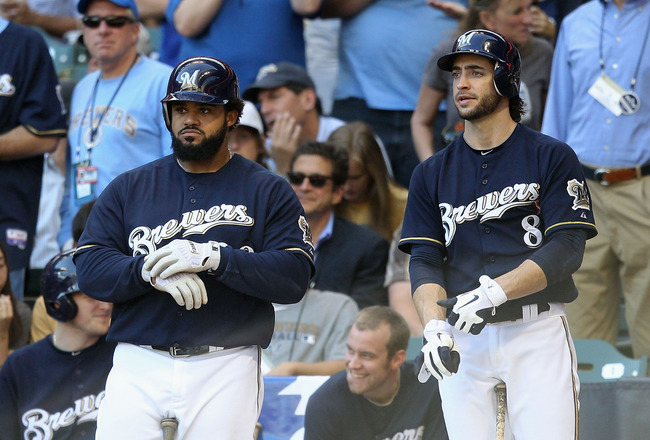 Christian Petersen/Getty Images
The Milwaukee Brewers owe a lot of their season to their big duo of Ryan Braun and Prince Fielder.
The National League Central Champions came through a thrilling five-game series over the Arizona Diamondbacks on their way to the National League Championship Series against St Louis Cardinals.
Here is a look at five reasons why the Braun and Fielder combination is an unstoppable force.
The Regular Season Stats Speak for Themselves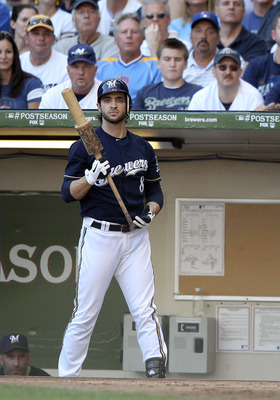 Christian Petersen/Getty Images
Braun and Fielder were among the best in baseball this season with bats in hand. Here are some stats to back that up.
In the regular season Braun was fifth in averages in all of baseball with .332 while his partner in crime Fielder had an average of 2.99—exceptionally good for a slugger.
The pair was also among the top 10 players for RBI, home runs and on-base percentage.
Fielder had 120 RBI, good enough for second in MLB. He also racked up 38 home runs which was the fifth best over the regular season. He came in at fourth in on base percentage.
Braun, despite missing a significant chunk of time with injury, was right in the mix too. He was ninth in RBI (111), 10th in home runs (33) and ninth in on-base percentage.
They Compliment Each Other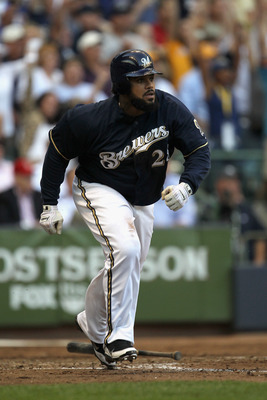 Jonathan Daniel/Getty Images
Ryan Braun is a complete baseball player both at the plate and in the outfield. Prince Fielder is a traditional slugging first baseman.
Braun bats right-handed, Fielder left-handed. Braun bats in the No. 3 spot, Fielder right behind him at four.
The Milwaukee twosome is vastly different but that is what makes them so special together.
Braun is so consistent at getting on base, allowing Fielder to slug away. It is a recipe for runs for Milwaukee.
The Support in the Line-Up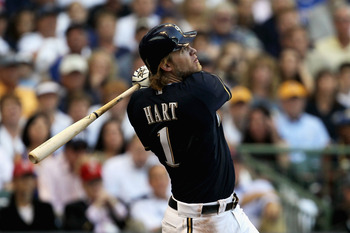 Jonathan Daniel/Getty Images
While Braun and Fielder are obviously the stars of the Milwaukee lineup, credit must go to the players around them who have had consistent seasons.
Outfielder Corey Hart leads off, followed by fan favorite Nyjer Morgan who hit the winning single in Game 5 against the Diamondbacks.
Second baseman Rickie Weeks comes after Braun and Fielder, followed by Jerry Hairston and Yuniesky Betancourt. In the eighth spot is promising young catcher Jonathan Lucroy.
And of course the pitching staff has been great for Milwaukee and deserves a mention. Led by starters Zack Greinke and Yovani Gallardo, setup man Francisco Rodriguez and closer John Axford, Milwaukee's pitching has quickly turned into one of the best in baseball.
They Are Hot Right Now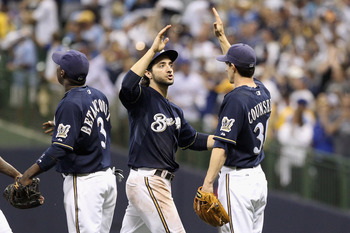 Christian Petersen/Getty Images
Braun and Fielder, both 27, are in the prime of their careers.
Making the MLB playoffs is one of the hardest postseasons to make in sports, so it is impossible to say when a low budget team like Milwaukee will be back.
One thing is for sure they will lean on their two big names. The postseason stats show both Braun and Fielder are on song and not slowing down in the playoffs.
Braun, at a whopping .500, leads the MLB playoff batting averages. He also has the most hits (11), is tied for the most runs (seven) and second most RBI (eight).
Fielder, meanwhile, has his usual consistent average of .286 and is tied for fifth in RBI with eight.
The pair also have two home runs each.
It Is Probably Their Last Time Playing Together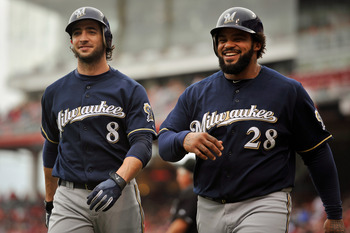 Jamie Sabau/Getty Images
Once Braun signed a big contract extension through to 2020 at the start of the season, it appeared to be the last nail in the coffin for Prince Fielder's time in Milwaukee.
A free agent after this season, Fielder has already turned down a contract of around $100 million over five years. Contract talks have gone nowhere since, and Fielder waits until the end of the season before making any decisions.
The pair will be wanting to end what is most probably their last season together with a bang.
Keep Reading

Milwaukee Brewers: Like this team?