Bears vs. Lions: Live Score, Highlights and Analysis for Monday Night's Game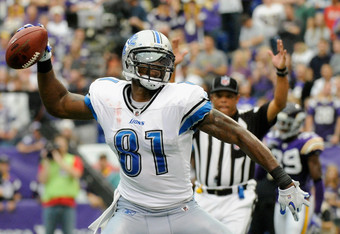 Hannah Foslien/Getty Images
Monday Night Football this week featured the Detroit Lions as they hosted the Chicago Bears at Ford Field in Detroit. This was the first time in a decade that the Lions have been showcased on Monday night.
Detroit's young stars were in full form as Matthew Stafford, Jahvid Best and Calvin Johnson all performed well in a winning effort.
Chicago's QB was no slouch either. Jay Cutler silenced a lot of detractors as he fought through poor protection and plenty of dropped passes to turn in a solid effort.
Updated Score: Detroit Lions win, 24-13.

HansonWatch: Here is a fact interesting to me and perhaps you as well: Lions place-kicker Jason Hanson became the first NFL player ever to appear in 300 games for the same team Monday night. Hanson, 41, has been with the team for 20 seasons.
The Detroit Lions win this one and improve to 5-0 for the first time since 1956.
Lions going to a deep shell defense, letting Cutler pick apart the middle. Never the best defensive strategy, but if they can keep the clock running, that'll be the ball game.
Field Goal Detroit Lions! Jason Hanson connects from 31-yards out. 24-13 Lions.
Bears are out of timeouts at the Lions are situated in scoring position. Will milk it to the two-minute warning and attempt a fieldgoal with Jason Hanson.
The Bears simply tired out at the end of this game. Cutler did all he could to keep them in it (and certainly has time left) but the defense looks listless and the offensive line is wearing down.
Jahvid Best with another first down run. He's single-handedly icing this game. This is something Detroit fans aren't used to seeing.
Jahvid Best just exploded for another 40 yards and 15 more will be tacked on thanks to a horsecollar tackle.
This is, far and away, Jahvid Best's best game as a pro.
The Bears are going to settle for a field goal. It's Good! 21-13 Detroit Lions
Can't say enough about Jay Cutler tonight, playing absolutely great. If he gets the ball back in his hands with this score, Lions fans should be worried.
Amazing first down completion from Cutler with bodies flying around him. His O-line if giving him no help and he's still completing passes all over the field. Tremendous effort.
Good defensive series for the Bears. Can't seem to get a consistent pass rush, but wrapped up and eliminated some of the freelancing on that drive.
Cutler will take over inside his own 20.
Phenomenal effort from Jahvid Best to get the first down on a screen play, all for naught as Dominic Raiola was called for a block in the back penalty.
Maurice Morris catches a pass on the subsequent play, but short of a first down.
Detroit will punt.
Lions take over with great field position following another Bears punt. Bears need to stop any scoring here if they want to stay in the game. It isn't as much about the score as it is the momentum and the body language by both teams.
The Lions D is swarming right now, the Bears need to follow suit.
Jay Cutler is starting to get that "I'm bored here" look in his eye.
Awesome rush by Charles Tillman who altered Donahue's punt which only went 11 yards.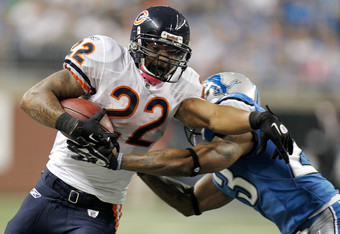 After Three Quarters:
Jay Cutler: 16/21, 129 yards, TD
Matt Stafford: 16/23, 204 yards, 2TD, INT
--------------------------------------------------------
Matt Forte: 111 yards rushing
Jahvid Best: 112 yards rushing
--------------------------------------------------------
Sam Hurd: 36 yards receiving

Calvin Johnson: 130 yards receiving, TD
The Detroit Lions are roadgrading like never before tonight. Jon Gruden has mentioned that the Bears brought less defensive linemen than usual, but there's something more than that. Peterman and Raiola are playing much better than usual as well.
In addition, it seems as if the Bears are looking pass almost every play. A lot of weakside blitzes is leaving the middle of the line wide open to be gashed.
A thing of beauty for Detroit Lions fans.
Chicago stopped on offense again as it seems momentum is shifting toward Honolulu Blue. Punt hits Brandon McDonald, but Chicago unable to recover inbounds. Detroit will take over and look to increase their lead.
Chicago simply needs to play more disciplined. Their safeties have been out of position on each of Detroit's touchdowns and the linebackers seem to be freelancing quite a bit tonight as well.
A seriously underrated storyline of this night is going to be the special teams coverage of the Lions, (so far at least) they've kept Devin Hester bottled up.
From ESPN's Trey Wingo: 88 yd td for Jahvid best.. he'd never had more than 78 rushing in an entire NFL game.. gets more than that on one play
Touchdown Detroit Lions! Jahvid Best scampers for 88-yards untouched and Merriweather can't catch him. 21-10 Detroit Lions.
Another offensive drive stalls for the Bears. This time on a dropped pass by Matt Forte. Jay Cutler could not be playing better tonight, he just needs more help.
Jay Cutler is doing his best Ben Roethlisberger impersonation as he's extending plays and staying alive amidst a good pass rush.
Chicago Bears pinned back in their own zone as Devin Hester inadvertently runs out of bounds on the kick return. A nice run by Forte gives the Bears some breathing room.
This article is
What is the duplicate article?
Why is this article offensive?
Where is this article plagiarized from?
Why is this article poorly edited?