Tim Tebow: Why He Gives Broncos Best Chance to Win and Must Start in Week 7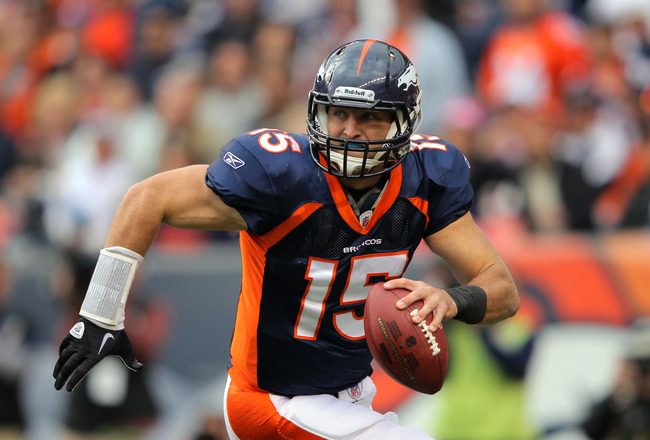 Doug Pensinger/Getty Images
The San Diego Chargers beat the Denver Broncos 29-24 yesterday in Week 5 NFL action but not before Tim Tebow came in and nearly led the Broncos to a come-from-behind win.
The drums are beating louder and louder in Denver to insert Tebow as the starting quarterback after another awful performance from Kyle Orton.
Here are five reasons why Denver must make the switch to Tebow as soon as possible.
Kyle Orton Is Not Producing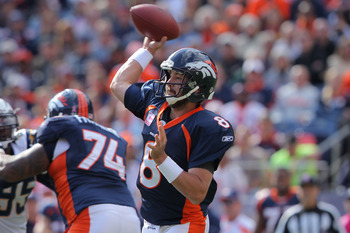 Doug Pensinger/Getty Images
Before Tebow came into the game on Sunday against the Chargers, Orton had gone 6-of-13 including an interception that was returned for a touchdown.
He has thrown eight touchdowns this year but is turning the ball over far too often. He is tied for the league lead in interceptions with seven, including two in Week 3 and three in Week 4.
His quarterback rating of 75.7 is also one of the lowest in the league.
He doesn't look very confident at the moment, and the fans are quickly losing their patience with the seven-year veteran.
It Can't Get Much Worse for the Broncos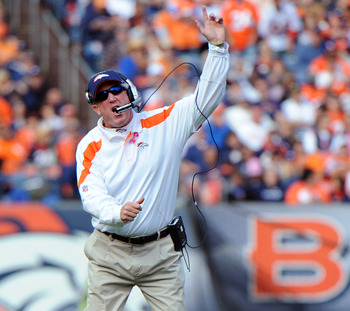 Bart Young/Getty Images
After a 1-4 start, the Broncos can all but write off the playoffs in 2011.
Denver is a team going nowhere at the moment.
But with a bye week coming up, it is as good a time as any to get Tebow in as the starter, give him two weeks of first team reps and see what he can produce.
The franchise spent a first-round pick on him, so they need to see what he's got in order to make a decision on him and move forward one way or the other.
If it doesn't pan out, they may just be in a position to draft Andrew Luck in 2012.
Ability to Make Things Happen and Score Points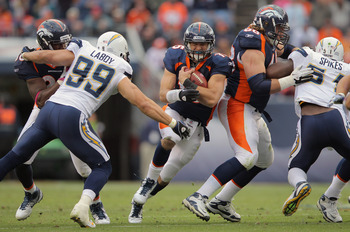 Doug Pensinger/Getty Images
Tebow won't be the most attractive quarterback to watch, but he can be one of the most effective.
In his short time on the field against the Chargers he demonstrated both of these points in a high-pressure situation.
He was not accurate or settled at all, and went just 1-5 on his first six throws. But he scored two touchdowns, one with his arm and one with his legs, and nearly led Denver to a comeback victory.
This is what Tebow does. He keeps you in the game. He has good movement in the pocket which gives him time and he is also a proven goal-line threat both throwing and running.
His Attitude and Leadership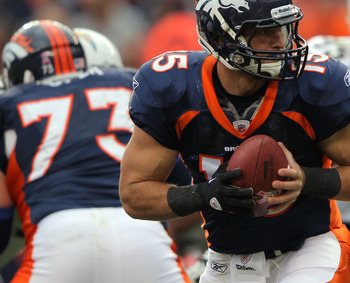 Doug Pensinger/Getty Images
Was it a coincidence that when Tebow entered the game against the Chargers the performance of his teammates lifted?
It was noticeable that his leadership, but more importantly his attitude, had a positive effect on those playing around him. For example, the freakish catch from wide receiver Brandon Lloyd.
Everyone knows Tebow is not going to light it up through the air like Aaron Rodgers or Tom Brady, but they do know they will get a whole lot of effort and a hunger to win football games, and the players respect that.
The Fans Love Him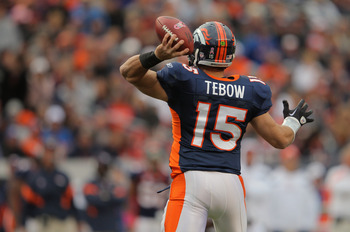 Doug Pensinger/Getty Images
The Broncos' fans are ready for a change.
They have seen enough of Orton consistently leading the team to mediocre performances.
The crowd lifted when No. 15 came into the game, and he gave them a few reasons to get excited. Even after the loss the fans were heard chanting his name.
This once-proud franchise has had a tough few years, and the change to Tebow, although likely to be a roller coaster ride, will provide a much needed lift to the fans and franchise alike.
Head coach John Fox is set to make his decision on Tuesday about whether it is "Tebow Time" in Denver.
Keep Reading

Denver Broncos: Like this team?